The evening started off so well. The rain and cold that had plagued us all morning had become warmth and sun by 4:00 PM. I arrived to the race site early, changed into my new skirt, and wandered around the parking lot while I waited for some friends who just that very morning informed me they could come take pictures and cheer me on. In fact, all the race photos you see in this post were taken by them. They are such awesome, awesome people. I thanked them with a curtsy.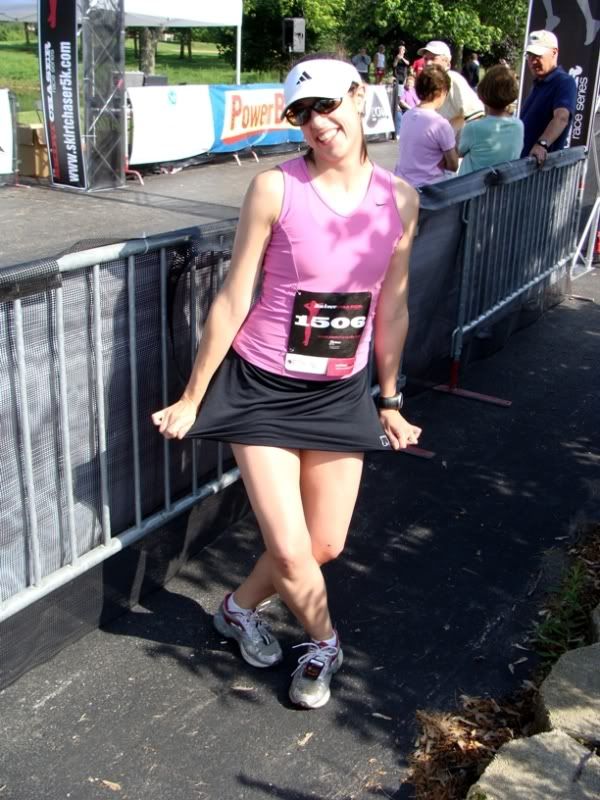 I was so excited for this race. My first 5K of the year. I wanted to beat my previous 5K time of 27:23 so badly and I was sure I could do it. Plus, my new skirt was cute and quite comfy!
Here's a run down of the evening -
Packet pick-up
: Fast, but I failed at getting Lindsay's packet and skirt. I feel bad about that but the volunteers manning packet pick-up, while very nice, were not too informed about procedures. I should have just ditched my stuff in my car and then pretended to be Lindsay instead of asking if I could just grab her stuff. Sorry, Linds!
Start
: Not too crowded, but no corrals so I wasn't sure where to stand. Ended up too close to the front and made the rookie mistake of going out way too fast.
Course
: Basically an out and back, with part of it on a golf course. And, no, not on the paths on the golf course. On the actual grass part of the golf course. Since it had rained all morning and most of the previous night, the grass was soggy and thick. Many people were complaining about it. I mean, we signed up for a road race, not a cross-country race! Also, mile markers were very tiny and we're pretty sure there wasn't one at mile 2. And no clocks were to be seen anywhere.
One hilarious and yet slightly irritating thing is that the course was surrounded by houses whose backyards bordered the golf course. Many people were out in their yards cheering us on. But there was one lady who kept asking us questions as we ran past! "So, are you guys running a race?" (
No, we just all like to get together with numbers on our shirts and run like our lives depend on it every now and then. Here's your sign.
) "You guys can't talk, huh?" (
What told you that? The fact that we're all red-faced, sweaty, and breathing heavy?
) "Where are you all from?" (
WHAT????
) No one answered her that I heard, by the way.
Volunteers
: Course was chip-timed and they were very adamant that the chips needed to be returned. After I crossed the finish line and was gasping for breath, I wandered around looking for a good place to stand or for a volunteer to remove my chip for me. I walked a little bit past the chip return buckets and a woman pointed at my shoe and said, "You need to return that!!" "I know," I said, just a little grumpily. "Well, I'm not a volunteer so I'm just letting you know that you'll need to take it off." Gee, thanks lady. Turns out, none of the volunteers offered to remove my chip for me. Thank goodness it was just held on with twist ties. I managed to remove it all on my own even though I felt like passing out.
Post-race
: The line for beer was super-long but I stood in it anyway. The line for massages was also long, but I managed to get one of those, too. I had a nice upper back massage from a chiropractor with a southern accent. He informed me that I have a "rib out" and that I should find a chiropractor closer to my house and have it looked at for more than just a minute. Well, that certainly would explain the shoulder blade pain I've been having! I managed to miss most of the line for food and actually ended up with the third to last hot dog. Not primo food, but by that point I didn't care.
I also got sucked into the
SkirtSports
merchandise being sold by
Runner's High 'N Tri
and ended up buying a cute tank-top. I realized today that my current running tank-top choices are rather limited. Plus, this one goes with my new skirt.
Combine that with the one I got with my race packet and I think I definitely came out ahead in the clothing department.
There was also a fun fashion show of other SkirtSports clothing. They're even currently putting out a new line of triathlon clothing for those of you that do tris out there!
Actual running
: Pathetic. My first mile was just over 8 minutes when I was actually aiming for between 8:30 and 8:40. I had to stop to walk several times during the next two miles. My watch showed 26:12 with .1 to go and I tried to push it as hard as I could. When I crossed the finish line my Garmin indicated 3.06 miles in 26:51. Damn. That meant I probably didn't make my sub-27 goal. But at least I would beat my previous PR!
Sadly, it was not to be. My official race time was
27:58
. I don't know what happened. My Garmin says I averaged 8:46 per mile. According to online race calculators that should put me at 27:12. Still not sub-27 but at least it would be a PR. When I saw my time on the paper posted after the race I had to walk away quickly because I started crying. In fact, I still tear up when I think about it.
In between crying jags I've been trying to figure out what went wrong. I think I made a lot of rookie mistakes with this race. The ones I can think of are as follows:
1. Didn't take an evening race seriously enough. I figured since I almost always run in the evening that this would be a piece of cake. What I didn't take into account was...
2. Screwing up my eating schedule. I had brunch with friends this morning and while it was a fabulous time socially, it meant that I didn't really eat breakfast and I didn't really eat lunch. I also chose French toast which I think was just too much sugar. I crashed hard when I got home and then tried to scarf down some food before I left for the race at 3 PM. I guess a Muscle Milk Light protein bar, some pretzels, and some Sport Beans combined with French toast and eggs doesn't really fuel me properly.
3. Not warming up. I don't usually warm-up but I've been thinking about doing for awhile. Warming-up for such a short race would probably help me pace myself better.
4. Because not pacing myself is definitely mistake number 4. I mean, look at these splits
Those are not the splits of a seasoned racer. Also, my form totally fell apart during the sprint to the finish: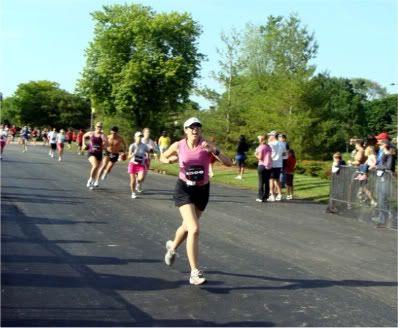 If anything, this race was humbling. I have a lot to learn.
Of course, on top of all my mistakes, I do have to wonder about how much the course contributed to my time. Running on soggy, swampy grass and badly maintained gravel paths and even a few tiny hills is a lot different from running on asphalt.
Also, I admit that I am slightly suspicious of the timing. When they first posted the times, everyone's read something like 1044.7 or 1056.8. Um, what? When someone pointed it out to whoever posted them they were removed and quite awhile later replaced with times in minutes and seconds. Yet, when they announced the winners, they didn't have official times for them. At least, not for the men. The men in this race start 3 minutes after the ladies.
Women's Start



Men's Start

When they read the winning man's time, the announcer told us to subtract three minutes from it. But, this race was chip-timed. So shouldn't that mean that his official time would account for those three minutes?? I'm beginning to wonder if perhaps the timing mats only recorded our finish times and didn't account for the time our foot actually crossed the mat at the start.
Overall, I'm deeply disappointed in my time for this race. I'm angry that all my hard work over the past six months didn't pay off in terms of speed in ways that are reflected in my race times. I know I shouldn't base my running self-worth on one time from one run on one day. I know that not every race will be a PR. I just really thought I had it in me to make this one special. So, instead, I will try to focus on the good things about the day: my cute clothing swag, that my friends came out to cheer me on, and the fun I had post-race (at least until I saw my time). Hopefully those things will get me over my depression and feelings of "what's the point". I don't want one bad race time to make me lose my love for running. But, to be honest, right now it's hard.
EDIT: I looked up my times on their website today (6/15/09) to find that I actually DID make my goal time! According to the new times my official time was
26:57.7
for a pace of 8:41 per mile!
Other placement stats -
Place: 125/576 overall
Gender place: 57/358
Age group (both genders): 31/131
Age group (female only): 16/89
I feel MUCH better now.
*******************
Skirt Chaser 5K Stats
Activity
Route:
--
Elev. Avg:
784 ft
Location:
Bloomingdale, IL
Elev. Gain:
+0 ft
Date:
06/13/09
Up/Downhill:
[+101/-101]
Time:
05:03 PM
Difficulty:
1.8 / 5.0
Weather:
A Few Clouds
70 F temp; 63% humidity
70 F heat index; winds NE 7
Performance
Distance:
3.06 miles


Time:
0:26:51
Speed:
6.8 mph
Pace:
8' 46 /mi
Calories:
345
Map
Elevation (ft)
Pace (min/mile)
Splits
Mile
Pace (min/mile)
Speed (mph)
Elevation
Gain
actual
+/- avg
actual
+/- avg
1
8' 01

-0' 45

7.5

+0.6

+10 ft
2
9' 16

+0' 30

6.5

-0.4

0 ft
3
9' 04

+0' 18

6.6

-0.2

-7 ft
end
6' 54

-1' 52

8.7

+1.8

-3 ft
Versus average of 8' 46 min/mile