Long time readers may remember
last year's running of the Chase Corporate Challenge
. For those that don't, here's a refresher: 3.5 mile race that benefits the Greater Chicago Food Depository and encourages Chicago area companies to get their employees up and moving. Almost 20,000 people run and walk the race and the top runners have a chance to go to the international championship.
Last year's race was a total clusterf*ck for many reasons. The biggest issue I had with the race was that due to the lack of chip timing and the sheer size of the race there was no way that the clock time was an accurate representation of anyone except the winner's time.
This year, though, the race organizers were able to take advantage of the new
B-Chip timing
. This seriously cut down on the number of slower people who had put themselves towards the front of the crowd.
Another issue I had last year was the inability to find our group's company tent. I solved that dilemma this year by getting my bib early and walking over on my own. Unfortunately this meant I missed the group photo! I figured they'd take it once they got to the tent. Turns out they took one there, too, but I was in line for the port-a-potty so I missed it again! I guess this year I'm Sir Not-Appearing-In-This-Race. At least in the group photo.
However, since
Holly
was visiting she was able to get a few photos of me at the start. I hope these give you an idea of just how crowded the start gets at this race.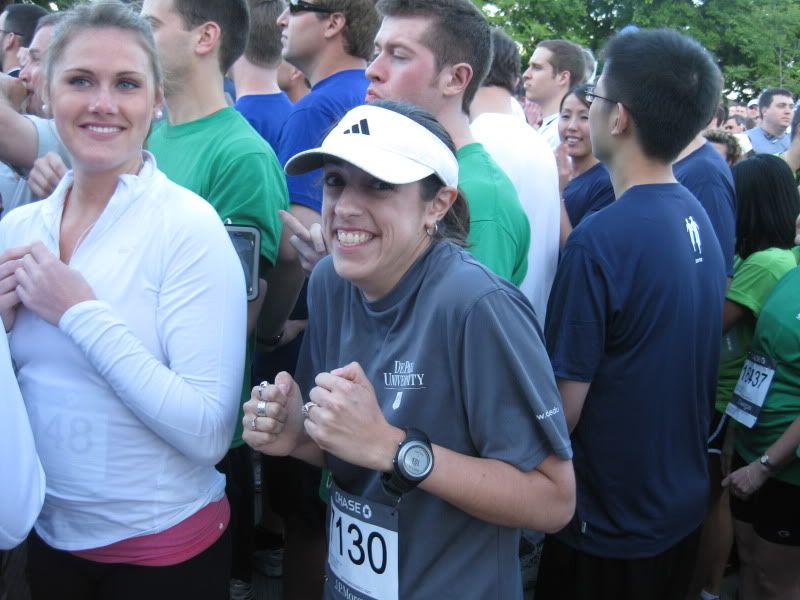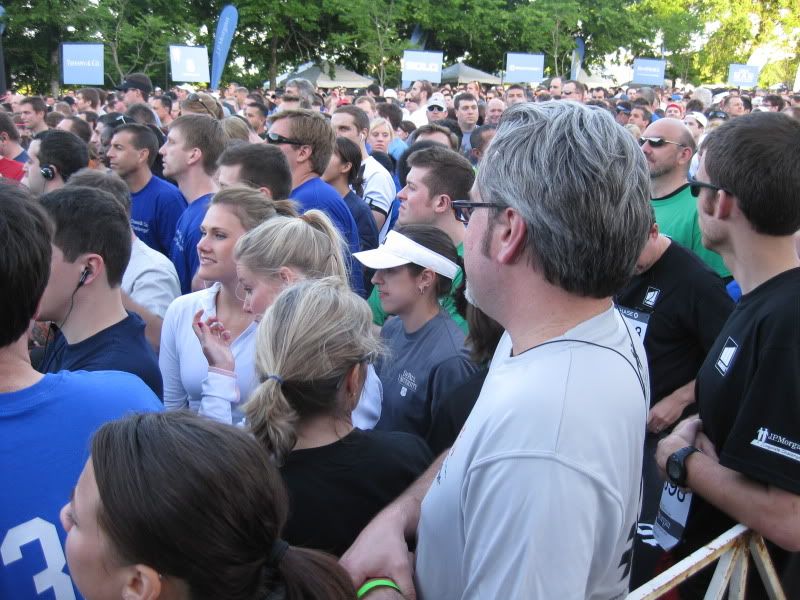 I positioned myself near the 8 minute mile sign and hoped for the best. I hadn't run since Sunday so I figured my legs should be nice and fresh. All I had to do was keep my fingers crossed I didn't spend the entire race dodging people.
Once the horn sounded it took a few minutes to get across the start line. There was definitely some dodging going on but it didn't feel quite as horrible as last year. Maybe some of that was the weather. Last year as hot and humid. This year was lovely. Now, if the race organizers would do something about the course. It seems to be the same every year. Sort of a "P" shape with two hairpin turns. Who thinks it's a good idea to have hairpin turns in a race with 20,000 participants? Apparently these people. And, just like last year, if you ran the tangents you had to slow to a walk at the first hairpin. Frustrating.
My Garmin freaked out a bit in some of the tunnel-like areas we had to run through and I'm pretty sure the 2 mile marker was in the wrong place. Regardless, I wasn't spending a lot of time looking at my Garmin. I was just running. And it felt GOOOOD. Since I knew I wouldn't be "racing" my 10 miler on Saturday I decided to push it as hard as I could during this race. As I rounded the last hairpin turn at mile 3 I started to feel that familiar queasy feeling I get when I'm running hard. But, instead of slowing down I just kept pushing.
And it paid off! My official time (and my Garmin time) had me at 28:41! That's an average pace of 8:11 and change. WAY better than last year. Plus, my best 5K time was at this pace and this race was even longer and had more dodging. I'm pretty sure this indicates that if I ran another 5K in the near future I'd have a good chance of hitting yet another 5K PR.
Amazingly, I wasn't even that worn out afterward. I easily enjoyed the beer and food provided by work and chatted it up with some people from our lunch time running group. Holly and I hung around for awhile before declaring ourselves cold (!) and heading home around 9PM. All in all it was a great evening and, other than missing the group photo, definitely better than last year.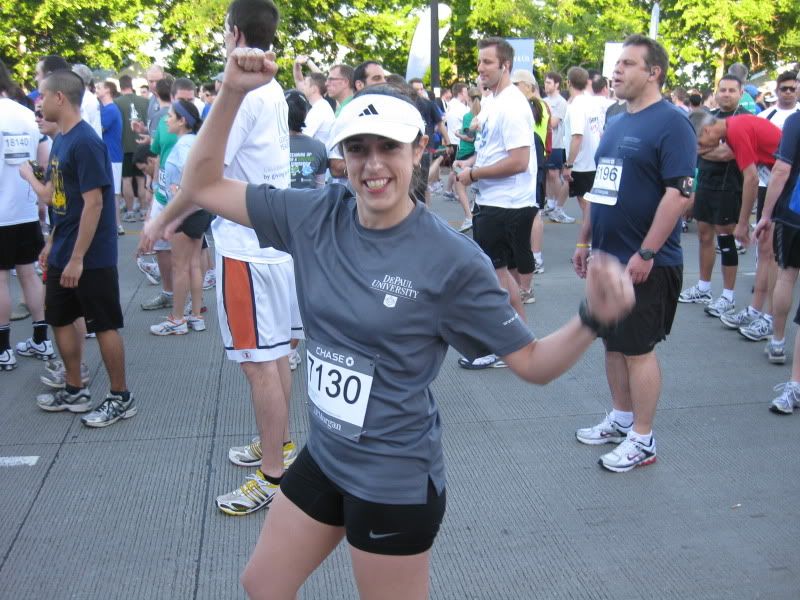 Activity
| | | | |
| --- | --- | --- | --- |
| Route: | -- | Elev. Avg: | 591 ft |
| Location: | -- | Elev. Gain: | +0 ft |
| Date: | 05/27/10 | Up/Downhill: | [+68/-68] |
| Time: | 07:13 PM | Difficulty: | 1.8 / 5.0 |
Performance
Distance:
3.50 miles


Time:
0:28:41
Speed:
7.3 mph
Pace:
8' 12 /mi
Calories:
411
Map
Elevation (ft)
Pace (min/mile)
Splits
Mile
Pace (min/mile)
Speed (mph)
Elevation
Gain
actual
+/- avg
actual
+/- avg
1
8' 38

+0' 26

6.9

-0.4

-10 ft
2
8' 17

+0' 05

7.2

-0.1

-10 ft
3
8' 09
-0' 03
7.3
+0.0
0 ft
end
7' 44

-0' 28

7.8

+0.4

+19 ft
Versus average of 8' 12 min/mile