Yes, this is the course
Kim
had been talking to me about the
World's Largest Corn Maze 5K
for months but since I didn't know how I would feel after the marathon I waited until the last minute to decide. Either way I figured that this would be a nice race to run post-marathon. Not too serious, no chance of holding out for a PR so no need to worry about time, and on hard-packed dirt instead of asphalt or concrete.
My knee felt pretty good on Saturday after copious amounts of foam rolling and stretching so I dragged myself out of bed at 6AM on Sunday and drove to meet Kim, her husband, and her brother-in-law for the race.
The set-up was a little strange since they only let one runner start at a time. Apparently if you pre-registered you were supposed to pick your finish time from a list and they based your start time and bib number on that and had people line up in bib number order. If you registered day-of like I did you essentially just got put at the back of the line. Your bib number corresponded to how many seconds after the official start you got to start. Which meant that because I was number 414 I didn't start until 34 minutes after the first person. Which also meant that I got to see the first half-dozen finishers cross the line. Amazingly the first guy finished in like 17 minutes! Of course, there's a reason for that that I'll get to in a minute.
Once it was my turn to go I quickly realized that this was more like a trail run than anything else. A trail run surrounded by corn.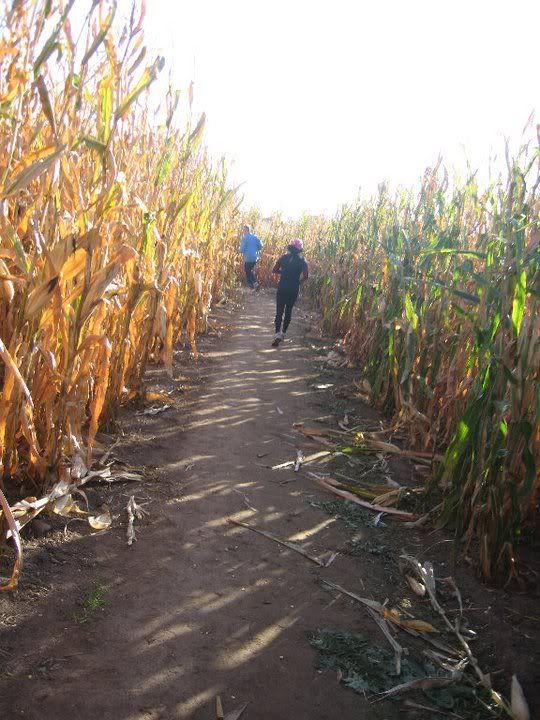 The path was rutted and bumpy and there were corn stalks and husks everywhere. And there were stairs!
Yes, we ran up and over two sets of those stairs. Fun! And as you can see, the course was marked with orange tape to make sure we didn't get lost.
At one point I thought about how this reminded me of a horror movie where the heroine is running through the corn field trying to escape the chainsaw wielding murderer. Now THAT would be motivation!
I wasn't paying much attention to my pace since the hairpin turns were a little rough on my knees and I wanted to take it easy on the stairs as well. However, I still wore my Garmin since I wanted to have the map it produces. Strangely, though, I noticed it was significantly off of the mile markers. I think when I saw the mile 1 sign the Garmin thought I'd only gone about .8 miles. Maybe it was all the turns?
Soon enough, after passing quite a few people, I emerged from the corn and decided to sprint to the finish.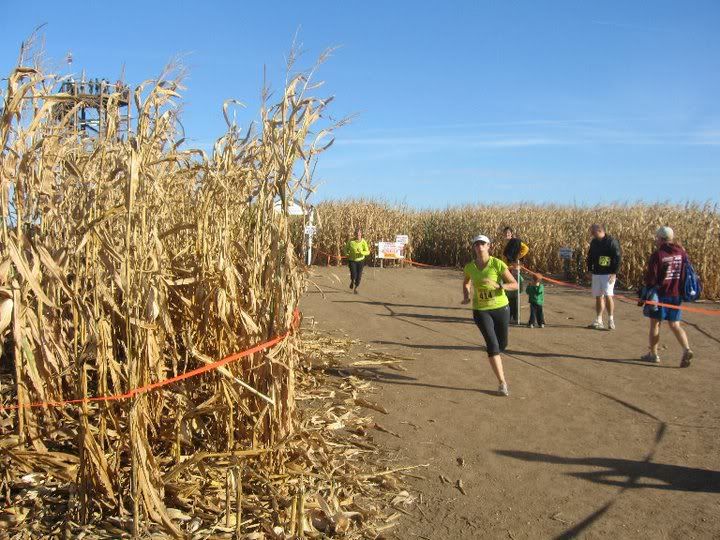 I met up with Kim and Co. and enjoyed the post-race bagels, cookies, and bananas. Then we goofed off by climbing the stairs to the top of the observation tower and playing on the kiddie zipline.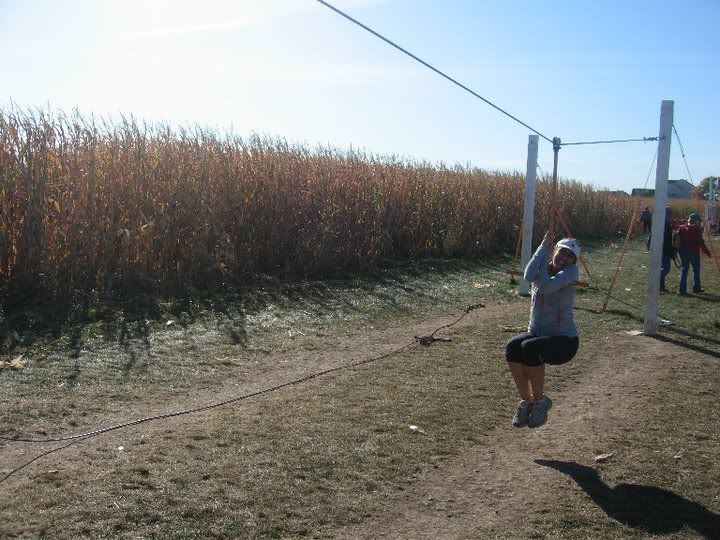 .
We also joked that we should go run another half mile to round out our 5K distance. Of the three of us wearing Garmins, we registered 2.61, 2.62, and 2.7 miles. No wonder the first person finished so quickly! The course was a half mile short!
On the plus side, I was running it for fun and it was definitely fun. And even though I registered the day-of I was still able to get a t-shirt in my size. However, I have to say that the $35 registration fee ($30 prior to race day) was a little steep for a "5K" distance although the shirt
was
nice. But it was the inaugural year so if they do it again hopefully they'll work out the kinks.
And what was my official "5K" time?
24:21.3
A new PR! Except, not really. It's a good thing I wasn't running this race for time. I ran it for the unique experience and the company both of which were great. It was the perfect way to start my post-marathon running.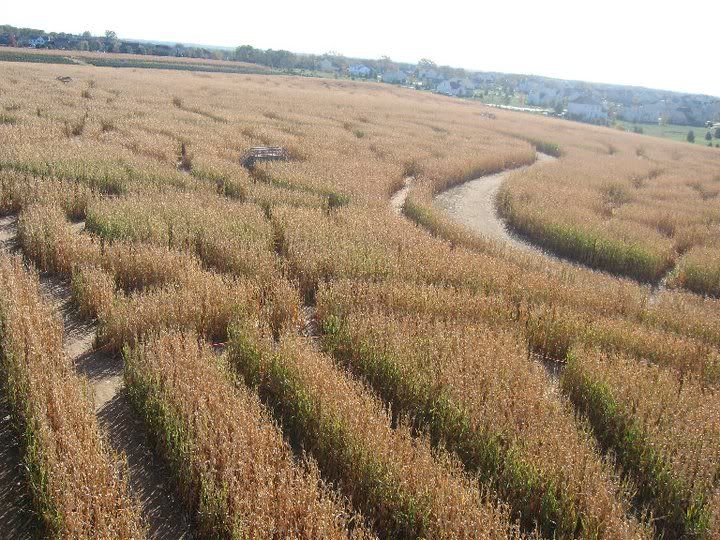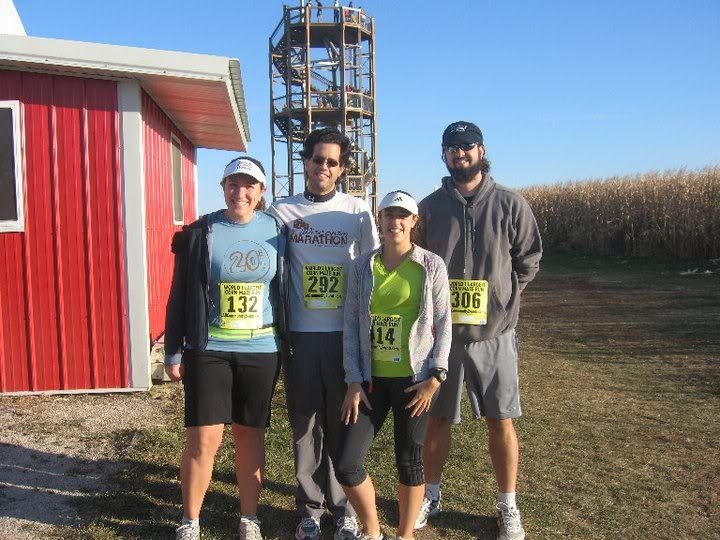 No, I'm not standing in a hole. I'm just that short.
P.S. Thanks to
Kim
for the photos!
***************************
Activity
| | | | |
| --- | --- | --- | --- |
| Route: | -- | Elev. Avg: | 852 ft |
| Location: | -- | Elev. Gain: | +0 ft |
| Date: | 10/17/10 | Up/Downhill: | [+49/-49] |
| Time: | 09:05 AM | Difficulty: | 1.7 / 5.0 |
Performance
Distance:
2.62 miles


Time:
0:25:29
Speed:
6.2 mph
Pace:
9' 44 /mi
Calories:
311
Map
Elevation (ft)
Pace (min/mile)
Splits
Mile
Pace (min/mile)
Speed (mph)
Elevation
Gain
actual
+/- avg
actual
+/- avg
1
10' 09

+0' 25

5.9

-0.3

0 ft
2
10' 04

+0' 20

6.0

-0.2

+6 ft
end
10' 25

+0' 41

5.8

-0.4

-6 ft
Versus average of 9' 44 min/mile