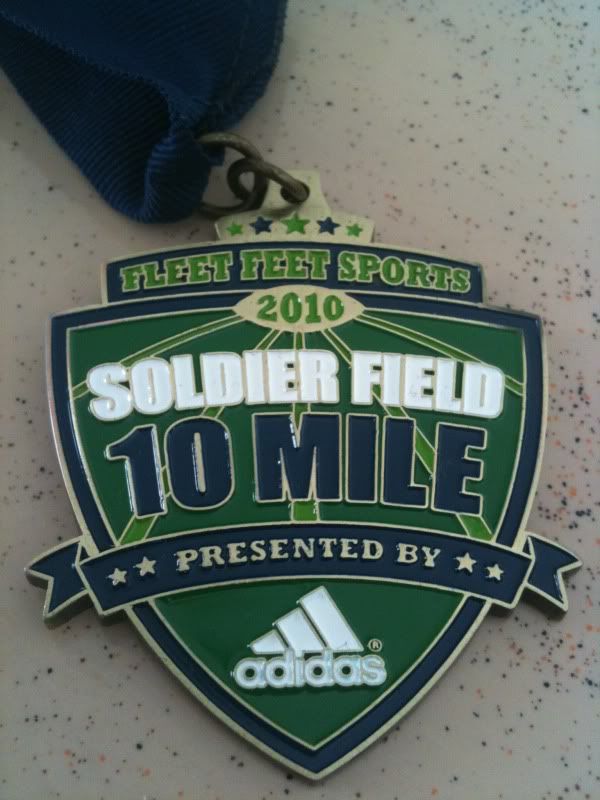 I told you there would be some exciting posts from this weekend! Two, count 'em, TWO race reports!
As my lunch time running group says, I mean serious business.
After running the
Chase Corporate Challenge
on Thursday night and then touring the city on Friday,
Holly
and I dragged ourselves out of bed around 5AM to meet some members of the Oak Park Runner's Club at the train station for our trek to Soldier Field.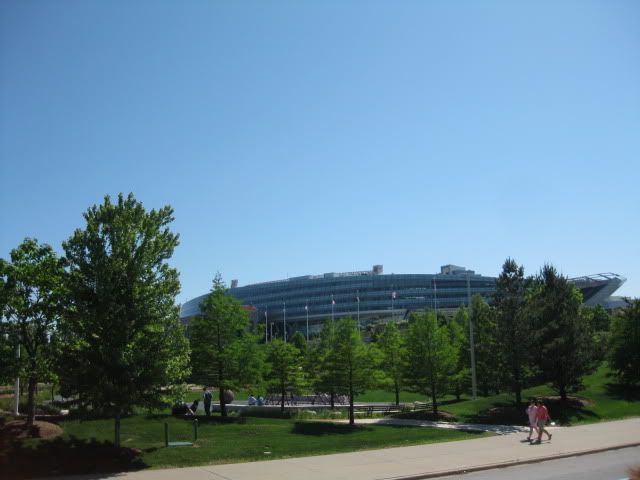 Also know as "The Spaceship"
We arrived with plenty of time to check our stuff, use a (real!) bathroom, and then navigate our way to somewhere in the craziness that was the start area.
There were two parallel "corrals". One for people who had qualified for an "early" start at a previous race and then the rest of us. Once Holly, a running group bud, and I had secured a spot Holly and I posed for our pre-race photo.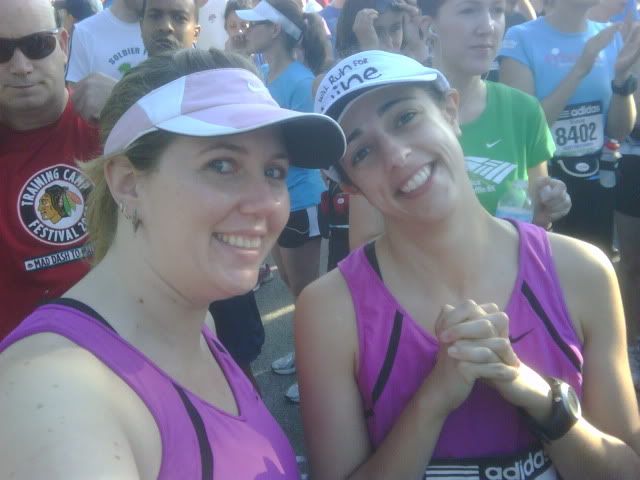 No, I don't know why it looks like I'm praying
The horn sounded for the "early" start group at 7:30 and about 15 minutes later a horn sounded signaling the start for the rest of us. Holly and I settled into a nice, easy pace on our way to Lake Shore Drive. Plenty of people passed us in those first few miles but we really were running our own race. The goal? Finish without Holly re-aggravating an ankle/calf/leg injury that had cropped up a few weeks ago no matter how slow that meant we had to go.
The first part of the race was uneventful. The sun was out but the air temperature was cool. At the start of the race the event organizers indicated that the event alert status was "Low" meaning that conditions were ideal. By the time we started they had upgraded conditions to "Moderate". I guess they were worried about the fact that there was not a cloud in the sky. But with our pace and the fact that we walked through the water stops we didn't even notice the weather.
Our slow pace felt good and the music playing over loudspeakers between miles 3 and 5 gave me a mood boost. And once we hit the turn around and starting running next to the lake the race became even more enjoyable. Shade from the trees, a breeze off the water, and a great view of the skyline made for a lovely day to run.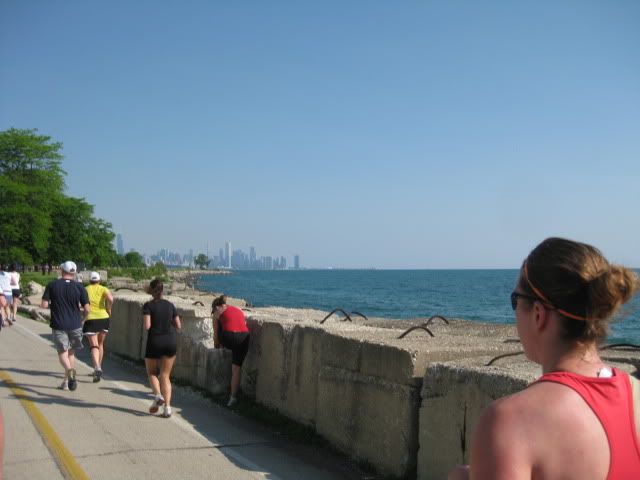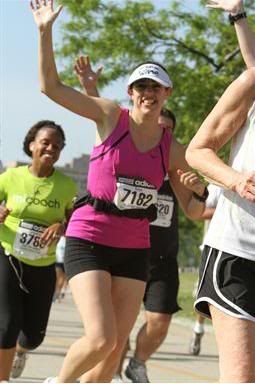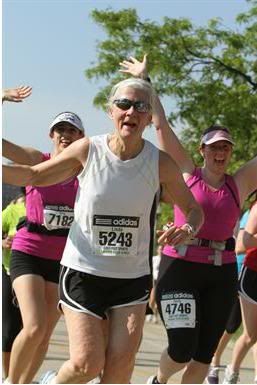 Too bad that woman got in our way of a great photo!
Amazingly, Holly made it to mile 7 before she felt the need to take extra walk breaks. Pretty good for not running more than a few miles in over 6 weeks! So, we took some walk breaks and some stretching breaks. Admittedly, my left knee was not so happy with the walk breaks. Not sure what that means when it feels better to run than to walk. Regardless, we soldiered on to Soldier Field.
And then, at mile 9, we saw these flags: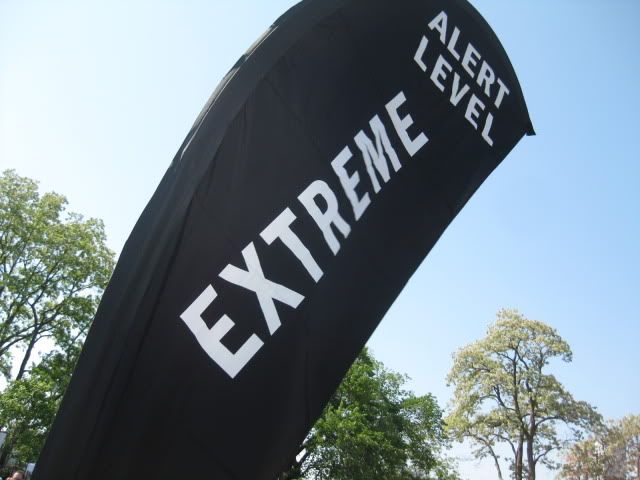 Apparently two hours into the race the event organizers determined that the temperature and the sun had combined to create dangerous race conditions. Event volunteers at the mile 9 water station were announcing that the race was "canceled" and that we were all supposed to walk. Holly looked at me and said, "Do we really have to walk?" I shook my head. We're just a bit of a paranoid running community after the deaths at the incredibly hot 2007 Chicago Marathon. If we had been struggling we would have walked. But, even though we were going slow and occasionally walking it certainly wasn't due to the heat! So, we kept on running. The event was certainly not canceled and as we entered the tunnel that would lead us onto the field we had to laugh at the volunteers and their encouragement.
"That's it! Take it nice and slow! Doing great!"
I do believe that's the first time I've ever heard a runner encouraged with "take it slow."
As we turned the final corner we could see the sun shining on the field and Holly decided to throw caution to the wind and began sprinting to the finish. I could barely keep up!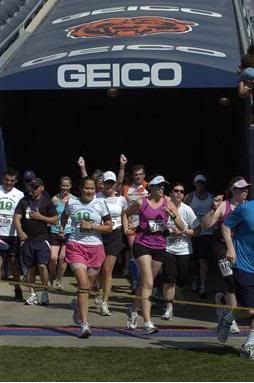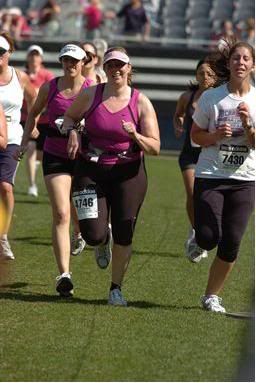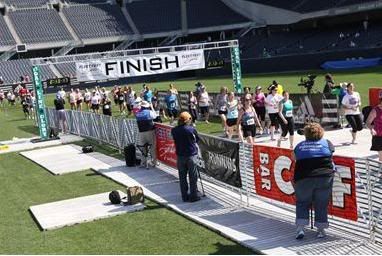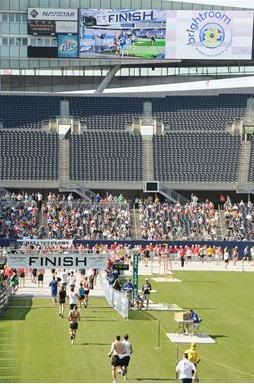 We crossed the finish line in just under 2 hours and were immediately herded into another tunnel and then out onto the shaded stadium concourse. We got our bottles of water and our food bags (a much better idea than tables of food) filled with fruit, pretzels, and a Clif bar. Then it was onto gear check, stretching, and then the medical tent to get some preemptive ice for Holly's leg.
We briefly met up with the running group crowd who had patiently waited for us to finish. I felt bad that they waited when we weren't even planning on riding the train back with them! But, it was still so nice of them to wait and make sure we finished okay. In fact, we even felt good enough to walk the 1.5 miles to Millennium Park for a little more tourist action, including one last "Bean" photo.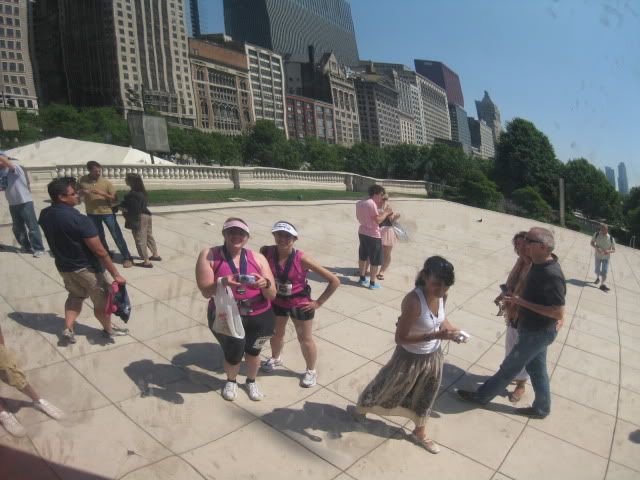 Overall, while it wasn't our fastest race ever, we finished it and we had a good time. And, in the end, isn't that the point of running? Well, that and the medal :-)
Official Time: 1:59:42
*********************************
Activity
| | | | |
| --- | --- | --- | --- |
| Route: | -- | Elev. Avg: | 588 ft |
| Location: | -- | Elev. Gain: | +0 ft |
| Date: | 05/29/10 | Up/Downhill: | [+173/-173] |
| Time: | 07:44 AM | Difficulty: | 2.4 / 5.0 |
Performance
Distance:
10.11 miles


Time:
1:59:48
Speed:
5.1 mph
Pace:
11' 51 /mi
Calories:
1145
Map
Elevation (ft)
Pace (min/mile)
Splits
Mile
Pace (min/mile)
Speed (mph)
Elevation
Gain
actual
+/- avg
actual
+/- avg
1
10' 50

-1' 01

5.5

+0.5

0 ft
2
11' 04

-0' 47

5.4

+0.4

0 ft
3
10' 54

-0' 57

5.5

+0.4

0 ft
4
11' 43

-0' 08

5.1

+0.1

-3 ft
5
11' 12

-0' 39

5.3

+0.3

-6 ft
6
11' 36

-0' 15

5.2

+0.1

+10 ft
7
12' 37

+0' 46

4.8

-0.3

-16 ft
8
13' 25

+1' 34

4.5

-0.6

+20 ft
9
12' 30

+0' 39

4.8

-0.3

-13 ft
10
13' 12

+1' 21

4.5

-0.5

+13 ft
end
10' 20

-1' 31

5.8

+0.7

-3 ft
Versus average of 11' 51 min/mile