Earlier today I ran my fourth 5K race and my fifth race overall. It was the Freedom 5K and we went along the Fourth of July Parade route for my town. Sans parade, of course.
The day started out cool and rainy but, of course, a few minutes before the race was to start the sun came out and the temperature warmed up considerably. I had been hoping for cloudy and rainy since I haven't been doing much running in the heat and sun but I guess it wasn't to be. When I was getting dressed this morning I opted for short-sleeves as opposed to a tank top. As the sun came out I wished I had worn the tank top but it was too late to change. I pinned on my number (1111!), hit the port-a-potty before the line got too long and was ready to run.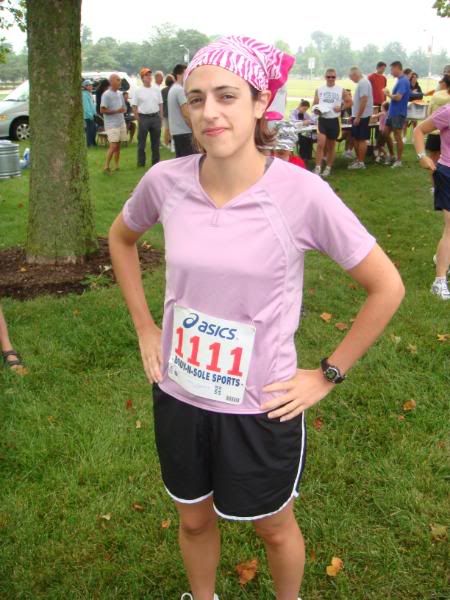 I started out at the back of the pack. I'm certainly not the slowest runner out there but we have people who can run these races in 15 minutes! I let those people hang out at the front. It was a large group for our area. I'm really bad at guessing how many people were there, but last year there were over 400 participants. I'm guessing this year was similar? Anyway, the siren went off and out we went.
It was an out-and-back course so I knew that the faster people would pass us on the way back. Luckily they had closed both the four-lane streets we were running on so there was plenty of room for everyone. I was struggling during this race. More so than usual. I don't know if this was due to the fact that my running really suffered during the months of May and June or if it's just that I'm still not re-acclimated to running in the sun and heat. A weird stomach cramp started up almost as soon as I started but I just kept running through it. I was tempted to stop and walk but I never did. I just kept trudging along.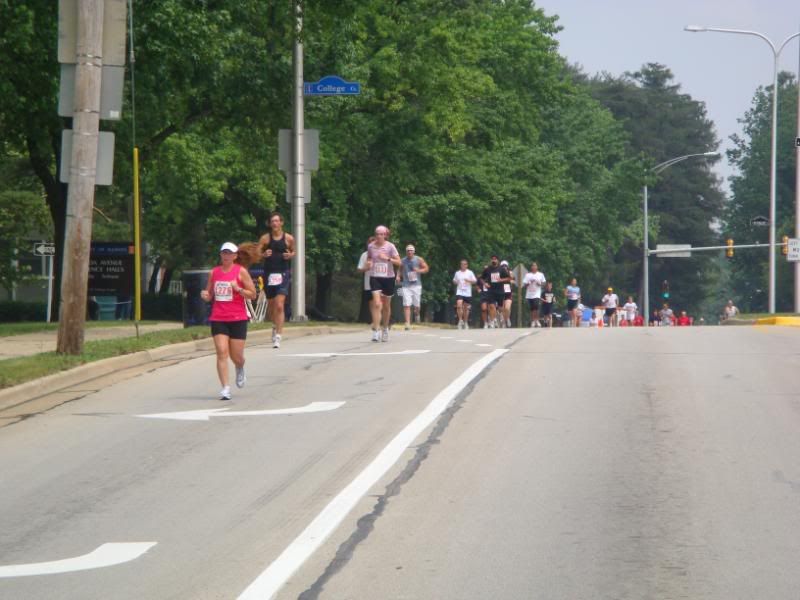 I didn't pass a lot of people but I also didn't get passed very much either. I did, however, end up passing that girl in the dark pink in the previous photo. I think the worst mistake I made (other than not training enough) was to accept water at the last aid station. I grabbed the cup and took two swigs and poured the rest down my front. I normally don't drink when I run but I was so hot and sweaty that I thought it would help. It didn't. In fact, when I got within sight of the finish I tried to sprint only to feel the water I had just drank bouncing and sloshing around in my stomach. I tried to sprint the last .1 miles only to slow back to my trudge just before the finishing chute. It made me sad since I love to sprint to the finish. But at least I got to sprint a little bit.
It occurs to me after looking at the pictures of me running, I really need to work on my form. I'm sure that will help my times, too. Speaking of times, I had started my watch when I went past the start line and stopped it when I got to the end of the finishing chute. My watch tells me I ran this 5K in 28:41. The photographic evidence indicates something else.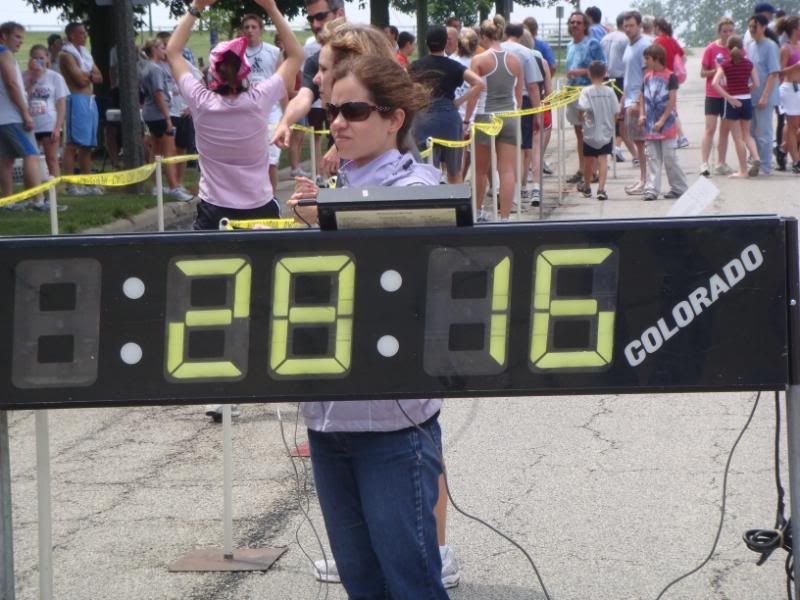 That's me with my arms raised trying not to puke. I know that if I had sprinted all of the last .1 miles I would have thrown up. So, I sacrificed some time for my stomach contents.
Official results are not posted yet. Hopefully they will be by the end of the weekend. But I know I finished with a time of 28:something. I was seriously hoping for a time of 27:something but I'll take the 28:something time. I'm very curious to see the official time. If it's what it said on the finishing clock than it may be a PR (by only a few hundredths of a second, but still). If it's what it said on my watch then it's slightly slower than my PR. Regardless, I suppose I should be proud of that when I take my lack of training for the past two months and the sun and heat into account.
Let's review my previous 5K race times -
First 5K ever: In September, shady, perfect temperature: 33:23
Second 5K: In November, great temperatures, included some trail running: 29:27.44
Third 5: In March, 15
o
F: 28:23
Overall it felt like the most difficult race I've ever run. It even felt harder than the 10K I ran in April. I suppose that's what a lack of training for two months will do to you!
EDIT: Times are posted! My official race time was
28:14.1
. That's a personal record! I guess even though the race felt difficult I did my best ever anyway. Yay!