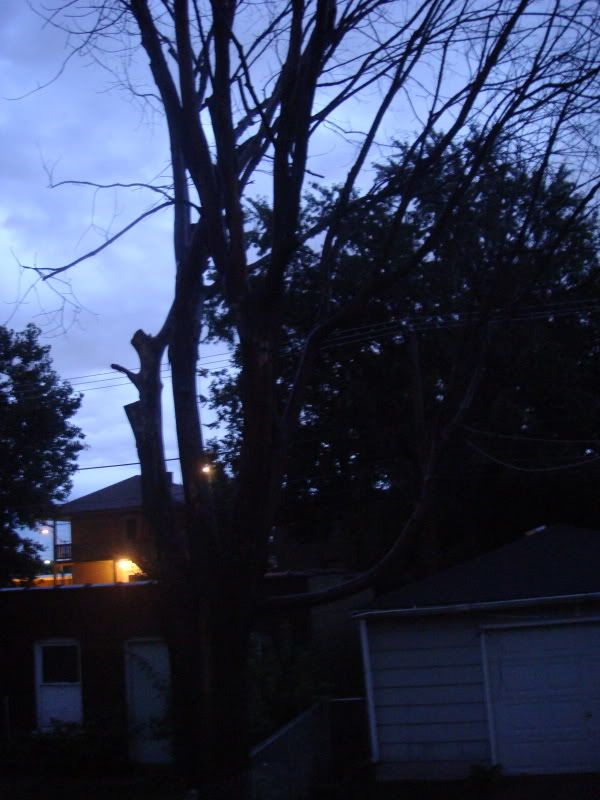 Saturday morning dawned and the skies looked rather ominous. I'd fallen asleep to the sound of thunder and pouring rain and the 5AM skies didn't look or sound much better. But, seeing as how I'm one of those crazy runners, I laced up my shoes, gathered my gear, and headed out the back door to meet three other running club carpoolers. I mean, we had a 10 mile race to run!
I knew it was going to be an interesting day when I drove through gigantic puddles on the way to the meeting spot and I practically got soaked moving from my car to the carpool car. Then we realized that one of the major interstates was closed due to flooding. As we drove to another interstate we realized how bad the flooding really was. There were cars stalled in the water on the road we were on. It was at least a foot deep in places.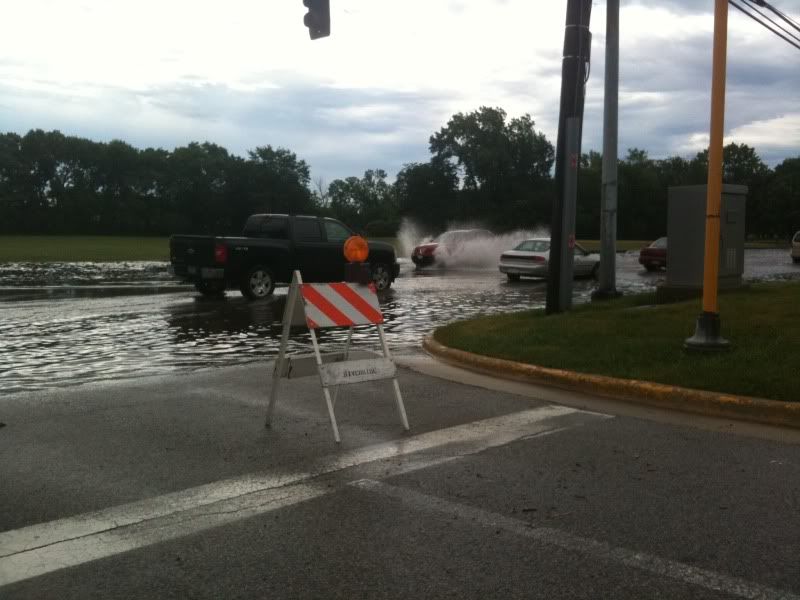 This photo was taken of that same road about 4 hours later
Yet, we soldiered on and joked that apparently this race was going to be a triathlon.
Once we finally arrived at the race after a rather harrowing drive in the rain it was pouring and thundering and lightning so much that no one wanted to get out of the car. Finally, Maribeth and another running club member decided to brave the elements to pick up packets, use the port-a-potty and see what was going on. They arrived back at the car with squishy shoes and little information. About 20 minutes before the race was supposed to start I decided to head to the port-a-potties and see if I could get any more information. We'd been checking the radar on our iPhones and debating what was going to happen.
As I approached the main race tent I heard the tail end of a loudspeaker announcement.
"You'll all get an email with information about a new date..."
What? I asked several people for confirmation of what I'd just heard. It was true. The park rangers canceled the race due to the threat of lightning.
I returned to the car with my information to find that my carpool buddies were learning the race's fate from another running club member. Needless to say, we were disappointed. Not only were all of us hoping to get in a long run, but Maribeth was hoping to place in her age group and I was hoping to PR at this distance.
But! Not ones to be daunted by bad weather, we decided to find a place to run 10 miles anyway. We'd passed the bike path on the way to the race so I figured we could just go run there.
"Will it be flooded?" they asked.
"I've never seen it so flooded a person couldn't still run on it" I said.
Well, I have now. We really should have known by the fact that our driver earned his advanced canoeing badge for fording the streets that the bike path, which runs along a creek, would be flooded. But optimism runs high when you really want to get in a run.
I'll let the pictures tell you what we encountered.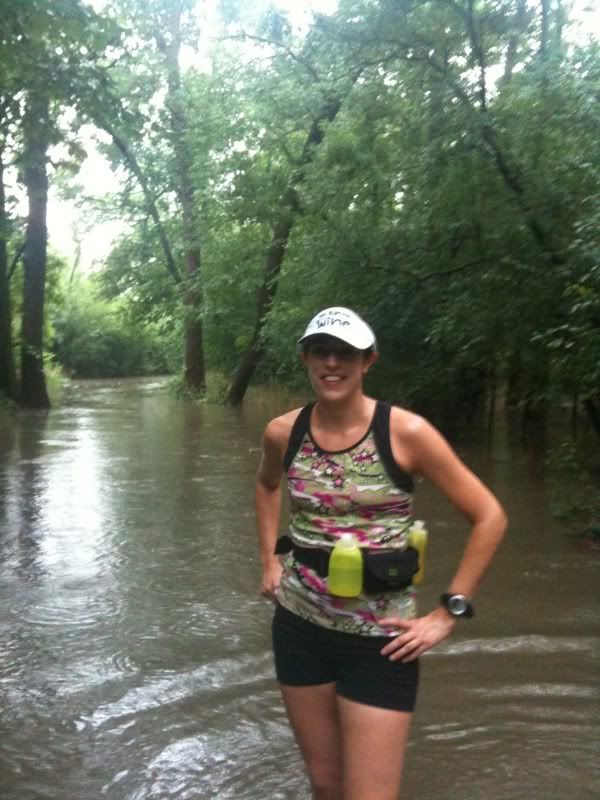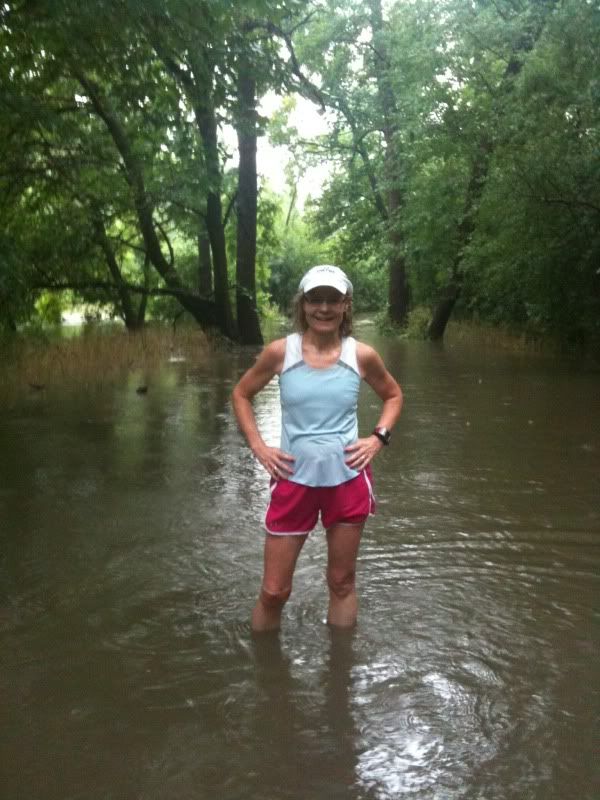 Most of the path was a no-go in terms of running. So we ventured out into the neighborhood instead. It was still raining a bit but there was no more lightning or thunder. Just a nice, cool rain that made it wonderful running weather. Except for the whole wading part.
Still, I got in 9 miles and the other three runners did the full 10. And while we're disappointed that we didn't get to race on Saturday, we're optimistic that they'll be able to reschedule it. Plus, we have a great story to tell of adventure and perseverance.
I'll just leave out the part about how when I got home I learned we had three feet of water in our basement. Good thing I wasn't planning on using the treadmill.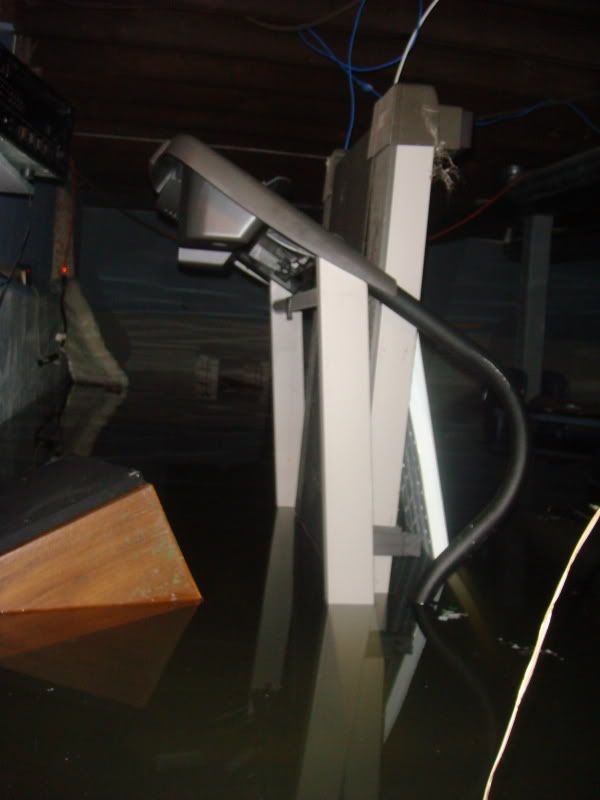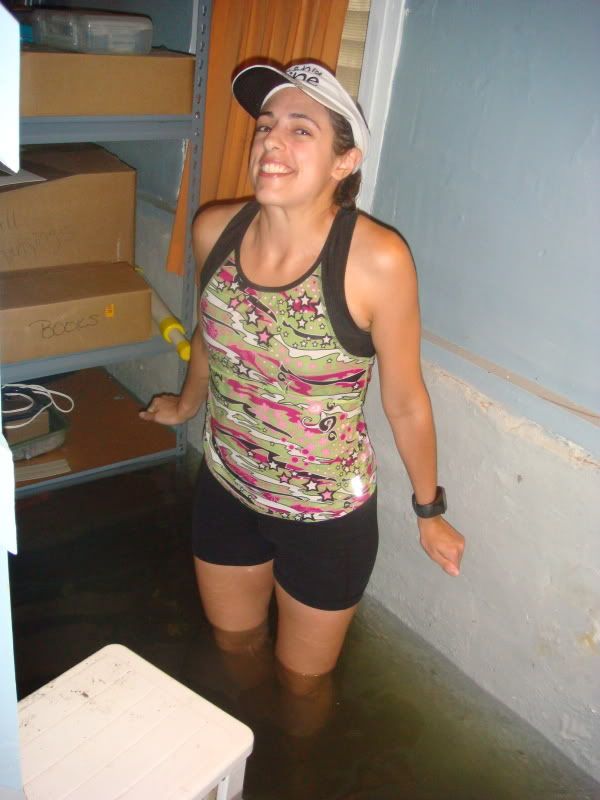 Also, did you know that washing machines float?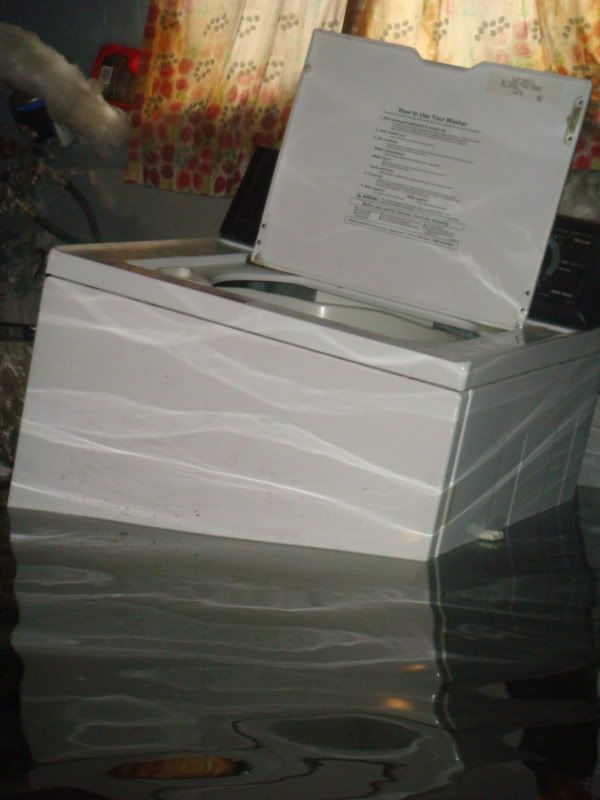 Neither did I. But at least I know that I can still run 9 miles in sopping wet shoes and run it at a decent pace. I'll let you guess which one I was more pleased to discover.
*************************
Activity
| | | | |
| --- | --- | --- | --- |
| Route: | -- | Elev. Avg: | 618 ft |
| Location: | Brookfield, IL | Elev. Gain: | +0 ft |
| Date: | 07/24/10 | Up/Downhill: | [+124/-124] |
| Time: | 07:59 AM | Difficulty: | 2.3 / 5.0 |
Performance
Distance:
9.00 miles


Time:
1:36:31
Speed:
5.6 mph
Pace:
10' 43 /mi
Calories:
1054
Map
Elevation (ft)
Pace (min/mile)
Splits
Mile
Pace (min/mile)
Speed (mph)
Elevation
Gain
actual
+/- avg
actual
+/- avg
1
9' 36

-1' 07

6.2

+0.7

0 ft
2
11' 39

+0' 56

5.2

-0.4

0 ft
3
10' 34

-0' 09

5.7

+0.1

-3 ft
4
13' 53

+3' 10

4.3

-1.3

+4 ft
5
9' 35

-1' 08

6.3

+0.7

+3 ft
6
10' 44
+0' 01
5.6
-0.0
-3 ft
7
9' 56

-0' 47

6.0

+0.4

0 ft
8
9' 55

-0' 48

6.0

+0.5

0 ft
9
10' 13

-0' 30

5.9

+0.3

0 ft
end
11' 06

+0' 23

5.4

-0.2

0 ft
Versus average of 10' 43 min/mile