Yesterday I braved the cold, the clouds and the occasional snow flake to run the Westchester VeteRUN 10K. All the proceeds from this race to go the
Wounded Heroes Foundation
to help with the financial needs and support of wounded veterans. This race has been going on for years and it's always been in support of veterans.
On the advice of
Lindsay
I decided to wear my running tights with a pair of shorts over them, a short-sleeved shirt, and my long-sleeved fleece jacket. I accessorized with a trademark bandanna and a pair of gloves. When Jason and I arrived at the race venue just a little before 8:15 AM the temperature was hovering around 35
o
F. I immediately headed to the chip pick up tent to grab my chip (which ended up being one of those triathlon chips that velcro around your ankle) and then we ducked inside the larger tent the race organizers had set up to keep us out of the cold while waiting for the start. We ventured out of the tent briefly so that Jason could visit the Saturn booth and register to win a car. He also picked up one of the cowbells they were giving away. For those of you that have never attended a race with lots of spectators, cowbells are a common form of cheering. And now Jason has one he can bring with him to all my races! I also grabbed another sign from the Adidas truck and wrote my name on it. Then it was back to the tent to try and stay warm.
Trying to stay warm and look like I'm having fun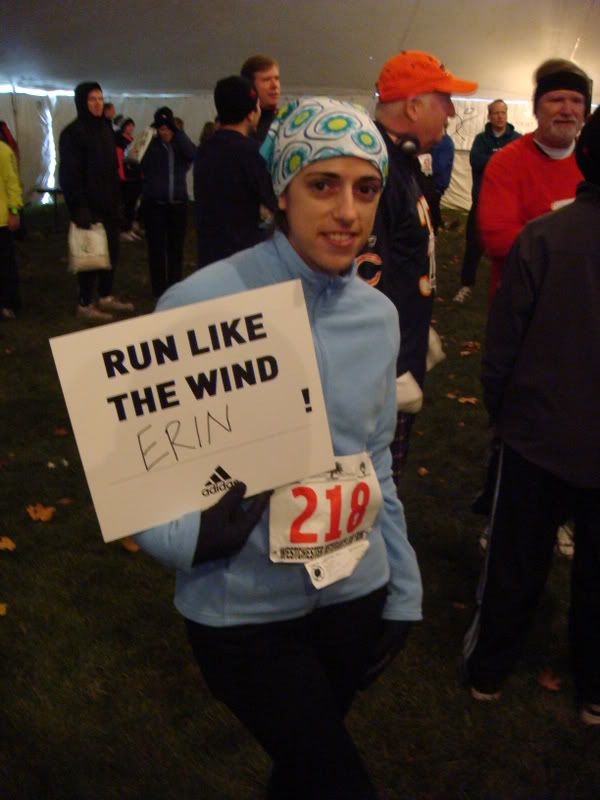 I felt bad for the race organizers because they were attempting to have a flag raising and dedication ceremony outside the tent but no one wanted to leave the warmth! In fact, it wasn't until shortly before the start of the race that most people ventured outside. We walked briskly over to the start line and I queued up towards the back of the pack. My goal time was anything under an hour and I planned to start off slow so I knew I didn't want to be at the front of the pack. About 9 AM a pitiful sounding start gun went off and we shuffled towards the timing mats.
The first three miles were nice. I warmed up quickly and part of the first half was on the bike path that I usually do my long runs on. It was a little crowded at first but people slowly began spreading out along the path and I didn't have to dodge very many people after a few minutes. I felt strong just before the three mile mark. Strong enough to wave like a fool at Jason when I passed him. Sadly, he didn't get a picture of that.
Me just before the mile 3 marker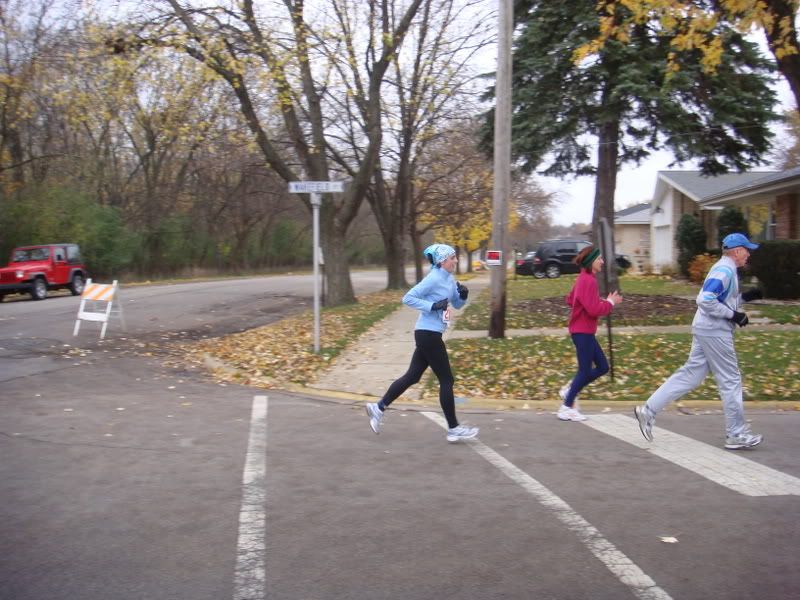 You can see that my sleeves are still down, my gloves are still on, and my bandanna is still over my ears. Also, I tried my darnedest to pace that woman in the fuchsia and purple and did pretty well until the last 1.2 miles.
They had clocks at each mile marker and I saw that I was running about a ten minute mile. I knew I had to speed up some if I wanted to make my time goal. However, the stretch between mile three and mile four was brutal and when I got to the four mile marker I felt spent. I don't know if I was dehydrated, if it was the cold, if I was just worn out from racing so hard the previous Sunday or what. But after mile four I started to go downhill and, sadly, not literally. I was warm enough to wish I hadn't put my race number on over the zipper on my jacket so instead I just pushed up the sleeves, took off my gloves, and moved the bandanna off my ears.
I grabbed water at the mile four marker, swished it around in my mouth, and spit it out. I didn't want to take any chances of aggravating the side cramp that had started to fade in and out. But at mile five I decided to walk part of the water station and drink a few sips of water. I could feel my energy level fading fast. I wished I had remembered to grab some of those sport beans at Target the day before. The English muffin with peanut butter I'd eaten at 7:15 AM just wasn't working any more. But after a very short walk and water break, I picked up running again. I tried to up my pace but could only manage to speed up for a few hundred yards.
Between mile five and six I got a spirit boost from an elderly couple standing at the end of their driveway with a card table full of drinks and a boombox playing Sousa marches. At this point I was literally just putting one foot in front of the other and it was nice to have a little distraction.
I saw Jason again and I could see the mile 6 marker, too. I knew I only had a quarter of a mile left to go. But the clock said 58:something. Could I do a quarter mile in less than 2 minutes? I was so tired. I was almost crying. I'd long since lost the woman in fuchsia and the man running in front of me was loudly grunting with every step. I tried my hardest to speed up and I think I did sprint some of the final distance.
But I don't remember if that's a smile or a grimace on my face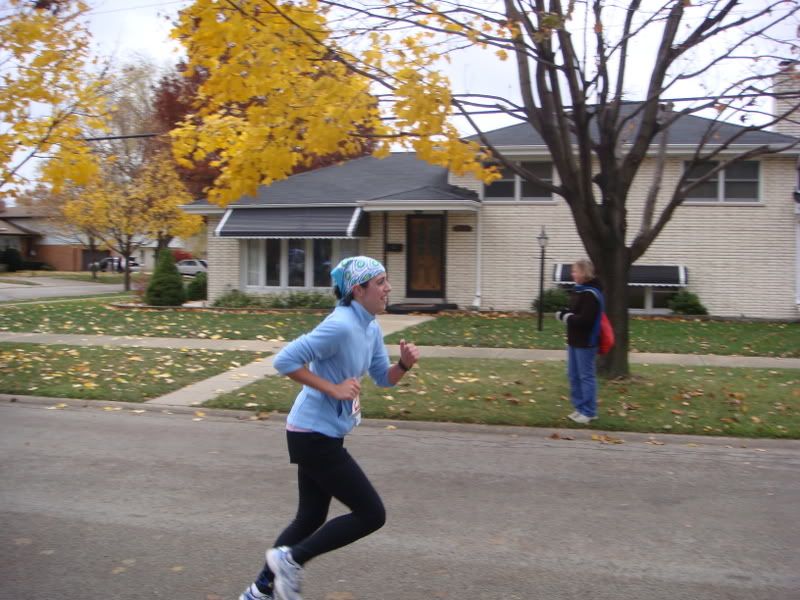 I had no idea what the time was when I crossed the finish line. All I could do was stagger to end of the chute and stare helplessly at the guys holding the chip collection basket. One of them was kind enough to squat down and remove my chip from my ankle. I was afraid if I bent over I would pass out. I wandered around in a daze until Jason found me. We grabbed bagels and chicken noodle soup from the food tent and went back to the big tent to stand in the warmth so that I could stretch.
They were posting some of the final times after the race but mine wasn't listed. They only had the top twelve women in my age group and, well, I wasn't in the top twelve. This particular race is not only on the Chicago Area Runners Association (CARA) circuit it also gets rated very highly by CARA members each year. I knew the field would be fairly fast. And, you know, I didn't have a very good feeling about how well I would do in this race. In fact, I'd had nightmares the night before about chip difficulties and other assorted running fears. I haven't been running many long distances (as in, longer than 10K) for awhile now and I just didn't feel like I was at my best. So, yeah, while I had a feeling I wouldn't beat an hour I was still hoping to be pleasantly surprised.
This morning the official times were finally posted online. My final time? Well, they gave us both gun time and chip time.
Gun time: 1:00:36.4
Chip time: 1:00:08.8
Pace: 9:46/mile
14 out of 15 in Age Group
331 out of 411 Overall
So close to under an hour but not quite there. Part of me thinks that if I hadn't stopped for water I would have made it. But another part thinks that maybe I would have been slower if I hadn't taken those breaks. I'll never know.
Regardless, I know I have a lot of work to do this winter if I want to finish strong at my first half-marathon in April.