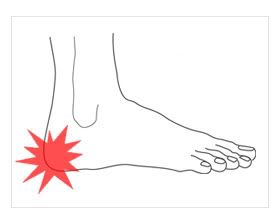 I had an easy 4 miles schedule for last night. But I didn't do them. I think this will be the first run I've skipped due to injury since I started running 2 years ago.
For the past few months, many a morning I would wake up with an incredibly tight arch of my left foot. I went to the doctor who poked and prodded and who declared it was not the
plantar fasciitis
which I had feared. I didn't have any heel pain and the tightness would always go away after a few steps.
But yesterday morning I woke up and my first step out of bed was excruciating. My heel hurt so bad. I hobbled to the shower and even after walking around for a bit it still ached.
So, at work yesterday I froze a water bottle and used it to massage the bottom of my foot. I did calf stretches while I checked my email. When I got home I used a rolling pin to massage the bottom of my foot for almost half an hour and I used an ice pack to ice my foot for about 30 minutes before bed.
And I skipped my run. Trust me when I say I was not happy about it.
This morning I don't have any heel pain, but I can tell that it could easily develop if I'm not careful. I'm wearing my most supportive non-sneaker shoes. I'll ice my foot some more at my desk. And I'm debating whether or not to skip even the elliptical at the gym this evening.
I'm so bummed that this has happened. I've been able to go for years without any injuries slowing me down. I guess I was just due, huh?