A creepy free-standing fireplace at mile 5.5
The number thirteen has so many superstitions associated with it. Heck, even my office building doesn't have a thirteenth floor. Nope, we have floors 14A and 14B. But apparently as runners we have no fear of the the number thirteen. No, instead we choose to make it an official race distance (well, we tack that .1 on it. Maybe that voids the bad ju-ju.). And yet, even though I've tackled that 13.1 distance before, it still psychs me out.
My training plan this time around had me running either 13 or 14 miles this Saturday depending on what I felt I was up to. I decided I'd go for 13 and see how I was feeling at the halfway point.
I got a later start than usual due to not having my day jam-packed with activities. Apparently getting out on the trail before 8AM only happens when I've schedule things back-to-back on Saturdays. Since I hadn't, I hit the bike path a little before 9:30. That may have been a mistake.
As you can see, although the path is mostly shaded, there are spots of sun. And although there was a breeze, the air temperature was still warm. And it just got warmer the longer I was out there.
My goal was to aim for doing each mile around 10:30. I did pretty well for awhile. The first few miles it was rough and my legs were acting like they'd never run before. Around mile 5, though, I started to feel good and was getting into a groove. I was excited to see what lay beyond mile 6 and I was looking forward to taking a short break to eat my assorted energy supplements (some Luna Moons and some Powerade things I got at my last race). Again, taking that break may have been another mistake.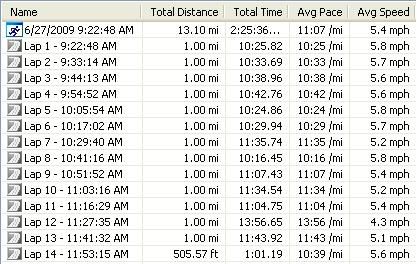 I hit a wall and I hit it hard at mile 7. I had to walk A LOT. I tried to run a mile and walk a tenth of a mile. That worked okay but I just kept getting slower and slower. I ran out of my water and Gatorade mixture just after mile 11. Shortly after that the doubting Thomases filled my head. "You hit the wall at mile 7 at your first half, too! Just like you did today! Look how slow you're running! You'll be a huge disappointment next month! You'll have to walk! You ALWAYS have to walk. You're not getting any better. You'll never get any better!"
I let the negative thoughts get to me and I started to panic. I had no more hydration. I was a mile and half from my car. Jason was out of town and I couldn't think of who I could call to come get me. My chest started to tighten up and I couldn't take a deep breath. So, I walked. I walked a lot of that mile. Which is why the mile 12 time is over thirteen minutes. That dreaded thirteen.
Overall, my average pace for this run was almost exactly a minute slower than my actual half-marathon pace back in April. I KNOW training runs are supposed to be slower than race pace. Intellectually I know this. But I always think that if I can't run faster during a training run then I'll never be able to run faster during a race. Someone in one of the online forums also said recently that if you have to stop and walk during a training run then you haven't paced yourself correctly. Does that mean I really need to run slower on these long runs? I just don't know.
It wasn't a good run. In fact, I was so wiped out afterward that I ended up taking a four hour nap. But, I did it. For the second time in my life I ran 13.1 miles. And even if it wasn't the best run ever, I learned something. I learned that in this heat I need to start earlier. I need to figure out a way to take more liquids with me. And I need to learn to silence the negative Nancies that take up residence in my head.
Oh well. At least it's pretty out there.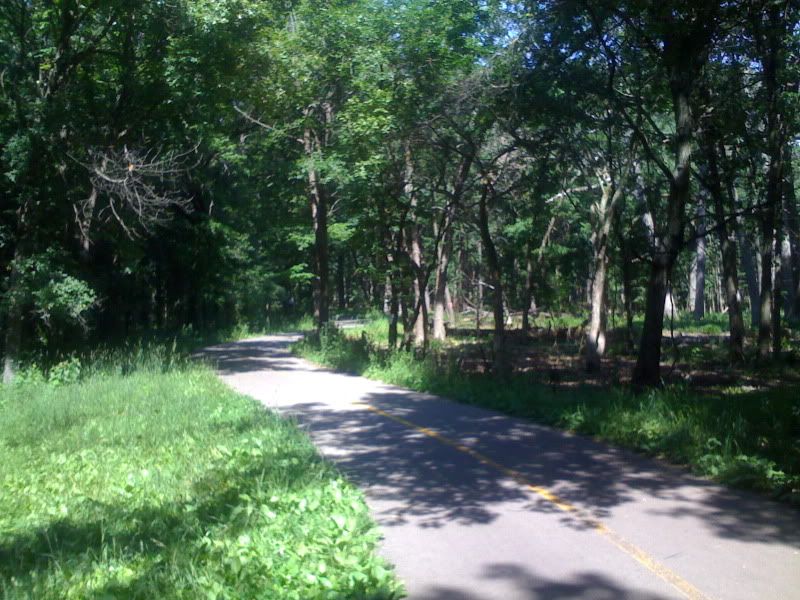 Activity
Route:
--
Elev. Avg:
626 ft
Location:
Brookfield, IL
Elev. Gain:
+0 ft
Date:
06/27/09
Up/Downhill:
[+341/-341]
Time:
09:22 AM
Difficulty:
3.8 / 5.0
Weather:
Mostly Cloudy
82 F temp; 39% humidity
81 F heat index; winds S 7
Performance
Distance:
13.10 miles


Time:
2:25:37
Speed:
5.4 mph
Pace:
11' 07 /mi
Calories:
1052
Map
Elevation (ft)
Pace (min/mile)
Splits
Mile
Pace (min/mile)
Speed (mph)
Elevation
Gain
actual
+/- avg
actual
+/- avg
1
10' 18

-0' 49

5.8

+0.4

-7 ft
2
10' 25

-0' 42

5.8

+0.4

+13 ft
3
10' 28

-0' 39

5.7

+0.3

+3 ft
4
10' 33

-0' 34

5.7

+0.3

-3 ft
5
10' 21

-0' 46

5.8

+0.4

+3 ft
6
12' 14

+1' 07

4.9

-0.5

+10 ft
7
11' 36

+0' 29

5.2

-0.2

-3 ft
8
10' 09

-0' 58

5.9

+0.5

+10 ft
9
11' 16

+0' 09

5.3

-0.1

-16 ft
10
11' 29

+0' 22

5.2

-0.2

+7 ft
11
10' 58

-0' 09

5.5

+0.1

-10 ft
12
13' 43

+2' 36

4.4

-1.0

-10 ft
13
11' 48

+0' 41

5.1

-0.3

+6 ft
end
10' 38

-0' 29

5.6

+0.2

-3 ft
Versus average of 11' 07 min/mile