Yes, after running 18 miles on Saturday morning, I dragged myself out of bed at 5:00 AM and laced up my running shoes for a Monday morning Labor Day race. I mean, I was going to run a minimum of 5 miles on Monday anyway, why not do it in race form?
I met up with members of the running group for our carpool to the race site. The race venue was about an hour south of us and when we arrived we were surprised to find that the weather was drizzly, chilly, and windy! Still, we picked up our packets and marveled at how small the participant field was.
We decided to do a warm-up that would take us out passed the finish line so we could better visualize what the final mile would look like. And what did it look like? Hilly. Great. We finished what ended up being about a 2 mile warm-up and realized it was no longer drizzly or chilly. But it was still windy. Darn.
About this time I realized that I needed to eat something in order to calm the sea of water churning in my stomach. One of the club members gave me her last bite of a PowerBar and then it was time to line up for the start. Jason sent me a text message saying he was "in position" as a spectator and shortly after that we were off.
Jason had a prime spot to view the race leaders just after the 1 mile marker.
Also known as six Kenyans and a guy from Wheaton, IL.
Probably about 4 minutes later I passed saw Jason up ahead. Jason, unknowingly, actually got a great photo of my running buddy Maribeth who was just in front of me at that point. She's in red. I'm in the fuchsia top to the back right.
My goal for this race was to pace under 8:45, preferably 8:30 or less per mile. I knew if I could keep Maribeth in my sights I'd be doing well. We hit the first mile marker in just over 8 minutes but I could tell already that my legs were getting tired and I was feeling parched.
After a stretch on the surface streets we turned into the forested park for a long straight bit. I felt myself starting to slow down but then, just after mile 2, as I approached a sidewalk that T-ed into the path we were on, I saw Jason ride up on his bike! "Great timing!" I yelled and it put a huge smile on my face.
That put a spring in my step for a bit but I still felt sluggish. I was trying to just get in "the zone", tune out the rest of the runners, and not check my Garmin ever 2 minutes. Still, I glanced down often to see that I was barely hanging onto my 8:30 pace. As I passed the water station just after mile 3 I slowed to a fast walk, grabbed some water, and took a swallow. The wind combined with the fact that I was breathing heavily through my mouth made the inside of my mouth feel like the Sahara. Blech.
I barely remember mile 4 but I recall passing some bag pipers and then, when I could hear the polka band, I knew we only had a mile left. Running the last mile as a warm-up was a great idea. I highly recommend it if you can do it. I knew that when I could hear the tuba I was almost there.
But first I had to tackle the hill. Maribeth had long since pulled ahead but I could still see her and that's all that mattered to me. I powered up the hill and passed Jason near the top.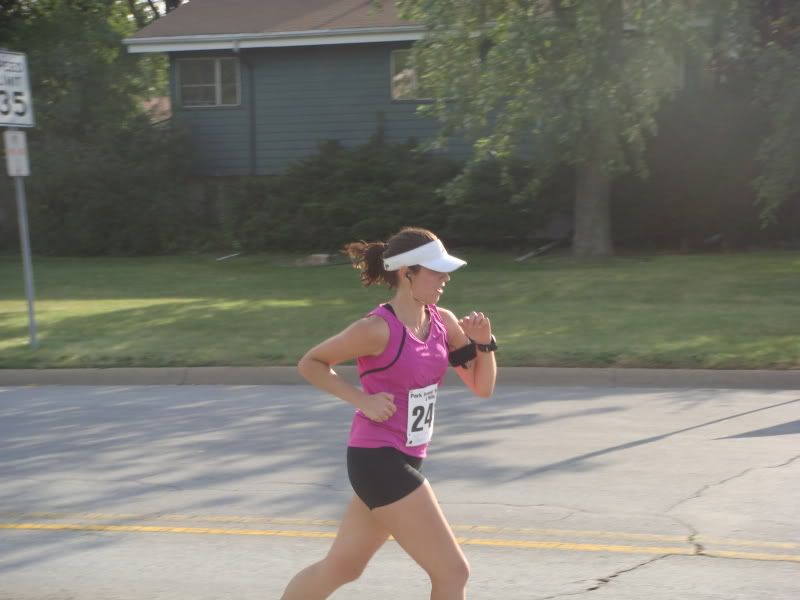 I put all I had into my finishing push and crossed the line in 42:37. The Garmin told me I'd done 5.02 at an 8:29 pace. Goal accomplished!
My favorite part about this race? Everyone who finished got a medal! What a great perk for a small race. Also, each racer's bib had two food coupons that could be exchanged for a myriad of foods. I chose pancakes :-)
After checking out the results and learning that at least two of our group members had placed in their age groups we posed for a partial group photo before Jason and I headed for home.
All in all, it was a good way to spend a holiday morning. I hit my goal pace, I came in in the top 10 in my age group, I got a fun medal, and I got to spend time with some of my favorite runners. Plus, it meant that I got to take a nap later that afternoon. And I like naps. Perhaps I need a shirt that says "Will Race for Naps". What do you think?
Official Race Stats:
Gun Time - 42:50
Chip Time - 42:36
Pace (based on Gun Time) - 8:34 per mile
Age Group Place - 7/17
Overall Place - 153/290
**************************
Activity
| | | | |
| --- | --- | --- | --- |
| Route: | -- | Elev. Avg: | 706 ft |
| Location: | Park Forest, IL | Elev. Gain: | +0 ft |
| Date: | 09/06/10 | Up/Downhill: | [+95/-95] |
| Time: | 07:59 AM | Difficulty: | 2.0 / 5.0 |
Performance
Distance:
5.02 miles


Time:
0:42:38
Speed:
7.1 mph
Pace:
8' 30 /mi
Calories:
340
Map
Elevation (ft)
Pace (min/mile)
Splits
Mile
Pace (min/mile)
Speed (mph)
Elevation
Gain
actual
+/- avg
actual
+/- avg
1
8' 06

-0' 24

7.4

+0.3

-10 ft
2
8' 29
-0' 01
7.1
+0.0
+10 ft
3
8' 36

+0' 06

7.0

-0.1

0 ft
4
8' 46

+0' 16

6.8

-0.2

-3 ft
5
8' 29
-0' 01
7.1
+0.0
+4 ft
end
**
**
**
**
** ft
Versus average of 8' 30 min/mile
** Insufficient data to calculate this split