January 24th - January 30th
This week was a little unusual what with traveling for work, meetings, and just generally being off my routine.
Jan 24
5.5 miles
with the running group. Not quite the tempo run I had planned but still a good run.
Jan 25
Ended up not being able to run at lunch due to a meeting and then after work I had to attend the running club board meeting so no running or gymming or lifting, either. I suppose I was due for a rest day, though.
Jan 26
Travel day! In between packing for and flying to San Antonio, TX for work I didn't get in a workout. I was only mildly bummed, though, because my left leg was bothering me. I think it's time to cash in my massage Groupon.
Jan 27
I didn't get in a workout because I was in a workshop all day and then spent the evening exploring downtown
San Antonio
! The workshop was informative and the city is lovely so I'm okay with calling it a rest day :-)
Jan 28
3.2 mile run in San Antonio!
Wasn't a very scenic run but it was still nice to get out there.
Jan 29
I had plans to get home from San Antonio (7:15 AM flight anyone?) and go for a 12 mile run but I got sucked into spending time with my husband instead. Sometimes you've just got to savor life, you know?
Jan 30
I pushed my
12 mile run
to Sunday and while I did it it wasn't pretty. Too many rest days? Being thrown off my routine? Running on snow? Not fueling properly? Not sure what it was but I'm glad that run is over.
Total Mileage: 21
Total strength workouts: 0
I may not have done any strength workouts this week but I don't mind. That's because my
CrossFit Bootcamp class
starts tonight! I'm not really sure what to expect but their website says that I can expect:

* Core strength and a tighter back side
* Average five pounds of weight loss
* Function that will apply to any sport as well as every day life
* Accountability of goals for maximum results
* Increase in strength and cardiovascular endurance
* Increase in coordination and agility
So, keeping all those things in mind, I thought I'd take (and share) some "before and after" photos. Below are my "Before" shots.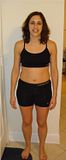 Let's see what this class can do!