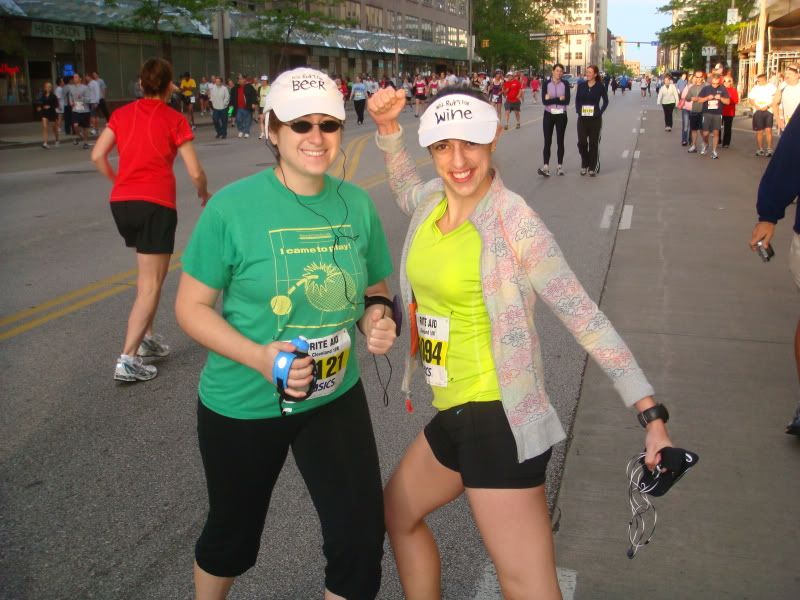 First, everyone say to hi to my friend Rae. She is a newer runner who decided to tackle her first 10K this weekend. My job? Get her to the finish line at a 10 minute/mile pace. But, really, this weekend was all about having fun. And fun was definitely had.
Of course, the first thing you have to do on race weekend is pick up your packet. I'd heard exciting things about the Cleveland Marathon expo and was looking forward to checking it out. We scored some fun swag both in the goodie bag and at some of the booths. The only downer? The marathoners and half marathoners got awesome blue technical t-shirts whereas us 10K runners only got gray cotton t-shirts. Dear Cleveland Marathon race organizers, please don't make the shorter distances feel slighted. Thanks.
On top of the free stuff I was super excited that
One More Mile
was there. Rae and I laughed at the slogans and ended up buying a few things. Check out our haul:

New headgear (Rae's new shirt says "This seemed like a good idea 3 months ago")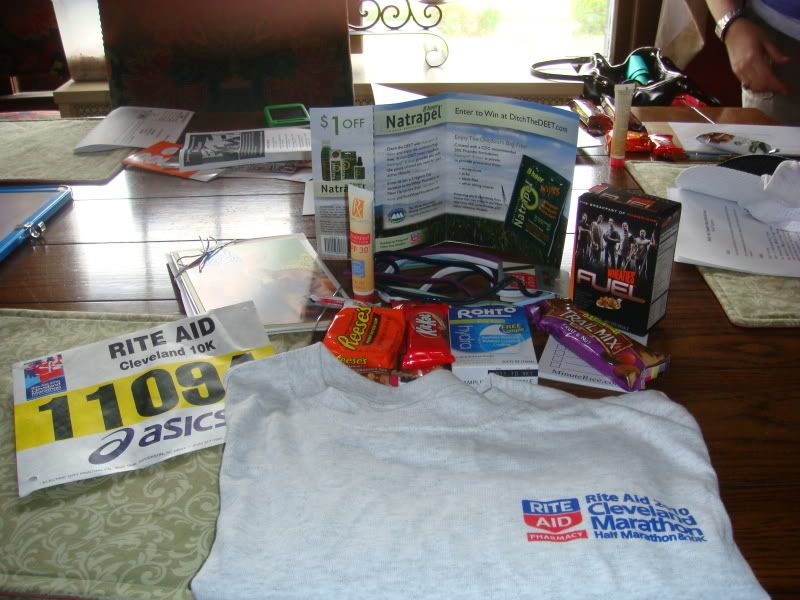 Free/Goodie Bag Swag
And, of course, on race weekend what else do you need to do? Carbo load! But we couldn't have just any old pasta. Oh no. Rae decided to teach me how to make homemade herb pasta! Check it out:
Paired with tomato-basil tomato sauce, fresh roasted veggies, and Parmesan cheese it was delicious!
After some griping about how freaking early we'd need to get up and some discussion about which train to take downtown we headed to bed for our 5 AM alarm. The 10K race started at 7:15 but we wanted to make sure we got there early enough to do all that fun pre-race stuff like find the start line and use the port-a-potty.
Thanks to our wonderful husbands we had no need for gear check so after watching the marathoners and half marathoners get started we tried to figure out where to stand. Again, the 10K race was a little bit shafted as there were no pace signs to indicate where people should stand. As a result, we passed quite a few walkers in the first few miles.

Marathon/Half Marathon start
Once we got situated I realized I'd forgotten to take off my sweatshirt. It was chilly and I didn't really want to stand around freezing to death but I also didn't want to run with it on. But, I sucked it up and tied it around my waist and hoped I'd see Jason near the start so I could throw it to him. I hopped up and down to stay warm while we listened to "Cleveland Rocks" for about the 10th time. I'm pretty sure Rae thought I was nuts. Here were are, about to run 6.2 miles, it's 7:10 AM, and I'm full of energy. Let's get this party started!
The horn sounded and about 4 minutes later we shuffled our way over the start line. Almost immediately I saw Jason who was staring through the camera rather oblivious to my presence. I made a beeline for him and did my best to make him notice me.

Obviously that didn't go so well



But at least I managed to get rid of my sweatshirt
Rae and I had a pact that she didn't need to talk to me unless she wanted to. We did chat a bit at the beginning since we were going slowly as we dodged around walkers and slower runners. I had one bud of my earphones in so that I could take in the sounds around me and keep an ear on Rae. I'd promised to stick next to her the entire time and I wanted to do my best as a pacer.
The course itself was rather bland. Sure, there were some views of the lake, a few glimpses of what I think was an airplane museum, and some boat docks, but for the most part it was frontage road and people on the way out, and frontage road, people, and the occasional glimpse of the city on the way back. There was one hill as we went up and over the freeway but it wasn't too bad. Rae was doing really well and we were sticking to our 10 minute pace.
Except, apparently, I got a little carried away in mile 4 and pushed us a little too fast. I could tell Rae was starting to suffer so I slowed us back down. Every time we passed a water stop Rae asked if I wanted water (she had her own bottle) but I declined. I was in a groove and didn't want to interrupt it.
About mile 5 I could tell Rae needed some more motivation. "Hey," I said. "Let's try and pick off that girl in orange." I pointed out a woman running several yards in front of us. Rae didn't seemed to thrilled with the idea but I told her to stay steady. Sure enough, we passed her. "Now let's go for the guy in red." But just as we were closing in on him he stopped to stretch! No fair!
Then the race course designers decided to throw us a curveball. A huge hill in the final mile! "You can kick this hill's butt!" I said to Rae. "You run hills all the time! If anyone is dying on this hill it will be me!" I also told her she was more than welcome to slug me once we crossed the finish line.
As we neared the finish line I started looking for Jason. Then Rae saw her husband waving her red sweatshirt! I grabbed her hand and hammed it up for the camera. Um, I may have been channeling Phoebe or some other crazy runner. But, as Rae said, my energy level was a big factor for her.
The finish line was just up ahead. I could see the clock and see that we were nearing Rae's goal time. "Come on," I said. "Let's kick it! You can do it!" And off I went knowing that there's nothing better than a rabbit to chase when you really need to push it.
And then we crossed the finish line! "We did it!" And, instead of slugging me, Rae and I collapsed into a huge hug. And then celebrated with chocolate milk.
Aside to the race organizers: Once again, thanks for making the 10K runners feel like the bastard step-children of the event. The marathon and half marathon medals were right there as we finished yet it became obvious there were no medals for us. Next year, how about a little love for the 10K people? Thanks.
I'm so proud of Rae for taking on this challenge. I've never been prouder to run with anyone. She said she couldn't have done it without me. I say she made it one of the best 10K races I've ever run. I had so much fun! And remember her goal of 10 minute miles? Well, our final time was...
1:02:48 for an average pace of 9:59
WE DID IT!!!
We had so much energy on the way back we were practically bouncing all over the commuter train. Jason, though, found being a spectator to be very tiring work.
He's such a good sport, though. He's an awesome spectator, takes great race photos, and was even kind enough to drive the 6 hours home so that I could sleep in the car.
I didn't want this weekend to end. Alas, after a homemade breakfast of waffles and eggs it was time to hit the road. I'm so proud of Rae for sticking with her training and getting her goal time. She'll tell you it's only because I was there that she did it, but I say, to paraphrase John Bingham, it was her courage to start in the first place that got her to the finish line.
***************************
Bones in Motion Data (which is being lame and not showing all the cool stuff)
Activity
| | | | |
| --- | --- | --- | --- |
| Route: | -- | Elev. Avg: | 0 ft |
| Location: | -- | Elev. Gain: | +0 ft |
| Date: | 05/16/10 | Up/Downhill: | [+0/-0] |
| Time: | 07:19 AM | Difficulty: | 0 / 5.0 |
Performance
Distance:
6.27 miles


Time:
1:02:38
Speed:
6.0 mph
Pace:
9' 59 /mi
Calories:
752
Map
Elevation (ft)
Pace (min/mile)
Splits
Mile
Pace (min/mile)
Speed (mph)
Elevation
Gain
actual
+/- avg
actual
+/- avg
1
10' 03
+0' 04
6.0
-0.0
-- ft
2
10' 02
+0' 03
6.0
-0.0
-- ft
3
9' 56
-0' 03
6.0
+0.0
-- ft
4
9' 45

-0' 14

6.2

+0.1

-- ft
5
10' 00
+0' 01
6.0
-0.0
-- ft
6
9' 58
-0' 01
6.0
+0.0
-- ft
end
9' 50

-0' 09

6.1

+0.1

-- ft
Versus average of 9' 59 min/mile