Runners packed in at the start
Isn't it funny? You can train so hard for a race. All your training runs can go great. And then race day comes and something else entirely happens.
Let's recap my goals:
Goal A: Finish (that's always goal A)
Goal B: Finish without walking (except for perhaps at some water stops)
Goal C: Get a new PR (under 2:13)
Goal D: Finish under 2:10
Goal E: Finish under 2:00
So, which ones did I accomplish? Goal A and Goal C. And I came THISCLOSE to hitting Goal D. If only I had managed to shuffle a few more steps. Ah, well, I still got a new PR!
How did it all play out? Let's see....
After a momentary crisis with our hotel room reservation we were able to get our Friday night digs sorted out and we headed up to Wisconsin after scarfing down dinner (pizza, for the record). I got my race packet from
Kim
and was in bed by 10:30 for our 5 AM wake up call.
When my alarm went off I dragged myself out of bed, got ready, and ate my usual English muffin with peanut butter. Jason and I met Kim and Steven in the hotel lobby and we left for the race around 6 AM. Due to the traffic we got to the start with only about 15 minutes to spare. While the national anthem played I wormed my way through the crowd and put myself near the 9:00 minute/mile pace sign. I picked out some people to try and stick with and, although the Garmin only said 6:59, the horn sounded and we were off.
The original plan was to try for negative splits and start out around a 9:15 mile and speed up at the half way point. Except when everyone's Garmins beeped at mile 1 I looked at mine and saw I'd totally blown that plan. 8:50. Oops. So at that point I decided to try and build up a cushion of time instead.
I skipped the first water station (in hindsight, possibly a mistake) and was hanging on to my 8:50ish pace. I was keeping the people I'd picked out in my sights and I felt, well, I guess I just felt okay. Just like my other two half marathons I felt kind of dizzy and not well-fueled. I still haven't figured out the perfect combination of foods to eat before a hard morning run.
The miles felt long and I knew that wasn't a good sign if it was only the beginning of the run. I was super-grateful for the aid station around mile 4. It gave me an excuse to walk for a moment and drink some Gatorade. I was pleased to see that my pace didn't suffer significantly.
Just after mile 4 I started scanning the crowd looking for Jason. I knew he'd be there somewhere. Imagine my surprise when I recognized my step-dad's hat and saw my mom standing on the sidelines holding this: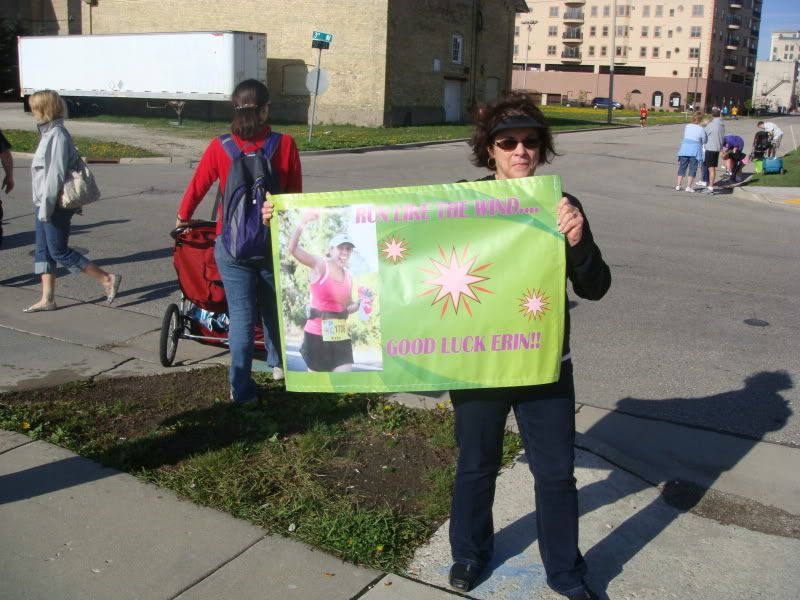 Click to see larger
I had NO IDEA they were coming to cheer for me. I was so shocked. I actually started crying. Turns out they drove up the night before and were even staying on the same floor of the same hotel that Jason and I were in!! They'd been arranging this with Jason for weeks!
Here's a slideshow of my reaction when I realized my parents were there. My mom even grabbed my hand and ran a few steps with me:
That gave me a much needed boost for the rest of that mile. But then, you see, the hills really started. As we moved towards the edge of the lake we went up and down over and over again. The road and paths got more and more pocked with potholes. I was really looking forward to the halfway point when I could stop for water and to take the Gu I'd shoved in my pocket at the last minute. So, once we got to the water station just after mile 6 I grabbed a cup of water, squeezed my Vanilla Gingerbread Gu into my mouth, downed the water, and tried to find the energy to keep running.
About this time I realized my legs felt like they were made of concrete. I kept trudging along but it was painful. I watched my pace drop like a lead balloon. The lead runner in the half marathon passed us on the back portion of the out and back course. I craned my neck looking for the turn around point but couldn't see it. The miles went by so slowly. I wanted to cry. I wanted to stop. I wanted the race to be over. At mile 8 I grabbed a cup of water and that's when the walking began in earnest.
I tried to keep running if only until I passed Kim and Steven. When I saw them Kim whipped out her camera and I acted like I was having a great time!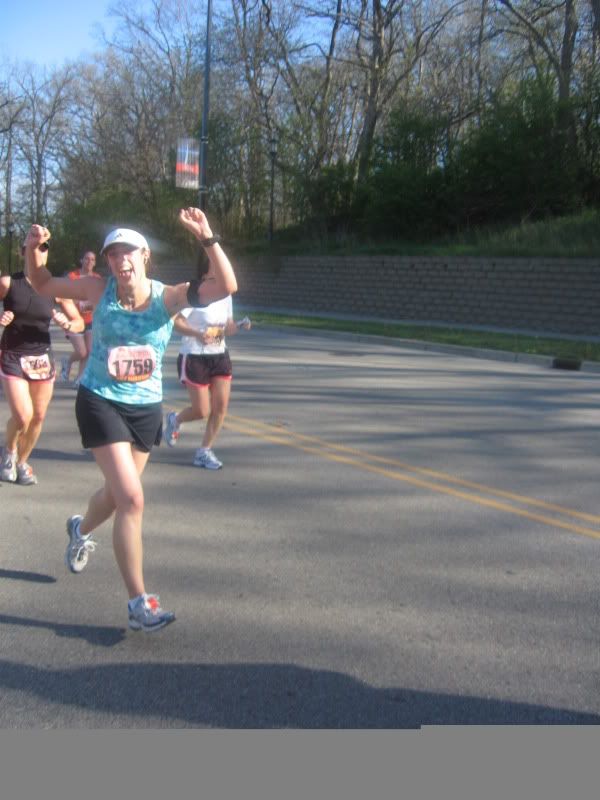 But then I walked again. My heart just wasn't in it anymore. The more I walked the more I watched my 2:00 goal slip away. I tried to readjust my expectations. I tried to run. But I just couldn't. I just wanted to be done.
Near mile 10 I really wanted some Gatorade. But that aid station only had water. So, I skipped it. Again, probably a mistake. Water would have been better than nothing. The sun was beating down on us and although there was a breeze off the lake it was stiff enough to be irritating.
I switched to trying to run a quarter mile and walking a quarter mile but even that much running was beyond me. At one point I was lucky if I could run a tenth of a mile. When we finally passed the mile 12 marker, I grabbed one final cup of water and thought to myself "It's just one more mile. You can run one mile." But I couldn't. I saw Kim and Steven again as I walked. At this point I thought to myself "If I can just keep my average pace under 10 minutes per mile."
And when I hit the mile 13 marker and saw Jason and my parents I burst into tears.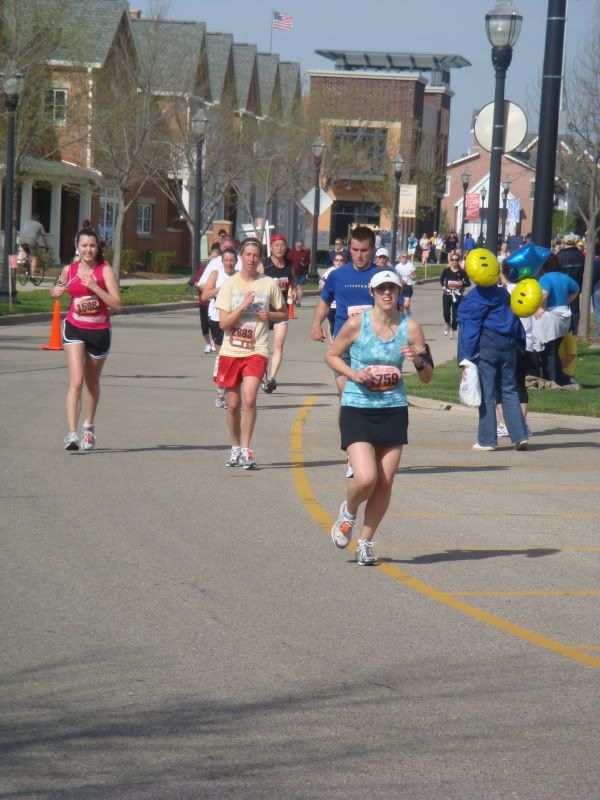 Jason, bless his heart, jumped off the curb and out onto the course. "You can do this!" he yelled. And he started running alongside me as I cried. I saw another runner look over at us but didn't care. I could see the clock saying 2:10:something and I tried to push myself even harder. Jason jumped back onto the curb just before the finish line and I practically stumbled over the timing mats.
I'd never been happier to be done with something. I got my mylar blanket and my medal, hugged my parents, and then went to the finish line to wait for Kim and Steven.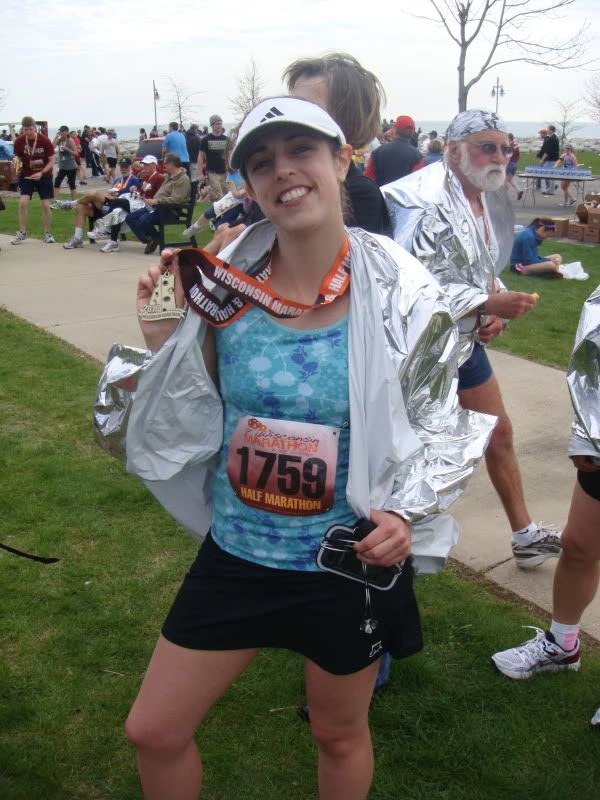 By the way, that mylar blanket? Totally disgusting when you're still sweaty and it's humid out. I didn't want it touching me at all. It wasn't until I was standing in line for a massage that I started to shiver uncontrollably and really wanted that thing.
I got my massage which felt SO GOOD on my calves. My lower legs were quite angry with me. Even today my quads and my back are so incredibly sore. I've never been this sore after running anything.
Overall, I did not run the race I had trained for. But I still ran a personal best and I finished! Although there were a few moments when I did not want to be out on the course anymore I never walked off. I could have, but I didn't. And as with any race, you learn some lessons. Hopefully I can apply these to my marathon training. After that, though, I'm leaning towards sticking to shorter distances or less lofty time goals.
I do have to thank Kim and Steven, though. Although I didn't run the actual race with them, it was great to be there together, experiencing the same things, and cheering for one another.
Official Stats:
(Note: My Garmin measured this course as a little long. There were a lot of turns and even though I tried to run the tangents it didn't always work.)
Final time - 2:10:01
Average Pace - 9:56
Overall Place - 975/1945
********************************
Activity
Route:
--
Elev. Avg:
592 ft
Location:
Kenosha, WI
Elev. Gain:
+0 ft
Date:
05/01/10
Up/Downhill:
[+374/-374]
Time:
06:59 AM
Difficulty:
3.3 / 5.0
Weather:
Fair
64 F temp; 75% humidity
64 F heat index; winds SW 15
Performance
Distance:
13.18 miles


Time:
2:10:04
Speed:
6.1 mph
Pace:
9' 52 /mi
Calories:
1508
Map
Elevation (ft)
Pace (min/mile)
Splits
Mile
Pace (min/mile)
Speed (mph)
Elevation
Gain
actual
+/- avg
actual
+/- avg
1
8' 50

-1' 02

6.8

+0.7

+16 ft
2
8' 49

-1' 03

6.8

+0.7

0 ft
3
8' 57

-0' 55

6.7

+0.6

+13 ft
4
9' 02

-0' 50

6.6

+0.5

-3 ft
5
9' 01

-0' 51

6.7

+0.6

-3 ft
6
9' 23

-0' 29

6.4

+0.3

-13 ft
7
9' 39

-0' 13

6.2

+0.1

+4 ft
8
10' 03

+0' 11

6.0

-0.1

-3 ft
9
10' 25

+0' 33

5.8

-0.3

+6 ft
10
10' 45

+0' 53

5.6

-0.5

-3 ft
11
10' 59

+1' 07

5.5

-0.6

+13 ft
12
11' 06

+1' 14

5.4

-0.7

-7 ft
13
11' 25

+1' 33

5.2

-0.8

-10 ft
end
8' 20

-1' 32

7.2

+1.1

-9 ft
Versus average of 9' 52 min/mile