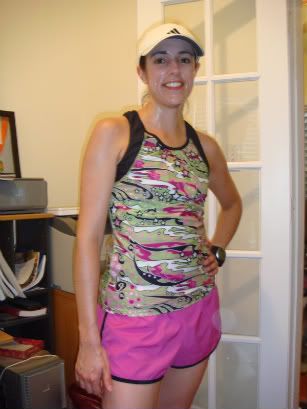 I wore my new running tank top last night. I discovered that my pink shorts matched the pink in the top perfectly. Paired together I think this top and these shorts create the brightest, most obnoxious running outfit I own. I love it!
The rest of the run was obnoxious but not in a good way. You'd think that my adrenaline over finding out I got a PR in my 5K on Saturday would carry over into a good 5 mile run after work. Not so much. I started out WAY too fast for an easy run and ended up having to walk twice. Once downhill!
On the plus side, I still averaged just over 10:00 minutes per mile which I suppose is what I should be aiming for on my easy runs anyway.

Part of my problem is that my abdominal muscles started to hurt. I missed both Pilates work outs last week. Actually, to be honest, I never got around to signing up for it for this session of classes. I thought I'd just do some stability ball work at home, but I just haven't had the chance. The reason I missed class (and sign-ups!) last week was because on Tuesday I had a professional association awards dinner after work and then on Thursday evening we had free tickets to see a performance of
Fiddler on the Roof
.
Even if I had signed up for Pilates for this session, I'd be more than likely missing it both nights this week, too. For our wedding anniversary I told Jason I wanted archery lessons. There's a place just up the street from us that does them on weeknights. He's supposed to call today to see if we can get in a lesson tonight. And then Thursday evening I have the end-of-the-year faculty/staff picnic for work.
I find it hard to believe that my ab strength could be diminishing already, but I'm pretty sure that after two weeks of no core work I'm going to be feeling it for sure. I've been so good about making my workouts a priority, but these two weeks have really thrown me off my cross-training and strength-training game. Hopefully all these extracurricular things will calm down soon and I can get back to my regularly schedule routine.
********************
Monday night's stats
Activity
Route:
--
Elev. Avg:
628 ft
Location:
Forest Park, IL
Elev. Gain:
+0 ft
Date:
06/15/09
Up/Downhill:
[+91/-91]
Time:
06:42 PM
Difficulty:
2.4 / 5.0
Weather:
Mostly Cloudy
76 F temp; 38% humidity
76 F heat index; winds E 12
Performance
Distance:
5.00 miles


Time:
0:50:25
Speed:
6.0 mph
Pace:
10' 05 /mi
Calories:
520
Map
Elevation (ft)
Pace (min/mile)
Splits
Mile
Pace (min/mile)
Speed (mph)
Elevation
Gain
actual
+/- avg
actual
+/- avg
1
9' 36

-0' 29

6.2

+0.3

+3 ft
2
9' 40

-0' 25

6.2

+0.2

+10 ft
3
10' 08
+0' 03
5.9
-0.0
0 ft
4
10' 34

+0' 29

5.7

-0.3

-10 ft
5
10' 19

+0' 14

5.8

-0.1

-3 ft
end
10' 00
-0' 05
6.0
+0.0
0 ft
Versus average of 10' 05 min/mile