Sunday morning (the 28th) found me being awakened by my alarm blaring at 6:30 AM. Why? Because at 9:00 AM I was running the PAWS Chicago Run for Their Lives 8K.
PAWS Chicago
is Chicago's largest no-kill humane society. Read more about them on their website. Humane societies and pet rescues are near and dear to my heart so I felt that this was the perfect event for me. And thanks to my friends and family I raised $165 dollars, all of which goes directly to PAWS Chicago.
The event consisted of either a 4K walk (that you could do with your dog) or an 8K (4.97 miles) race (that you were supposed to do sans dog). They also had quite the set-up at
Montrose Harbor
. A doggie agility course you could try, quite a few sponsor tents giving away free goodies (we scored a bandanna and a portable foldable water bowl), dog and human massage stations, and a well-stocked beverage and food tent. The grassy area just north of the harbor was humming with people and dogs.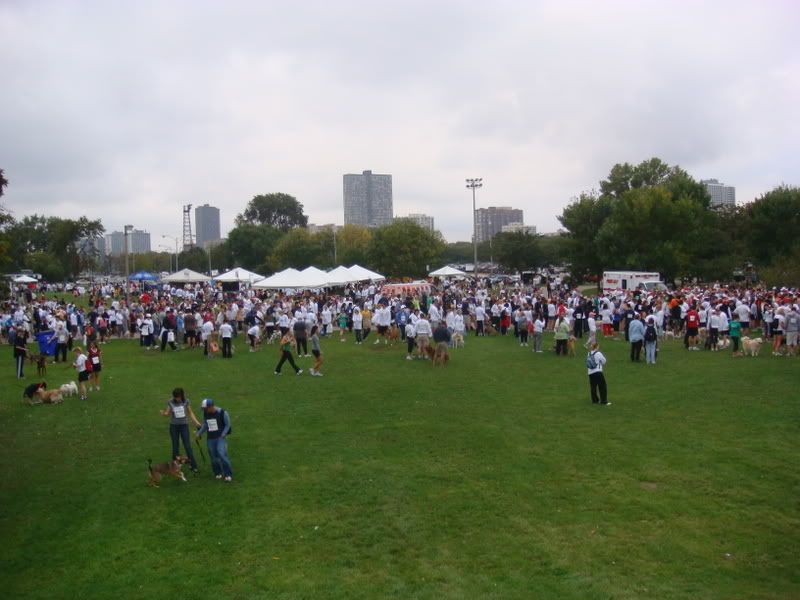 Jason and I decided to bring Trinka Deu with us as a treat. She had quite the time looking at all the people and greeting other dogs. She was perfectly well-behaved and posed for a few pictures.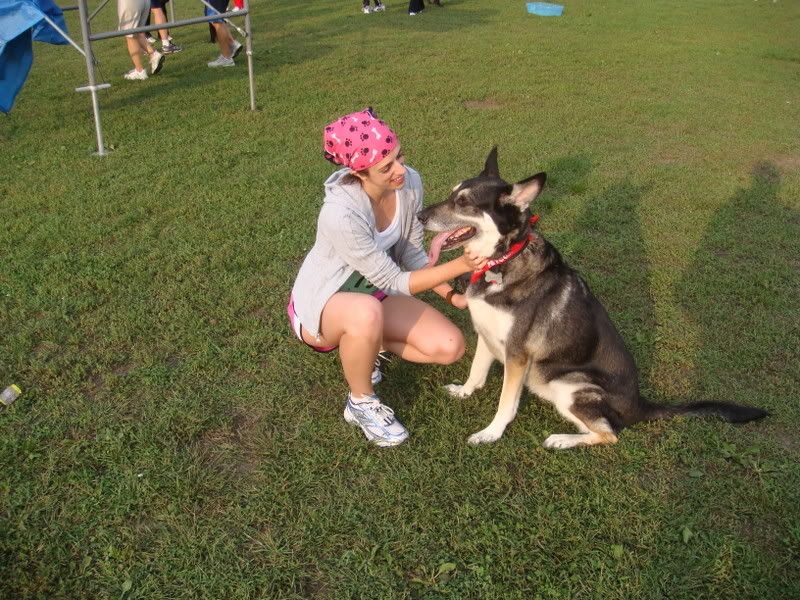 The race day packet pick-up was incredibly well-organized. Such a change from the Nike+ Human Race! The goody bag was even better, too. Two-week pass to Bally Fitness, a package of doggie-doo clean up bags, dog treats, and a magazine. And I think the t-shirt might be my favorite shirt of any race I've ever done.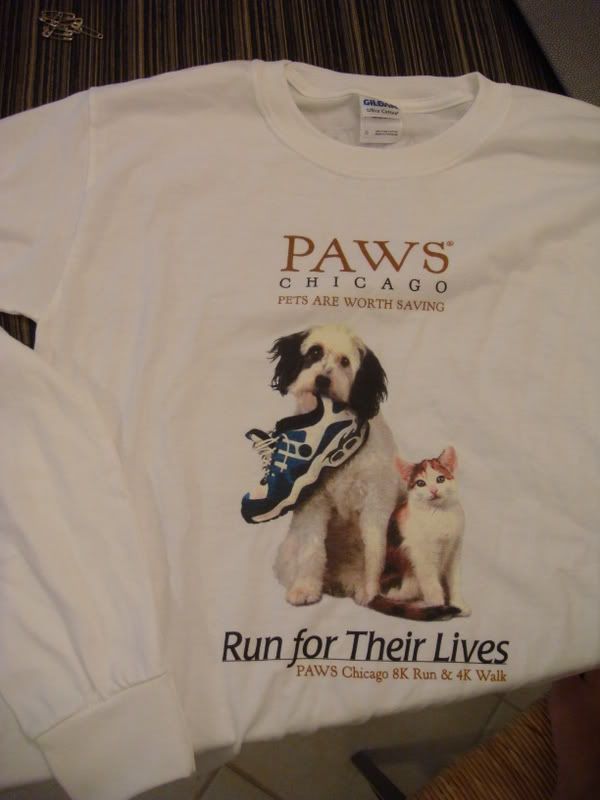 Shortly after I grabbed my packet and timing chip it was time to do a quick warm-up with the girls from Bally Fitness. They lead the crowd in a few stretches and mild aerobic exercises. Well, I should say they attempted to lead the crowd. It looked like there were a lot of people signing up or doing packet pick-up last minute. In addition, they did the warm-up at 8:15 even though the race didn't start until 9:00. So participation was a bit sparse.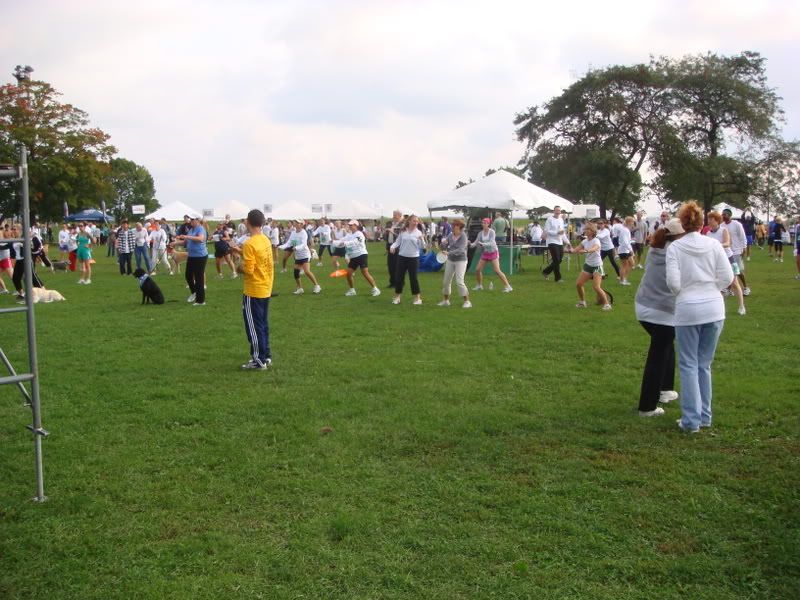 After the human warm-up it was time for doggy yoga. We decided to skip that :-) Instead I hit the port-a-potty and then we wandered over to the edge of the grassy area to look out at the lake. Once again Trinka was kind enough to pose.
I hit the port-a-potty one more time (look, I drank a lot of water before the race) and then it was time to head over the start line. I left Trinka Deu and Jason and joined a large group of people waiting to run. I ended up pretty far at the back of the pack. So far back, in fact, that I couldn't even see the start line. Apparently there were approximately 3000 runners signed up. Anyway, we ended up standing there for a while. The woman in front of me was talking to her companion about how she was hoping to run a 9:15/mile pace. Hmm, I thought, I'm hoping to run a 9:30/mile pace. I should try and keep this woman in my sights. Thankfully she was wearing a bright pink shirt.
Now, I should mention that this was the first race I've ever gone into with an idea of what pace I wanted to run. Usually I just run my hardest and hope I beat my previous time. But for this race I used a
pace calculator
to figure out what time my watch should say when I hit each mile. I decided my goal time was going to be 47:30. I wanted to run under a 10 minute mile but I wasn't entirely sure how much under I was capable of. I chose 9:30/mile as my goal. I really had no idea if it was reasonable or not. The calculator spit out my split times and before I left for the race I wrote them down on the back of my hand, hoping that my sweat wouldn't wash them away.
After a slight delay to the start time, the gun finally went off and we shuffle/walked towards the start line. After a minute or two it was time to cross the starting line. I clicked the start button on my $5 sports watch's stopwatch function as we passed over the timing mat. However, a few feet past the start line the course narrowed to a small walking path and we literally had to slow down to a walk. Thankfully it cleared quickly and we were off.
It was a great day for running. In the mid-60s, overcast, and a slight breeze. The sky seemed to be threatening rain but none ever materialized. For the first mile of the course I dodged in and around people running in gravel, sand, and grass at various points. I managed to keep the lady in pink in my sight for the entire first mile. However, when we hit the first mile marker she sped up. I looked down at my watch and it said 9:50! I honestly felt as though I had gone out too fast but apparently I was going too slow! Maybe all that dodging and weaving had taken it's toll.
I picked up my pace. On my way through the second mile I looked up to see the lead runner headed back our way. That's the problem with an out-and-back race course: while you're excited to see the speed at which some people can run, those of us that are slower can feel a little disheartened that the leaders are over halfway done before we have even hit the halfway point. But, as I always try to tell myself, speed doesn't matter. The fact that I am out there at all is what matters.
I hit the two mile marker and the turn around point feeling strong. I was remembering to keep my shoulders relaxed and trying to focus on my form. Nothing hurt and I wasn't feeling too tired. Also, it helped that I was only a few seconds off of my goal time for that point (at least according to my watch). Between miles two and three we ran closer to the harbor. It's so cool for me to go from running through residential neighborhoods and university buildings to passing sailboats and beaches. When I hit mile three I was pleased to see that I was right on target time-wise.
Between miles three and four my energy started to lag. I felt as though it was getting harder and harder to maintain my pace. It didn't look like the 4 mile marker was ever going to appear. I admit I was sorely tempted to walk but I didn't. I knew I could run this entire distance. I run 4 miles at least twice a week! I've done two 10Ks! Finally the mile marker appeared and as we passed it we could see the parking lot and the race vendor tents in the distance. It also helped that when I looked at my watch I was ahead of my goal time! That must be why this mile felt so much harder. Oops.
The final almost-mile dragged at first but then I got a second wind and it started flying by. As I got closer and closer to the finish I heard the jingling of a dog collar behind me. A woman and her husky were on my right. The husky was going strong. Stupid as it sounds, I didn't want to get beaten by a girl and her dog. So, I sped up just a little bit. Then I was in the final straightway to the finish. I pushed myself harder and passed a few more people. As I crossed the timing mats I remembered to hit the stop button on my watch (that may be a first for me) and slowed to a walk. I looked down at my watch to see that it said 46:50! Yes!
I found Jason who, sadly, missed getting a picture of me coming through the finish line. However, he was sweet enough to have grabbed me an energy bar and to regale me with funny stories of what happened when he took Trinka Deu down on the beach. I decided that I had to see what she thought of the sand and water for myself.
We walked down to the sand and then out towards the water. Trinka Deu didn't seem to excited about either. The first time a wave touched her foot she skittered backwards. I guess the first time you experience that it can be unnerving. She was kind enough to oblige us with a few photos, though.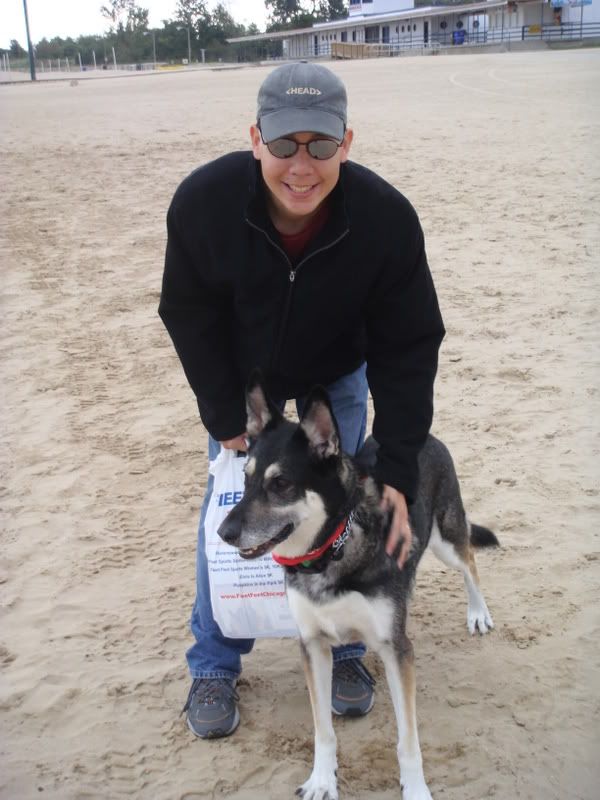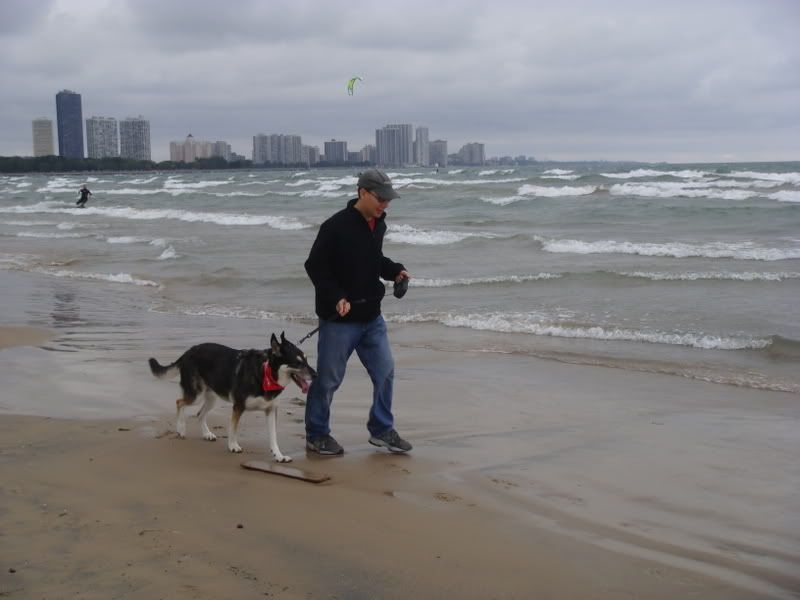 After torturing Trinka I decided that I needed more sustenance than a mini energy bar. The English muffin with peanut butter I ate at 7 AM wasn't cutting it any longer. At the food tent we discovered they had boxes and boxes and boxes of Krispy Kreme donuts. I don't normally like donuts but for some reason they sounded really good right about then. I grabbed one for myself and one for Jason and we chowed down. I followed that up with half a bagel. Our food eaten we made the decision to head home. I knew that I wouldn't be winning any awards and Trinka was experiencing some dog fatigue. That is to say, she was tired of other dogs.
Once we got home my cheering section zonked out. I guess all that excitement just wore them out.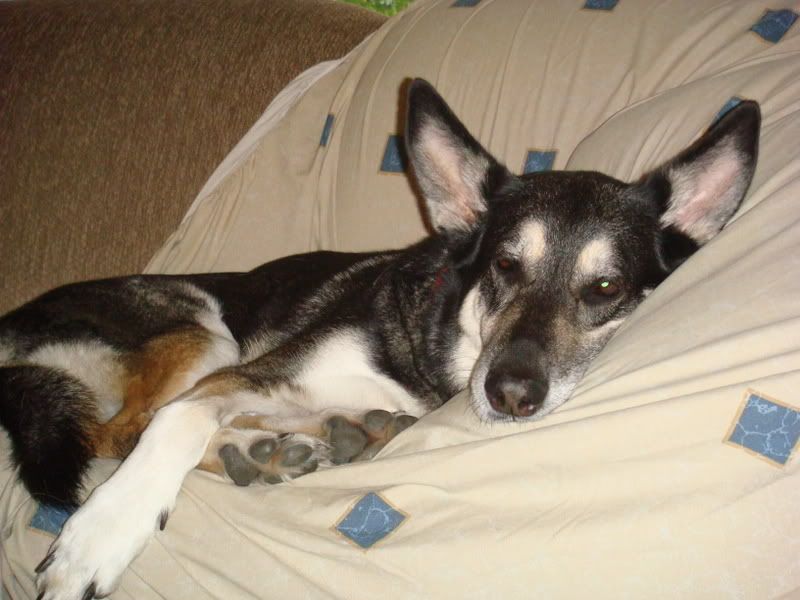 And me? What did I do? I mowed the lawn. I guess running 8K in 46:49 (official chip time) gives you energy to spare.
By the way, I came in 79th out of 216 women in my age group and 339th out of 769 overall. And since this is my first race at the 8K distance, it's technically a new personal record!