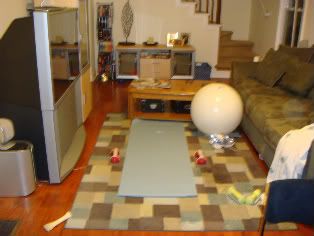 Welcome to my living room or, as it sometimes becomes, the narrowest gym in the world.
For various reasons I didn't get a chance to sign up for Pilates for the current session and, even if I had, I would have missed almost all the classes so far. This means I haven't done any strength training for two weeks. I can definitely tell and I don't like it. So last night I busted out the yoga mat, the stability ball, and my hand weights and did some exercises on my own.
I did Level 1 of the 30 Day Shred. Although, due to an audio-visual equipment malfunction, it took me longer than 20 minutes. It ended up taking more like 35. After that, I did crunches, bridges, and some back exercises on the stability ball. Then I did some Pilates moves: supermans and roll-ups. Overall, I worked out for about an hour. I don't know if it was as good of a workout as I'd get if I was at the gym, but it was definitely better than nothing. I know I push myself harder when I'm at the gym but at home I take more time and focus on my form instead of keeping up with the instructor. So, I suppose it might even out. Who knows?
What about you? Do you prefer to work out on your own? In a class? At home? The gym? A combination of things?