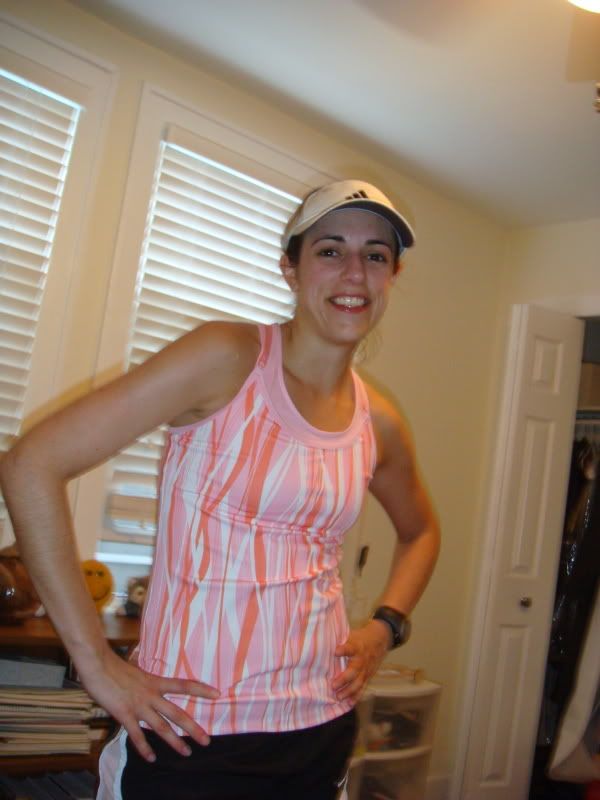 On Sunday I went to Target looking for a table top wine rack and, instead, walked out with $35 worth of workout clothes. The top (and the sports bra underneath) pictured above were some of my awesome finds.
See, Target always has workout clothes on their clearance rack but they aren't always a good deal. On Sunday, however, I spent less than $9 per item (before our outrageous sales tax, anyway). In addition to the top and sports bra pictured above, I got another tank, another sports bra, and a running skirt.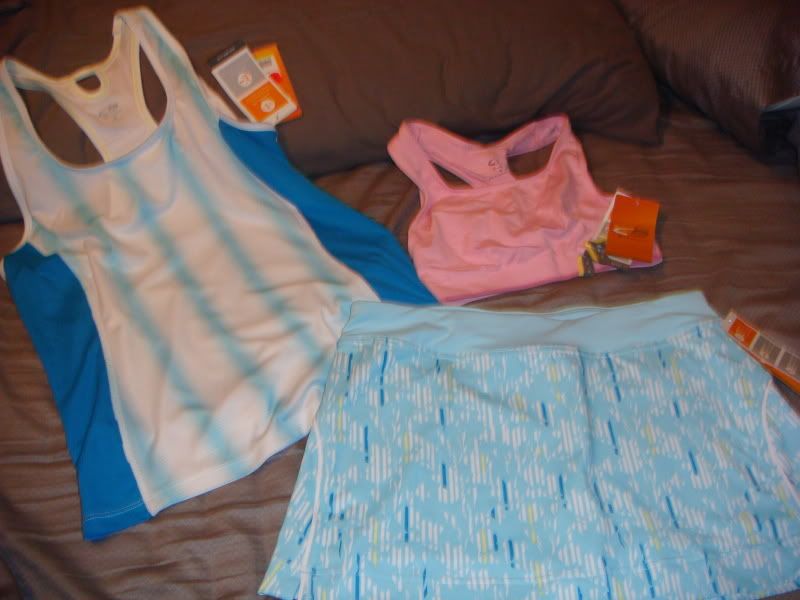 Check out the price tag on the skirt: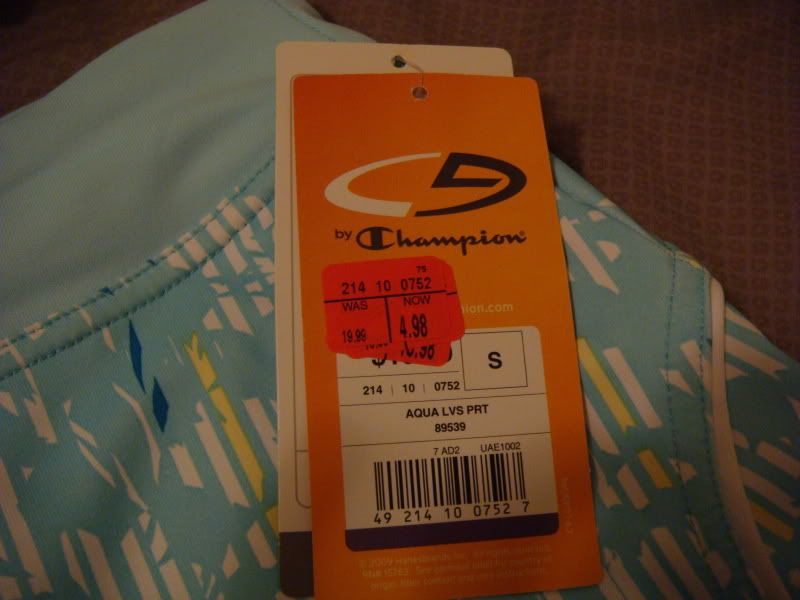 I'm pretty proud of my finds. Something about wearing new running clothes puts a spring in my step.
Although, according to the Garmin, I must have had rocket boosters in my shoes during the first mile of last night's four mile run. I'm skeptical, though, because the map has me running all over creation when, in reality, I ran my regular out and back route. After running the same route so many times, you get a pretty good idea of where each mile marker is and last night the Garmin told me I'd hit my first mile at least .15 before I actually did. So, yeah, 7:50 for mile one? No way. The other miles are much more realistic.

Other than the Garmin attempting to inflate my accomplishments, the run was fine. Temperatures have cooled off some and it was fairly cloudy while I was running. I managed to avoid scaring any oblivious walkers. I only had to stop at one major intersection. I wasn't even that sweaty or exhausted when I got home. Before I left, though, that was a different story. I got motion sick for some reason on the train ride home and then I just felt horrible. I almost didn't go running at all. But, I'm glad I did because afterward I felt so much better. Funny how that works.
Activity
Route:
--
Elev. Avg:
628 ft
Location:
Forest Park, IL
Elev. Gain:
+0 ft
Date:
06/29/09
Up/Downhill:
[+85/-85]
Time:
06:16 PM
Difficulty:
2.0 / 5.0
Weather:
Mostly Cloudy
73 F temp; 51% humidity
73 F heat index; winds NW 14
Performance
Distance:
4.28 miles


Time:
0:39:08
Speed:
6.6 mph
Pace:
9' 09 /mi
Calories:
455
Map
Elevation (ft)
Pace (min/mile)
Splits
Mile
Pace (min/mile)
Speed (mph)
Elevation
Gain
actual
+/- avg
actual
+/- avg
1
6' 50

-2' 19

8.8

+2.2

+3 ft
2
9' 32

+0' 23

6.3

-0.3

+16 ft
3
9' 45

+0' 36

6.2

-0.4

0 ft
4
9' 22

+0' 13

6.4

-0.2

-19 ft
end
8' 38

-0' 31

6.9

+0.4

0 ft
Versus average of 9' 09 min/mile