Yesterday I ran another half marathon. Yes, just six weeks after
the Wisconsin Half Marathon
brought me to tears I laced up my shoes and joined the crowed at the start line for what may be the hilliest race I've ever run. Yes, even hillier than
Napa to Sonoma
.
I mean, check out this elevation profile:

Click to see larger
At one point in the second half of the race I would have killed someone for a nice, long, downhill stretch.
I had no official time goal for this race. After the one in Wisconsin
Kim
suggested I run another one and not focus so much on time. So, this time my main goal was to run the whole thing, not hit the wall at mile 7, and finish strong. Of course, I was secretly hoping that I would squeak in under 2:10 but throughout the entire race I just kept reminding myself that my time was not that important. That I was only out there to prove to myself that I could run 13.1 miles and still feel good.
Two members of the OPRC rode with Jason and me to the race and the three of us joined the massive crowd at the start line a few minutes before the race start. Originally all three of us thought we were aiming for 2:10 or less but as soon as we got past the start line I knew I wasn't going to be keeping up with either of them.
I had been afraid that the weather on race day was going to be horrible. The weather people were predicting highs near 80 degrees and high humidity. However, I was actually a little chilly at the start in my tank top and shorts and the humidity took the form of a nice misting rain and overcast skies. In actuality, the weather was almost the best you could hope for for a June race.
I made sure not to go out too fast and even though miles 1 and 2 were some of my fastest they weren't that far off from my final overall pace. Not like my previous half marathons where my first few miles were light years faster than my final pace.
There were a few hills during the first few miles but mostly we were headed downhill. "This isn't so bad," I thought.
And then the long, sloping uphills started. Jason texted me at one point to say that he was waiting for me on the left on the "long hill". Obviously he was not aware that there were multiple long hills.
I have to say, though, that while I wished for the hills to stop, they didn't significantly slow me down. I never once had to walk a hill. Towards the end my calves and my Achilles were starting to ache but for a girl who does no hill work I think I did really well. Even during the killer "infamous Park Avenue hill" at mile 7.
That doesn't mean I wasn't grateful for the aid station at the top of that hill, however. I took a short walk break at the aid station and grabbed some Gatorade to supplement the water and Sports Beans in my fuel belt.
At this point in the past my brain usually starts to play tricks on me. "You're only half way. You're tired. You'll never make it." But this time I quashed those voices and told myself over and over again not to think of the race in those terms. One mile at a time. Just take it one mile at a time. I focused on the people in front of me and kept going.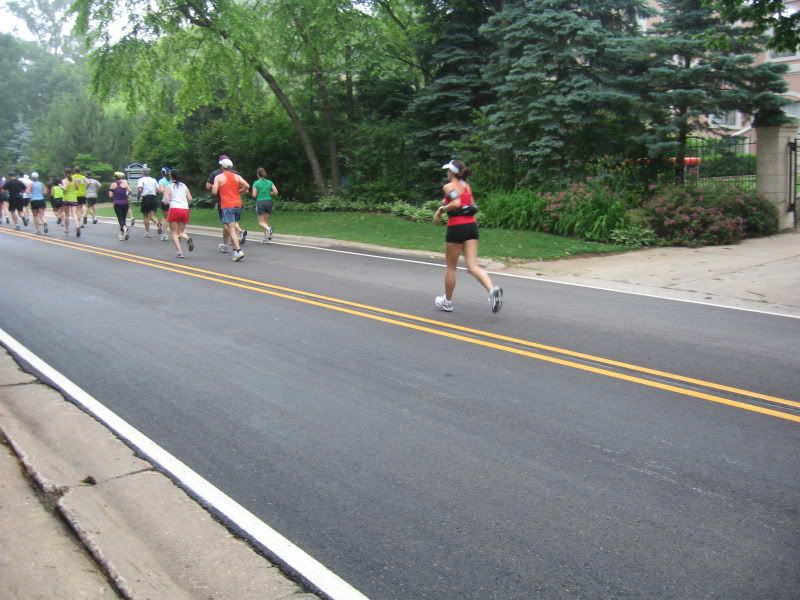 At the mile 10 marker I walked for a second to eat some more Sports Beans. I grabbed some more Gatorade at the mile 11 aid station and briefly walked while I chugged. In addition, I'd been sipping from my water bottle every few miles. My stomach felt very full, though. Almost as if it wasn't digesting anything. Maybe it wasn't.
As I neared the mile 12 marker I briefly considered walking in order to try and build up some energy for the final miles. But then I heard Jason coming up behind me on his secret weapon:
His new bike! We'd brought it to the race so that he could get to mile markers more easily and quickly. Kim's husband Steven also brought his bike so the two of them rode around the course finding good spots to cheer from. Or, in certain instances, good spots to ride alongside us runners and cheer. Or shoot some video:
I finally had to tell them to go away and stop harassing me :-) At least they provided some amusement for the other runners. And motivation for me. Knowing Jason was behind me kept me going for the final uphill climb to the finish line.
Aside: race course planners who put the finish line at the top of a long hill are evil. So very, very evil. I'd wanted to speed up during the final mile but it was all I could do to stay steady as we climbed the last hill. But as soon as I crested it and could see the finish line in the distance I dug deep and pushed hard.
I got my medal and met up with one of the OPRC members who finished in under 2 hours! The other OPRC member who rode with us (not pictured) completed his first half marathon in an awesome 2:04:56.
The post-race area was a little chaotic and was probably the only irritating part of the entire event. In addition, we'd been promised not only an awesome gym bag but a towel, a hat, flip flops, a sweatband and other fun goodies. Strangely, none of those things were actually
in
my gym bag. I managed to pick up my towel and sweatband at the race but they were out of all the other items. Hmmm. Also, the post-race food definitely left something to be desired.
So, tired, sore and hungry we got back in the car and headed home and to drop off our carpoolers. I'm a little bummed I didn't meet up with all the other people I knew who were at the race: Kim, a former coworker, and two other people from my lunch time running group. I guess you can't do everything, though.
I am, however, thrilled that I managed to run this entire race! I don't count the three times I walked (twice at aid stations and once at mile 10 to eat some Beans) because none of those were because I HAD to walk. Not once did I feel like I couldn't run another step. I kept my mile times fairly consistent and didn't feel like dying (or crying) at the end. I totally smashed this goal and I feel much more confident in my running abilities.
I didn't smash my secret 2:10 time goal, though. But I came close! Official race time?
2:10:18
. Only 17 seconds slower than Wisconsin and that's with even more killer hills. Now I'm fairly certain that on a flat course I could break 2:10 with no problems.
Official Time: 2:10:18
Age group place: 104/187
Overall place: 1356/2067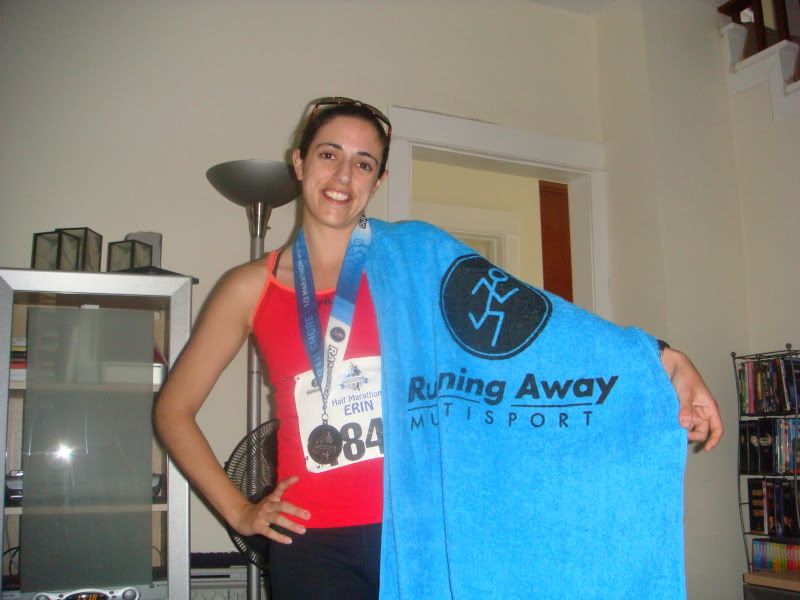 ***********************
Activity
| | | | |
| --- | --- | --- | --- |
| Route: | -- | Elev. Avg: | 663 ft |
| Location: | -- | Elev. Gain: | +0 ft |
| Date: | 06/13/10 | Up/Downhill: | [+951/-951] |
| Time: | 07:03 AM | Difficulty: | 3.7 / 5.0 |
Performance
Distance:
13.16 miles


Time:
2:10:19
Speed:
6.1 mph
Pace:
9' 54 /mi
Calories:
1563
Map
Elevation (ft)
Pace (min/mile)
Splits
Mile
Pace (min/mile)
Speed (mph)
Elevation
Gain
actual
+/- avg
actual
+/- avg
1
9' 40

-0' 14

6.2

+0.1

-13 ft
2
9' 46

-0' 08

6.1

+0.1

-7 ft
3
10' 00

+0' 06

6.0

-0.1

-7 ft
4
9' 59

+0' 05

6.0

-0.1

-22 ft
5
9' 50
-0' 04
6.1
+0.0
+19 ft
6
9' 50
-0' 04
6.1
+0.0
0 ft
7
9' 35

-0' 19

6.3

+0.2

-65 ft
8
10' 08

+0' 14

5.9

-0.1

+56 ft
9
10' 04

+0' 10

6.0

-0.1

+10 ft
10
9' 55
+0' 01
6.0
-0.0
-16 ft
11
10' 06

+0' 12

5.9

-0.1

-29 ft
12
10' 00

+0' 06

6.0

-0.1

+53 ft
13
9' 57
+0' 03
6.0
-0.0
+16 ft
end
8' 08

-1' 46

7.4

+1.3

+6 ft
Versus average of 9' 54 min/mile