Click to see larger
No, I didn't see giraffes while out running yesterday. I did see giraffes yesterday, but it was while visiting Brookfield Zoo, not while doing my 10 mile run. I did start to wonder, however, whether or not I could outrun a giraffe. Well, according to several websites I've found:
The giraffe's fastest running speed is 35 mph or 56 km/hr. The giraffe cannot keep this speed or any fast speed as it does not posses the strength to maintain the massive amounts of oxygen it needs to be able to pump the blood to the head fast enough.
So, in a sprint, there is no way I could outrun a giraffe. But maybe over a 10 mile distance I could? I doubt I'll ever have to find out.
However, there was one unusual thing about my run yesterday. What was it? How about the fact that I started it at
7:00 AM
. Yes, you read that right. The girl who just last week stated that dragging herself out of bed to do a morning run just about killed her actually managed to be out on the path shortly after 7 in the morning. I suppose the promise of a zoo visit later in the day and knowing I had to get my run in before company arrived to visit said zoo got me up and moving.
As for the actual moving part of the run, I did okay. There were a few points where I stopped to walk. One was shortly after mile 2 when I needed to take off my long-sleeved shirt and, of course, at the halfway point where I slowed to a walk to eat a few Sports Beans. Although, interestingly enough, I didn't really feel the need to eat many Beans during this run. I think a combination of a whole wheat English muffin with chunky peanut butter and dried cranberries, half of a Muscle Milk Light Bar and a bag of Sports Beans pre-run gave me enough fuel to do the whole thing. Pretty interesting. And, if you compare my average pace on this run to previous 10 mile runs that I did by myself (I don't count the one I did with
Lindsay
. I always run faster when I run with another person.) then I'm was just about the same at 7 AM as I was at noon. Yay! Maybe I'm getting this morning thing down after all.
Anyway, here are my splits: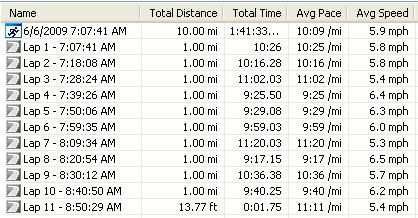 Oh, and I mentioned having to take off my long-sleeved shirt. I was wearing my long sleeved Illinois Marathon/Half-Marathon tech shirt. I saw two other people out on the path also wearing Illinois Marathon/Half-Marathon shirts. One was running (much faster than me, I might add) and the other was biking. Pretty cool! The guy wearing the Girls Gone Wild, shirt? Not so much.
Also, shortly before my halfway point, I passed a guy who was doing
grapevine running drills
. He caught up to me when I took a short walking break as I headed back the way I came. He smiled at me and said, "Now you gotta get back, huh?" I laughed and said, "Oh yeah." He wished me a good rest of my run. I love runners!
And, yes, before you ask, I did run 10 miles in the morning and then spend three hours walking around the zoo in the afternoon. I know, I'm crazy.
******************
Saturday's Stats
Activity
Route:
--
Elev. Avg:
623 ft
Location:
Brookfield, IL
Elev. Gain:
-3 ft
Date:
06/06/09
Up/Downhill:
[+246/-249]
Time:
07:07 AM
Difficulty:
2.9 / 5.0
Weather:
Overcast
58 F temp; 66% humidity
58 F heat index; winds N 6
Performance
Distance:
10.00 miles


Time:
1:41:33
Speed:
5.9 mph
Pace:
10' 09 /mi
Calories:
941
Map
Elevation (ft)
Pace (min/mile)
Splits
Mile
Pace (min/mile)
Speed (mph)
Elevation
Gain
actual
+/- avg
actual
+/- avg
1
10' 22

+0' 13

5.8

-0.1

-7 ft
2
10' 06
-0' 03
5.9
+0.0
+13 ft
3
11' 05

+0' 56

5.4

-0.5

+4 ft
4
9' 21

-0' 48

6.4

+0.5

-3 ft
5
9' 23

-0' 46

6.4

+0.5

+3 ft
6
9' 57

-0' 12

6.0

+0.1

-4 ft
7
11' 11

+1' 02

5.4

-0.6

+10 ft
8
9' 16

-0' 53

6.5

+0.6

-13 ft
9
10' 30

+0' 21

5.7

-0.2

-10 ft
10
9' 38

-0' 31

6.2

+0.3

+7 ft
end
9' 46

-0' 23

6.1

+0.2

-3 ft
Versus average of 10' 09 min/mile