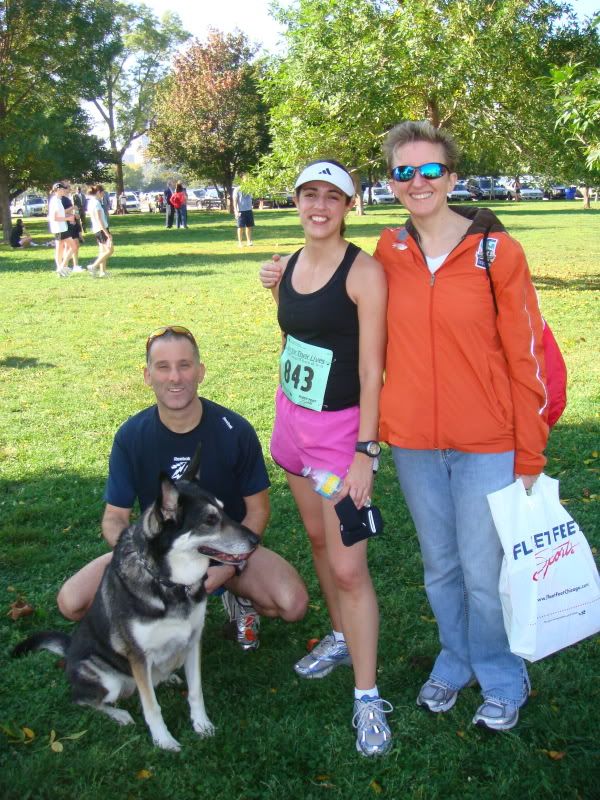 Let me introduce you to Robert and Annette (and you know Trinka Deu already). I met them through the running group I joined. They are, in a word, amazing.
Last Sunday when Annette found out I had a race coming up in which I really hoped to beat last year's time, she offered to be my own personal pacer. When her plantar fasciitis flared up last week, her husband stepped in to pace me instead. My goal? A 9:15 minute/mile pace.
They picked me up just before 7:30 AM yesterday morning so that Jason and his mom (who was visiting) could sleep in a little longer. We arrived at the race start with plenty of time to hit the port-a-potties, get Robert signed up (he was originally going to bandit the race - that is, run without registering - but he was won over by all the dogs and the charity aspect of the race), have Robert put on my disposable timing chip for me (I'd never used one like that before) and to do a short warm-up. Annette was our Sherpa and held our swag bags, our sweatshirts, and our water.
One of the best parts about the PAWS 8K race is seeing all the people with their dogs. Giant Great Danes, fuzzy Husky puppies, goofy Golden Retrievers, energetic Labs, and unique mutts. While waiting for the start everywhere we looked was another dog over which to fawn.
I never got to see Jason or his mom before the starting gun went off. Apparently they got stuck in traffic. But Annette cheered for Robert and I as we went past. The first mile felt easy. The air temperature was cool but the sun was out. Robert had us start far enough up that we weren't constantly dodging people after the first quarter mile or so. We passed a guy who was running AND juggling. Robert told me a funny story about how one of the guys in the running group ran an entire marathon with his Garmin held out in front of him so he could constantly watch his pace. Robert and I settled in behind two runners.
"How you feeling?" he asked me. "Pretty good," I said. "You're doing great. You seem very comfortable with this pace." And what pace was that? Between 8:30 and 8:40 minute miles! Strangely, I DID feel comfortable. "But wait until my brain kicks in," I said.
We skipped the water station at mile 1.5 and lost the couple Robert was using to keep himself slowed down. We didn't speed up much, though, thankfully. Still mile two was also done in under 9 minutes.
It wasn't until the mile 3 marker that I started to struggle. I slowed down considerably. I could feel the water I'd drank before the race sloshing around in my stomach. I really, really wanted to walk but didn't want to do so with Robert there. Robert kept me going, though. "Breathe in hard through your nose," he told me. I tried to focus on not letting my form deteriorate. I glanced at my Garmin. I thought it said 3.8 miles. It really said 3.4. "Take some Gatorade," Robert said as we passed the aid station. I did. Finally, we made it to the 4 mile marker.
"Pretend it's Monday night," he said. "All we have left is LeMoyne." LeMoyne is the last stretch of road before we hit the water fountain break at the park during our Monday night runs. "But that's always the longest part for me!" I whined. "Don't think like that!" he admonished me.
Instead of attacking the hills, he had me slow down slightly. "You can make it up on the downhill," he said. When we had half a mile left he said, "Okay, you can open it up now!"
"I don't think I have anything left!"
But he pushed me. "400 meters!"
"That's just once around a track!" I grunted.
"Exactly! You can do it!"
We rounded the final corner. "We can see the finish line! 200 meters!"
"I think I'm gonna throw up!"
"Won't that make for an amusing finish line photo?"
And with that, I pushed with all my might to the finish. I grunted with every step. Robert shouted, "Go! Go ! Go!" I saw Annette cheering for us. And then we were over the line. I gagged as the little fluid I had left in my stomach surged up. I clasped my hand over my mouth and then hung my head over the nearest trash can. Robert ran for water and Annette came over and gave me a hug.
"She did great!" Robert said. We looked at our Garmins. "I think you're going to have to readjust your expectations for your race times." They smiled. You see, we didn't pace 9:15/mile. We paced just over 9:00/mile. Official time?
45:18
. Over a minute and a half better than this same race last year. I never could have done it without their help. I'm still in awe that they did this for me. I think I told them thank you about 100 times.
Sadly, Jason missed me at the finish line. So, after Annette and Robert left we killed some time checking out the post-race festivities. We collected some good freebies at the various booths and I took Trinka Deu through the doggie agility course.
And then once the crowd cleared out near the start/finish line, I requested Jason take a picture of me there.
This race was both hard and fabulous. I am so thankful to Robert and Annette. I never, ever could have done this well without their offers to pace me. But, they're right; the mind is the athlete. If I can get over some of my mental hurdles, I will kick butt at my next race. I CAN get my 10K time under an hour. I know it now.
******************
Official Race Stats:
Time: 45:18
Pace: 9:07 minute/mile
Overall place: 294/803
Age group place: 54/181
Other Stats:
Activity
Route:
--
Elev. Avg:
587 ft
Location:
Chicago, IL
Elev. Gain:
+0 ft
Date:
09/27/09
Up/Downhill:
[+134/-134]
Time:
08:59 AM
Difficulty:
2.0 / 5.0
Weather:
Partly Cloudy
58 F temp; 89% humidity
58 F heat index; winds SW 6
Performance
Distance:
5.03 miles


Time:
0:45:23
Speed:
6.7 mph
Pace:
9' 01 /mi
Calories:
594
Map
Elevation (ft)
Pace (min/mile)
Splits
Mile
Pace (min/mile)
Speed (mph)
Elevation
Gain
actual
+/- avg
actual
+/- avg
1
8' 40

-0' 21

6.9

+0.3

+6 ft
2
8' 54

-0' 07

6.7

+0.1

-13 ft
3
9' 02
+0' 01
6.6
-0.0
+3 ft
4
9' 27

+0' 26

6.3

-0.3

+10 ft
5
9' 04
+0' 03
6.6
-0.0
-7 ft
end
**
**
**
**
** ft
Versus average of 9' 01 min/mile
** Insufficient data to calculate this split