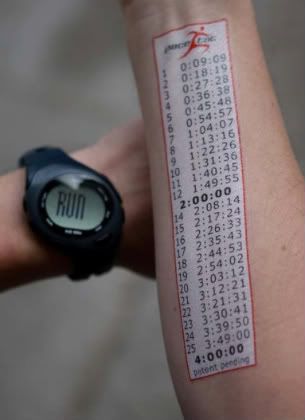 By Wednesday evening my left foot felt good enough to try a run. Plus, it was
National Running Day
and I didn't want to be a total slacker and not run at all! I still don't know for sure what caused my heel to be in so much pain on Monday. I suspect it was a combination of the high heels I wore on Saturday and the flip flops I wore on Sunday. My foot still feels tight when I wake up and I realize that I'll have to pay close attention to it and do more icing, massaging and stretching if I want to ward off the heel pain.
But all that was secondary in my mind when I went out for my tempo run on Wednesday evening. The plan? 6 miles total with one mile warm-up, 4 miles at a 9:45 minute/mile pace, and one mile cool-down.
The actuality? Much faster than that. My legs felt so fresh and light. I mean, I hadn't run since Saturday. That's three days without running when I'm used to not having more than two. I literally could not slow myself down. When I ran my first mile in under 9:30, I decided that I'd just run the first 4 miles at whatever (fast) pace I wanted and slow it down for the last two. Even that didn't work!
However, as I came up on the dog park, I saw Jason leaving with Trinka Deu. I sprinted to catch up with them and then did a nice cool-down walk with them as we headed back to our house. Overall, I only did 5.8 miles instead of the full 6 and the last .3 of that was walking, but I figured that my speed during the rest of it made up for being slightly under my goal mileage.
I have to admit that even though I failed at keeping to the training-plan-prescribed pace during this run, I'm excited that I ran so fast during what turned out to be a 5.5 mile run. It's looking like I might be able to break an hour in a 10K this year. I haven't done that since April 2008 when my time was 59:59. The other two 10Ks I ran in 2008 were 1:02 and 1:00:08! So close! Now I just need to find a 10K race to run later this year.
*************
Wednesday night's stats:
Activity
Route:
--
Elev. Avg:
627 ft
Location:
Forest Park, IL
Elev. Gain:
+0 ft
Date:
06/03/09
Up/Downhill:
[+137/-137]
Time:
06:20 PM
Difficulty:
2.2 / 5.0
Weather:
A Few Clouds
58 F temp; 35% humidity
58 F heat index; winds NE 16
Performance
Distance:
5.86 miles


Time:
0:57:43
Speed:
6.1 mph
Pace:
9' 51 /mi
Calories:
628
Map
Elevation (ft)
Pace (min/mile)