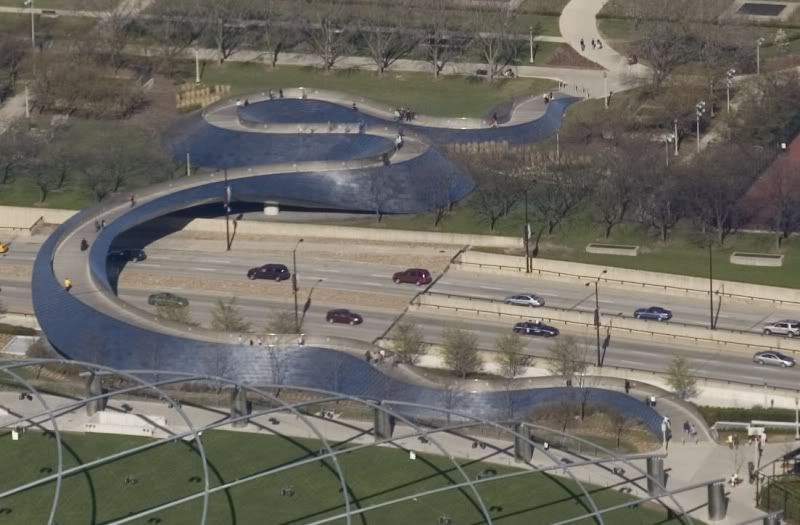 Photo found via Wikimedia Commons
So, as you may have figured out by now, I work in downtown Chicago. From my office I can run to many places. One of those places is
Millennium Park
. Yet, I'd never really explored the park until yesterday when one of the guys in the lunch time running group said, "Hey, do you want to do the bridge route today?"
Uh, sure! I'm always up for a new route and I had no idea what he was talking about.
What he was talking about was instead of running entirely on the sidewalks to get to the lakefront path we would take that silver serpentine structure pictured above. The rest of our three mile route was the usual route past Navy Pier but the beginning took place on this bridge. And included a brief bit of stairs that I took two at a time.
Other than having to dodge tourist all over the place, it was fun to twist and turn through the park and over the street. The bridge is essentially a wooden board footpath so that was a nice change of pace from concrete and asphalt as well. Then, to get to the regular path, we had to do a little cross-country running while leaping over random bunches of daffodils poking their buds up out of the grass.
I managed to hang just off the shoulders of the two guys I was running with for the first mile and a half. But on the way back I started to lag. Again, this is supposed to be my easy week! My legs really felt dead and my breathing felt labored but I managed to push it a little bit and catch up when we stopped for a traffic light. So, regardless of the tired legs and the fact that it was supposed to be an easy week, I ran 10K race pace...again.
Maybe that's why I'm so tired today.
********************
Activity
Route:
--
Elev. Avg:
587 ft
Location:
Chicago, IL
Elev. Gain:
-3 ft
Date:
03/30/10
Up/Downhill:
[+108/-111]
Time:
12:18 PM
Difficulty:
1.9 / 5.0
Weather:
Mostly Cloudy
54 F temp; 46% humidity
54 F heat index; winds S 13 G 22
Performance
Distance:
3.36 miles


Time:
0:29:33
Speed:
6.8 mph
Pace:
8' 48 /mi
Calories:
393
Map
Elevation (ft)
Pace (min/mile)
Splits
Mile
Pace (min/mile)
Speed (mph)
Elevation
Gain
actual
+/- avg
actual
+/- avg
1
8' 46
-0' 02
6.8
+0.0
-19 ft
2
8' 47
-0' 01
6.8
+0.0
+17 ft
3
8' 44

-0' 04

6.9

+0.1

+3 ft
end
8' 58

+0' 10

6.7

-0.1

+3 ft
Versus average of 8' 48 min/mile