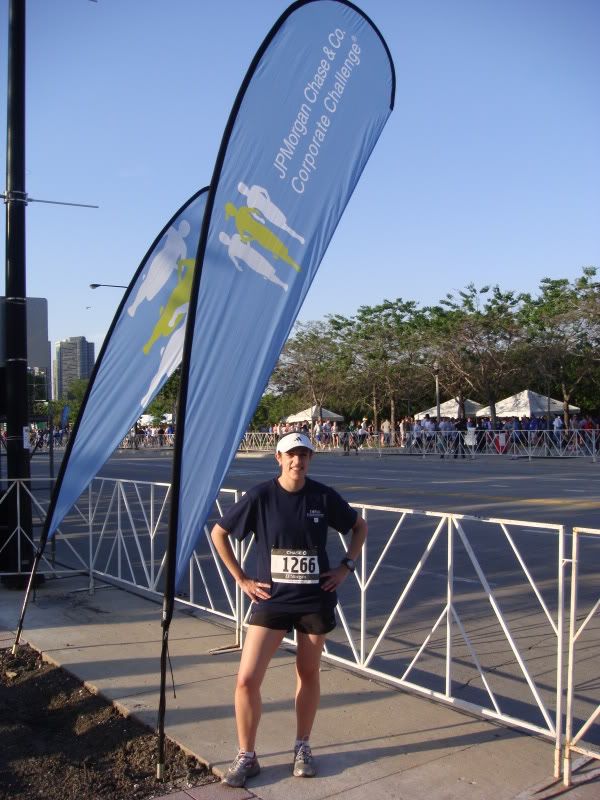 Click to see larger
I know you were all holding your breath waiting for this post, right?
I'm going to sum up the race in one word: Irritating
Was it fun? Well, sure, I love to race. I love running. I don't even mind the heat or humidity that much (and it sure was both last night!) What I don't love is wandering around for almost half an hour trying to find where I was supposed to be. I don't love people who walk during a race positioning themselves near the front of the pack. I don't love people who have no race etiquette. And, as I suspected, this race was full of them.
Yes, I am happy that over 17,000 people got off their duffs and came out to support both their companies and the Greater Chicago Food Depository. I just wish that there was some kind of mandatory race etiquette class everyone had to take before participating in an event this large.
Every runner I've talked to was irritated at the walkers who started near the front. For example, I started at the end of the 9 minute mile group and just before the 10 minute mile group. Why, then, was I passing people during the first mile who were wearing jeans and chatting as if they were out for a leisurely walk without 17,000 people surrounding them?
Holly, I really should have taken your advice and started much, much farther up. Next time I'm starting with the 7 minute mile people!
Of course, some of my irritation may be caused by the fact that I wandered around for 30 minutes trying to find our team tent among over 500 other tents. Jason and I were on the phone as we tried to find each other and the stinking tent. I was following part of our team but they had no idea where they were going either. For some reason the sign on our team tent was facing AWAY from the sidewalk so it was very easy to pass right by and we were sort of hidden behind the announcer's stage. I was starting to panic and think I'd never find it!
So, yeah, not the best calm, centering environment for race prep. By the time I found the tent, ascertained that Jason would not be staying until after the race, got in on the group photo and filled up my water bottle I had about 20 minutes to hit the port-a-potty. And, yep, that line took about 15 of those 20 minutes! And somewhere in that whole mess I managed to misplace my sunglasses.
Once the race finally started it took me almost 6 minutes to cross what I thought was the start line. I spent the first 2.5 miles dodging walkers and slower runners. Every time the course made a turn we would come to a grinding halt and shuffle along for a few seconds. I wanted to yell at the walkers to get out of the way. I wanted to scream at people to stop slowing down on what passes for hills around here. All in all, those first 2.5 miles were VERY frustrating.
And then we hit the first water station and the course cleared. This is why I love to have my own fluids. I get to take advantage of the openness ahead of me when everyone else stops for water.
You can totally see in my pace chart how crowded the course was for the first 2.5 miles. I mean, look at mile 2.5-3.5. Smooth sailing except for the mile 3 marker where the course had a hairpin turn.
So, how did I do overall? I've been so spoiled by chip timed races. Thank goodness for my Garmin or I'd be in tears about my time. The clock time I had to officially report was 36:12. In other words, just a tad bit faster than my first 5K time in September 2007. Ouch. However, my friend the Garmin indicated I finished 3.45 miles (I started it a little late) in 30:50. That's an average pace of 8:55 minutes per mile! Check out my splits:

Look at how my time dropped as the course thinned out. Now just imagine how well I could have done if the course hadn't been so crowded at the beginning! Of course, the big questions is, how did I do with my goals? As a refresher, they were:
A Goal: Under 31 minutes (that's an 8:51 minute per mile pace)
B Goal: 31:30 minutes (that's a 9:00 pace)
C Goal: Under 35 minutes (10:00 pace)
Well, if you take my official clock time then I didn't make any of them. :-( If only I had started farther up in the pack! But if you take my Garmin time and extrapolate it out to the actual 3.5 miles, then I made Goal B! I finished in under 31:30. 31:12.5 to be exact. Let's go with that :-)
Many people I talked to about this race said the best part is the food and the beer in our team tent afterward. I couldn't really understand that since I'm rarely interested in barbecue and beer after running a hard race. But I have to admit, after a nice cool-down, some super cold Gatorade, and a few potato chips, that
312 beer
and that barbecued pork sandwich were mighty tasty!
I also enjoyed learning which of the other university faculty and staff were runners. Turns out there's a group of people who run at lunch every Tuesday and Thursday. They're a little faster than me in that they typically run 9 minute miles. And, as I've stated before, I don't know if I can run at lunch and then go back to work. Especially now that summer is here. But I suppose if I don't have any afternoon meetings I might be able to join them here and there. Running with faster people is only going to be good for me, right?
Will I do this race again next year? Hmmmm. The Soldier Field 10-miler is usually a few days later and I wouldn't want to do them both. So, maybe I'll alternate. This is the second large race that I've run and now I'm concerned that I can't handle the aggravation that goes along with such a large race. That may not bode well for any future plans to run the Chicago Marathon. Me and 40,000 of my fellow runners? I don't know. I'll just have to hope that if you're running a marathon I won't have to pass you in your jeans.
Eventually there will be a group photo of our whole team posted, but till then here's a close-up of the above photo. And, of course, the rest of the stats.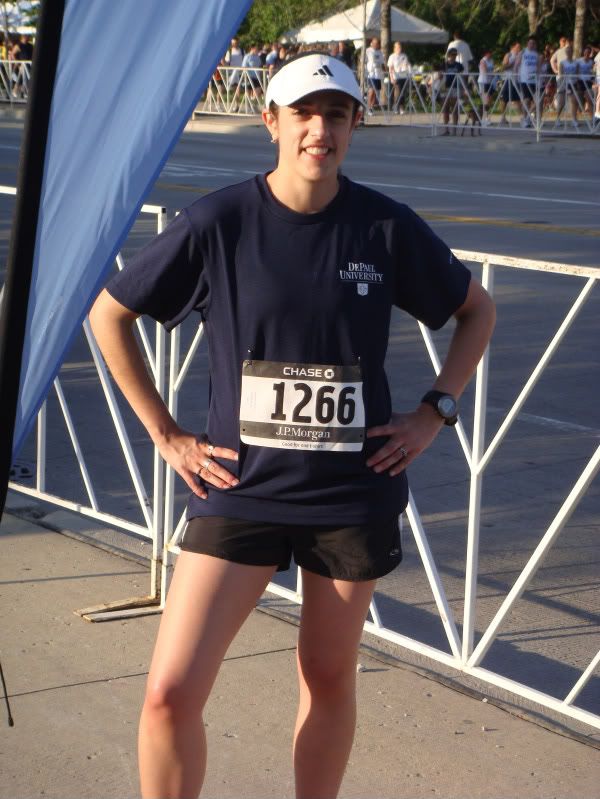 Activity
Route:
--
Elev. Avg:
592 ft
Location:
Chicago, IL
Elev. Gain:
+4 ft
Date:
05/21/09
Up/Downhill:
[+82/-78]
Time:
07:15 PM
Difficulty:
2.2 / 5.0
Weather:
Partly Cloudy
82 F temp; 30% humidity
80 F heat index; winds SW 9 G 20
Performance
Distance:
3.45 miles


Time:
0:30:51
Speed:
6.7 mph
Pace:
8' 57 /mi
Calories:
349
Map
Elevation (ft)