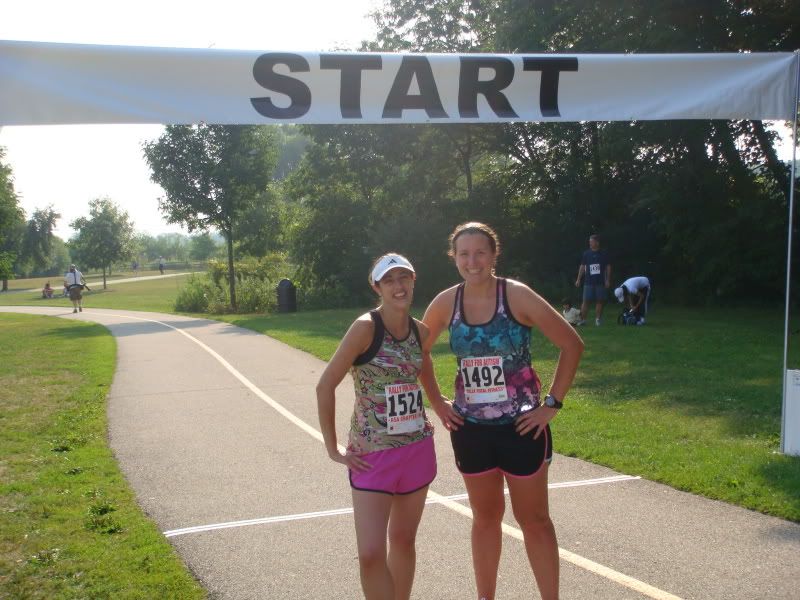 On Saturday morning,
Kim
and I met up at a forest preserve in Libertyville, IL to run a 5K together. We'd picked this race because based on last year's times, we should have easily placed in the top three in our age group.
We arrived around 8:30 AM and it was HOT. And I quickly realized that the course had no shade. At all. Our original goal was to run an average 8:20 pace. We headed out for a quick warm-up jog and decided that, what with the heat, we'd be okay doing our first mile in more like 8:30 and then re-evaluating. Good thing, too, because, as you'll see, the heat was killer.
It looked like a smallish, laid back kind of race. No corrals, no chips, just a start banner and a finish banner. Thankfully, though, there were two water stations and lots of course volunteers to make sure we stayed on the correct path. Looking at the results, it appears that over 500 people participated, but I would bet that about 150 of those were walkers and not runners.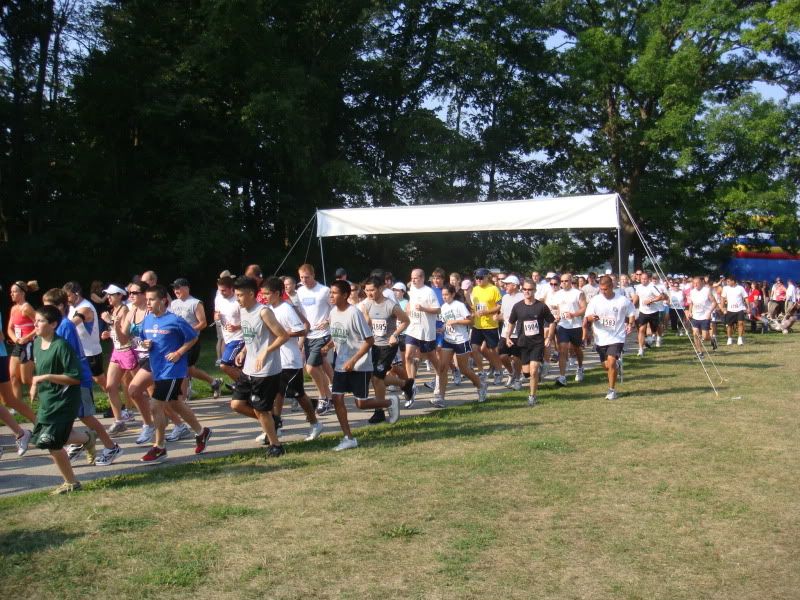 Click to see larger...and see if you can find Kim and me!
Our first mile was right on target for our original goal. But after that we started to go downhill and, sadly, not literally. Between the sun, the heat, and Kim's shin injury, we decided it was time to power walk for a bit. After that, we would decide to run to a certain landmark and then walk for a bit. I think we were both disappointed that we had to walk, but we knew that it was for the best. I've discovered that blazing sun is my kryptonite and running a race on a hot August day in no shade does not lead to a good race time. Also, hills. Those darn rolling hills. Interestingly enough, I found myself passing people on a lot of them.
I found a burst of energy at the end, though, as I always do. I powered it up a slight hill and ran hard for the finish with Kim on my heels.

Again, click to see it bigger
I ran into the finish chute and, I'll be honest, I almost threw up the banana I'd eaten a little over an hour before. I had to put my hand over my mouth as I gagged. I managed to keep it down, though. Thankfully! However, I was a little too distracted to remember to hit Stop on my Garmin. Once I'd been sprayed down with water and gotten a bottle of water to drink I finally remembered. That meant, though, that I was unsure of my actual time. Jason did get a picture of me going into the finish chute that showed the clock with 28:21 on it. We decided to stick around for the awards ceremony...just in case.
Sadly, the awards ceremony was not as organized as the race. Issues with a printer caused some delays and then they were giving out the awards but not saying the finish times for each person. We didn't have our names called but we had no idea if we'd missed placing by a lot or a little. Turns out, we came in 7th and 8th in our age group and, even if we'd hit our goal time, we only would have come in 5th and 6th!
So what were the official stats?
Time: 28:20.3
Pace: 9:08 minute/mile
Age group place: 7th out of 41
Overall place: 131 out of 508
Not my fastest race ever, but, I have to say, I still had a lot of fun! Especially because afterward Jason and I went out to lunch with Kim and her husband. It made for a great way to spend half my day. Run with a friend, hang out, eat a tasty lunch. What could be better?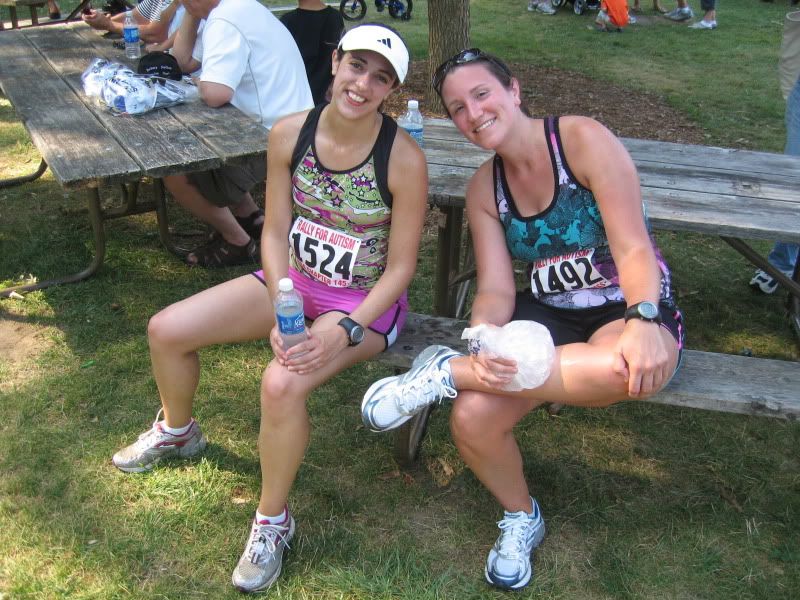 **************
Garmin Stats
Activity
Route:
--
Elev. Avg:
661 ft
Location:
Libertyville, IL
Elev. Gain:
-6 ft
Date:
08/15/09
Up/Downhill:
[+223/-229]
Time:
09:06 AM
Difficulty:
2.7 / 5.0
Weather:
Fair
77 F temp; 68% humidity
79 F heat index; winds S 10
Performance
Distance:
3.13 miles


Time:
0:28:59
Speed:
6.5 mph
Pace:
9' 16 /mi
Calories:
357
Map
Elevation (ft)
Pace (min/mile)
Splits
Mile
Pace (min/mile)
Speed (mph)
Elevation
Gain
actual
+/- avg
actual
+/- avg
1
8' 22

-0' 54

7.2

+0.7

-7 ft
2
9' 12
-0' 04
6.5
+0.0
-16 ft
3
10' 03

+0' 47

6.0

-0.5

0 ft
end
10' 54

+1' 38

5.5

-1.0

+16 ft
Versus average of 9' 16 min/mile