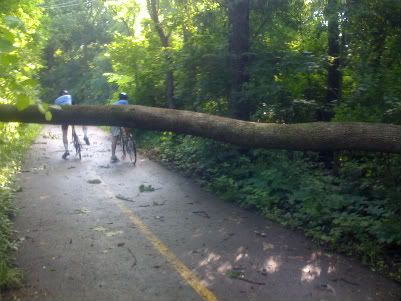 On Friday night we had HUGE major storms in my area. Tons of wind and rain. When I arrived at the bike path at 7 AM on Saturday morning I found it littered with bits of trees. In one place a large branch was laying across the path. And then, just past the 4 mile marker, was this downed tree. Bikers had to get off and wheel their bikes underneath. I had to stop and walk so that I could duck beneath it. Thank goodness it wasn't on a blind curve or anything. Can you imagine how dangerous that could be to bikers? Hopefully they remove it soon.
Anyway, the rest of my run was just one hurdle after another. First I forgot to turn the autolap function back on on the Garmin. This meant that I had no idea what my mile times were like. Since that's usually how I pace myself I was sort of flying blind. However, after the first mile I came upon two women who were having a nice slow jog. I decided to pace myself off of them. You can see on the graph below that it worked....until they turned around just before mile 4. Then my pace was all over the place.
I had to stop and walk more times than I wanted to. I just couldn't push myself. Even though I'd tried my hardest to get out there and moving before it got too hot, the humidity was killer. I actually ran out of water at mile 11.
On the plus side, this was the furthest I've ever gone on this particular path. The whole bike path itself is 7.1 miles long. The end is in sight! My goal is to run all the way to the end and back. 14.2 miles, baby. That would be a distance record for me! Also, I discovered that after the mile 5 marker (previously the furthest I'd ever gone) there are actually some rolling hills! Nothing major, but more than the flat flatness that makes up most of the rest of the path. Fun!
Anyway, I'm not proud of this run. I averaged a 10:57 pace for the whole thing when I was hoping to average closer to 10 minutes. But, it was my first long run since summer decided to show up and the previous week I'd only run 10 miles total. However, do you know how many miles I ran from June 14th to June 20th? 25.17 miles. Whoa. That may be one of my highest mileage weeks ever. That part I'm proud of. Well that and the fact that I got out there before 7 AM. I guess the secret is to pack the rest of your day with activities so the only way you can get a run in is to do it before everything else. Even if that means dragging yourself out of bed at 6 AM.
So, yeah, here's the stats as reported by Bones in Motion:
Activity
| | | | |
| --- | --- | --- | --- |
| Route: | -- | Elev. Avg: | 626 ft |
| Location: | Brookfield, IL | Elev. Gain: | +0 ft |
| Date: | 06/20/09 | Up/Downhill: | [+298/-298] |
| Time: | 06:56 AM | Difficulty: | 3.0 / 5.0 |
Performance
Distance:
12.01 miles


Time:
2:11:30
Speed:
5.5 mph
Pace:
10' 57 /mi
Calories:
964
Map
Elevation (ft)
Pace (min/mile)
Splits
Mile
Pace (min/mile)
Speed (mph)
Elevation
Gain
actual
+/- avg
actual
+/- avg
1
10' 28

-0' 29

5.7

+0.3

-7 ft
2
10' 15

-0' 42

5.8

+0.4

+6 ft
3
10' 30

-0' 27

5.7

+0.2

+10 ft
4
11' 40

+0' 43

5.1

-0.3

-3 ft
5
11' 01
+0' 04
5.4
-0.0
+6 ft
6
10' 29

-0' 28

5.7

+0.2

+7 ft
7
11' 52

+0' 55

5.0

-0.4

-4 ft
8
11' 41

+0' 44

5.1

-0.3

-7 ft
9
11' 00
+0' 03
5.5
-0.0
+7 ft
10
9' 58

-0' 59

6.0

+0.5

-13 ft
11
11' 21

+0' 24

5.3

-0.2

-6 ft
12
11' 02
+0' 05
5.4
-0.0
+6 ft
end
10' 10

-0' 47

5.9

+0.4

-3 ft
Versus average of 10' 57 min/mile