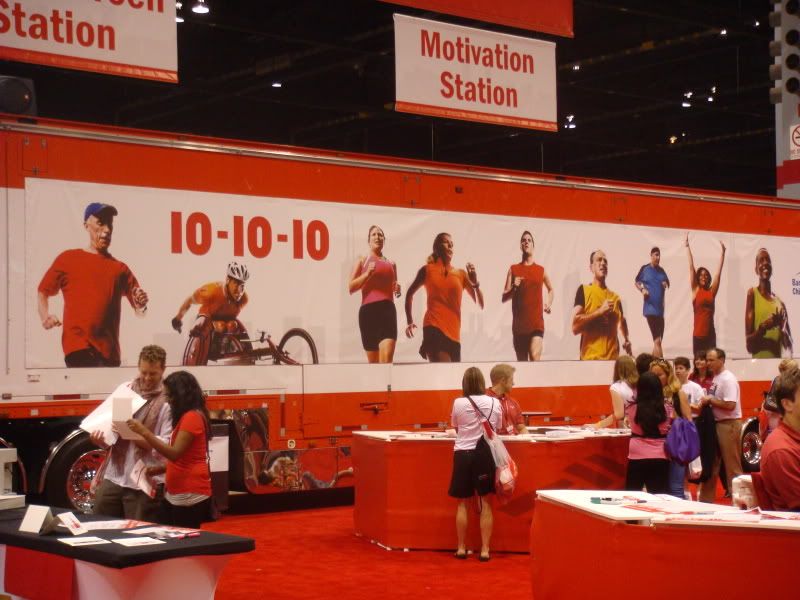 At mile 24 I saw the following sign:

You are no longer just a runner. You are now a MARATHONER.
I am now a marathoner. But it wasn't easy.
Kim
and I went to the expo on Saturday afternoon to get our bibs and shirts and to check out the booths. My favorite part? The free commemorative photo: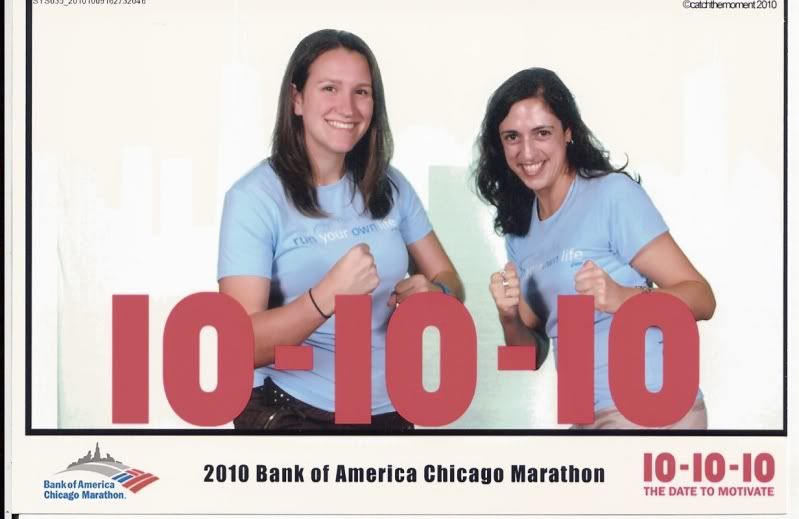 After that it was home for dinner and last minute race prep. Kim and I watched
Spirit of the Marathon
which is about six runners running the Chicago Marathon. A little inspiration, no?
I could not fall asleep on Saturday night. Finally, after about 5 hours of sleep I dragged myself out of bed and choked down my usual bagel with peanut butter. Then it was off to the train to meet up with some people from my running group.
Jacob and I had run our 20 miler together so we planned to run the marathon together as well.
The start areas were crowded and chaotic but that's what happens when you cram 40,000+ people plus spectators into one area. Thankfully I was able to get into my office building which is near the start so we could use the restrooms there instead of the portapotties. Gear check was a breeze, as well, and before we knew it we were saying good luck to Kim and Jacob and I took our place in the start corral.
We ambitiously placed ourselves near the 4:30 pace group. That means we hoped to finish in 4 hours and 30 minutes. For reference, my original goal when I started this whole thing was to do it under 5 hours but when my 20 mile run went so well I started thinking maybe 4:45 or even 4:30.
Ominously, when I picked up
pace bands
for friends at the expo the day before the guy handing them out told me that because of the heat everyone should expect to add at least 30 minutes to their goal finish time. I sort of blew him off but, like in any good story, there was some foreshadowing going on.
The race started at 7:30 and it took us about 17 minutes to cross the start line. I texted Jason so he could start keeping track and we were off!
The first mile went by in a flash and before I knew it we were at mile 2 and approaching the first spot where Jason told me he would be. We turned a corner near my office building and I saw Jason and then my parents. And although this photo didn't turn out great, I think it probably embodies the craziness of the first few miles.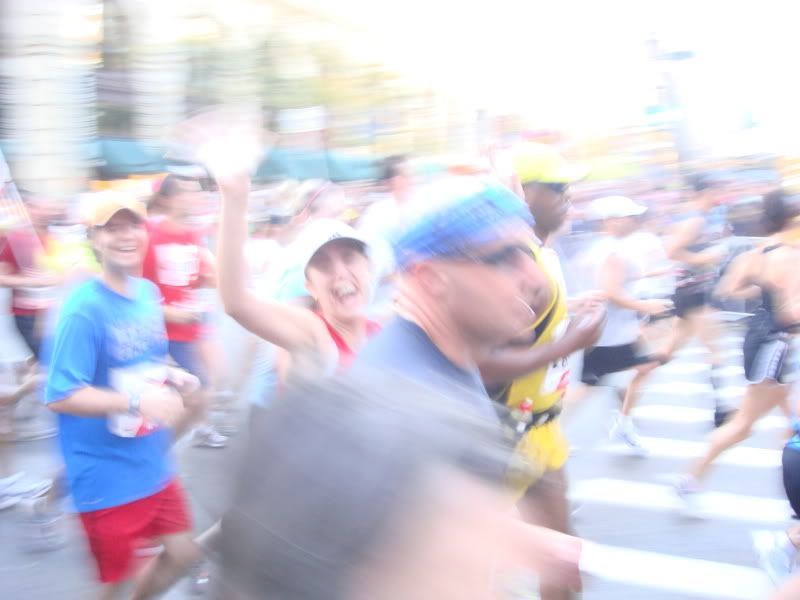 As we headed north of downtown the sun came out to play and I could feel the air heating up. We cruised through the miles feeling pretty much on pace and to the tune of "Eye of the Tiger" as well as thousand of screaming spectators. I was still feeling good and strong as I walked at the 10K mark and took my first Shot Bloks.
At mile 8 Jacob needed a restroom break so I stopped with him. The sun was starting to take its toll on me and he wasn't feeling so great either. But we knew his family was up ahead and mine was at mile 11 so we soldiered on.
He saw his family and a few miles later I saw mine.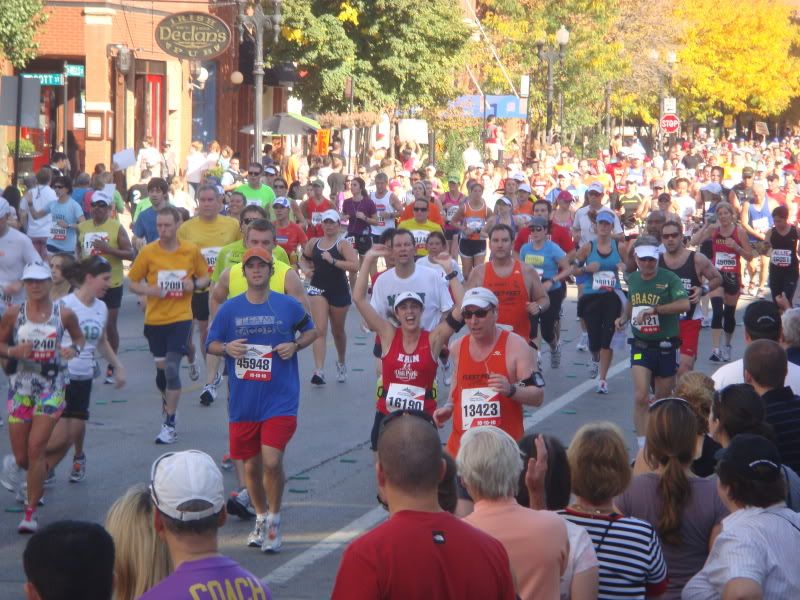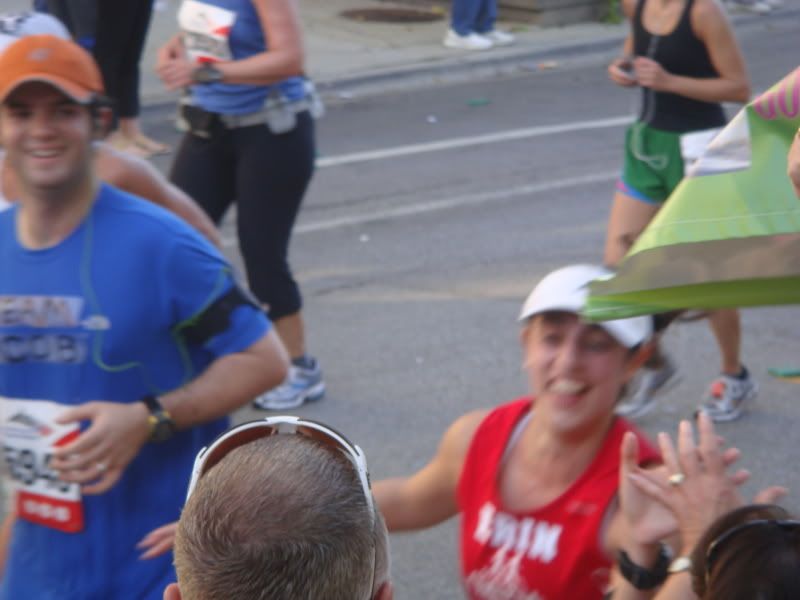 Let me tell you: knowing that you have spectators out there cheering and waiting just for you is such a great motivator. When Jacob looked at me at mile 12 and told me I should go on without him I knew that my family was going to be even more important.
That sun was brutal and I was fading fast. When I hit the halfway point I really had to give myself a pep talk.
"Jason and my parents and my brother are at mile 17. I just need to make it to them."
"My running group is at the mile 18 aid station. I need them to see me running strong."
"If I can make it to 18 then I can totally finish this thing."
The pep talk worked for a bit but after that my pace went to hell and I decided that I wasn't even going to worry about it. Although, I have to admit, I really wanted to keep the average under 11 minutes/mile. But when I saw it creep closer to 12 I forced myself not to care.
My mom says when they saw me near mile 17 I gave her a look that essentially said "shut the f@%# up." I promise you I was probably trying to smile. It probably came out more like a grimace.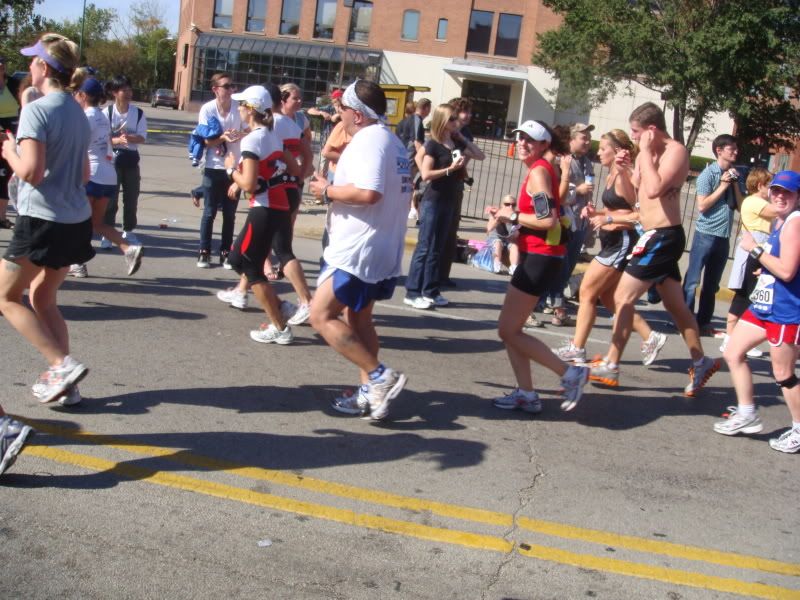 Still, it was really exciting to see my brother and my husband scouting for me from a distance.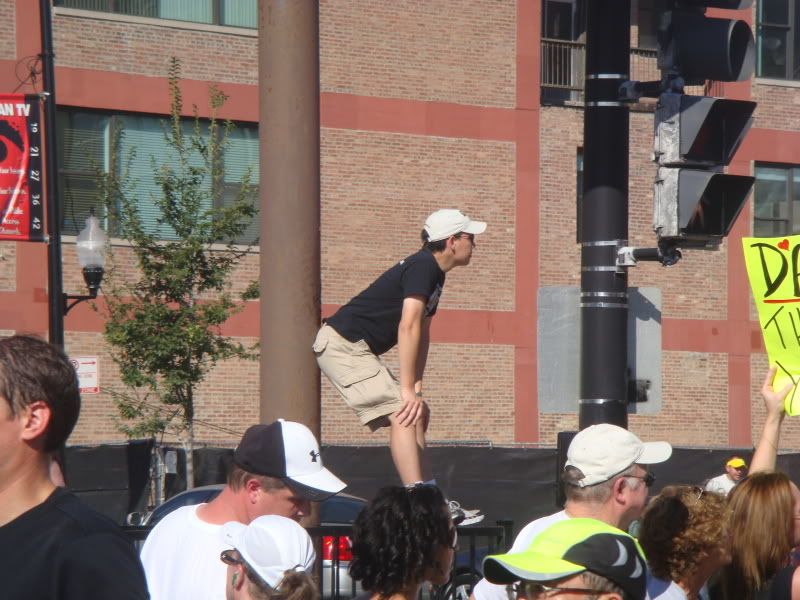 The crowd got a little quieter until I hit the mile 18 aid station. By this time I was doing a random run/walk pattern and searching out all the people with hoses, electronics be damned!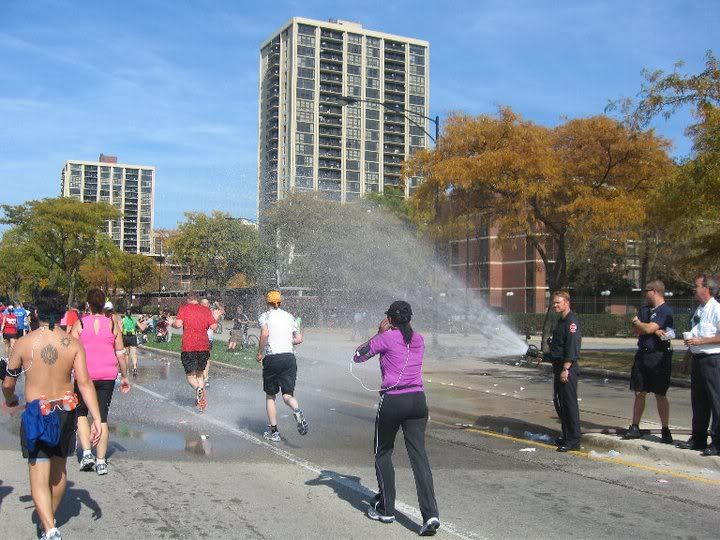 I was walking through all the aid stations as well as a tenth of a mile after every mile marker. As I walked through mile 18 I saw several people from the running group and stopped to talk to a couple of them. They agreed with me that it was hot and that's when Geri looked down and realized I had goosebumps. "Drink more!" she ordered. "Get going!" Yes, ma'am.
I wasn't expecting to see anyone else I knew until after mile 20. When you wear your name on your shirt lots of people yell it. Lots of people say, "Go Erin! You got this! Looking good!" and such. I always tried to wave and smile at anyone who shouted my name but I never recognized them. Imagine my surprise when, in the middle of mile 19, I hear someone scream my name and I look up to see someone from work! I might have been walking at that point but it gave me a much needed boost.
Someone at some point near there had been handing out orange slices but by the time I got there they were no more. Just tons of orange slices on the ground and the smell of oranges in the air. I would have killed someone for a nice, cold orange slice right then. I was so tired of Gatorade and water (both of which I was drinking at every aid station) and my Shot Bloks. I also saw someone eating an
icy pop
. I would have killed for one of those, too.
I was hoping to see my family near mile 21 but when I texted them at mile 20 (while walking) they said they would miss me. Darn. But mile 21 was so crazy with the people and dragons (yes, dragons) in Chinatown that I didn't even notice. I also didn't even notice that I was now running further than I had ever gone before. I never once let that thought cross my mind.
I finally got a text from Jason that said they were at the 40K mark. Being an American who is bad at math I had no idea what mile marker that was. So on I trudged. I thought about texting back that it was now quite the death march but I didn't want to scare them. Although my knee had been holding up quite well it started to hurt when I walked but I was so hot and tired that sometimes I had to grit my teeth and walk through the pain.
Miles 22-23 were not pleasant. When I saw the 35K marker at mile 22 I realized I had 3 more miles before I would see my family. The sun was beating down on us. I saw more people walking than running. My goal time was shot. But it was at that point that I realized I was going to finish this thing.
At mile 24 the DJ was playing what sounded like Pink Floyd's "Another Brick in the Wall" which made me laugh. If there was a wall to hit I hit it long before mile 24. He also admonished us that there was a woman up ahead who'd done an Ironman 4 weeks before and were we going to let her beat us??
And that's when I saw the sign telling me I was going to be a marathoner. I got a little choked up and had to fight back the emotional anxiety-induced asthma. Instead I thought about what I was going to say when I saw my parents in another mile.
"You've got this!" my mom screamed as I approached the 40K sign.
I slapped her hand. "It won't be pretty, but I'm GONNA DO THIS!" I screamed.
If you need evidence of what a good spectator interaction can do for you, just watch me look strong when I feel like hell.
I ran until the 800 meter sign. Just twice around the track, I told myself. But I stopped to walk to gather up my strength. When I could see the big screen tv just before the hill up to the finish line I started running again. I wanted to see myself running on tv, not walking.
I turned the corner onto the hill and tackled that thing. This isn't so bad, I thought to myself. Just a little bit longer than the overpass I run by my house. No big deal. And then I turned the final corner and I could see it.
THE FINISH LINE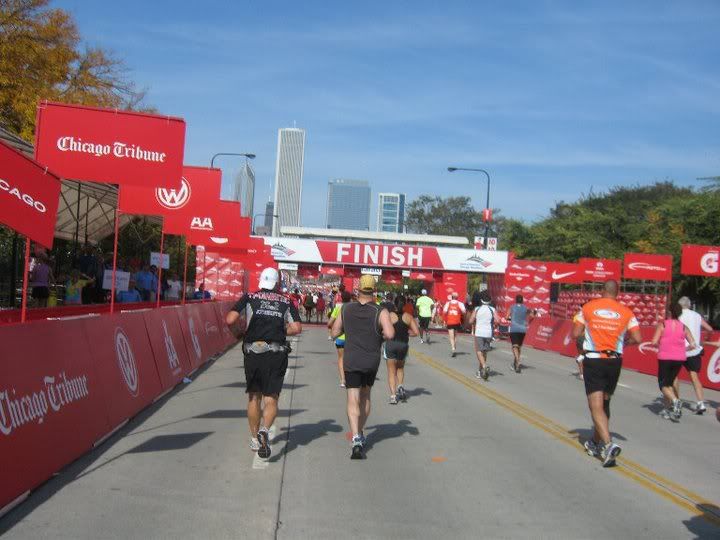 I can't wait to see my official finish line photos. I threw my hands up and opened my mouth in a silent scream. I'd done it. I made it 26.2 miles. I was a freaking marathoner!!
I had no idea what my time was. My Garmin died shortly after I crossed the finish line. I was stumbling around looking for ice for my knee and wondering where to get my medal.
Finally, after getting my medal I realized that there was no more ice. I got a ton of texts all in the space of a minute. Jason asking me where to meet. Friends saying congrats. I was hot and tired and I wanted nothing more than to sit down but I knew I needed to get to the runner reunite area. And that's when I started to cry. I stood there for a minute and tried to compose myself before continuing the walk to meet my family.
My final time?
5:14:10
. 30 minutes off my revised, not-as-ambitious-as-4:30 goal pace. That guy at the expo was right.
When I made it to the meeting spot my mom gave me a big hug. And she took one look at me and said, "It's okay. Let it out." I'm not ashamed to admit I bawled. Not out of sadness. Just out of pure exhaustion, frustration, and a total feeling of being overwhelmed. After a few minutes, a cold cloth wrap for my knee (still no ice, though) and finally getting to sit down I felt better although I had a killer headache. I knew I should eat something but absolutely nothing sounded good. So, while my parents headed back to their hotel, I got a massage instead.
While in the massage tent I saw Jacob walk by! "JACOB!" I screamed. I honestly didn't think he was going to finish the marathon so when I saw the medal around his neck I practically jumped off the massage table to hug him.
When I left the massage tent Kim was waiting for me. Sweaty hugs were exchanged all around and we posed for some photos.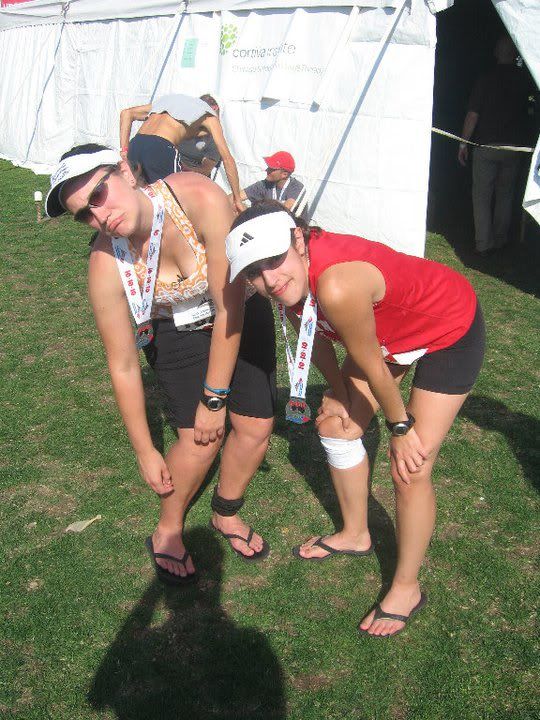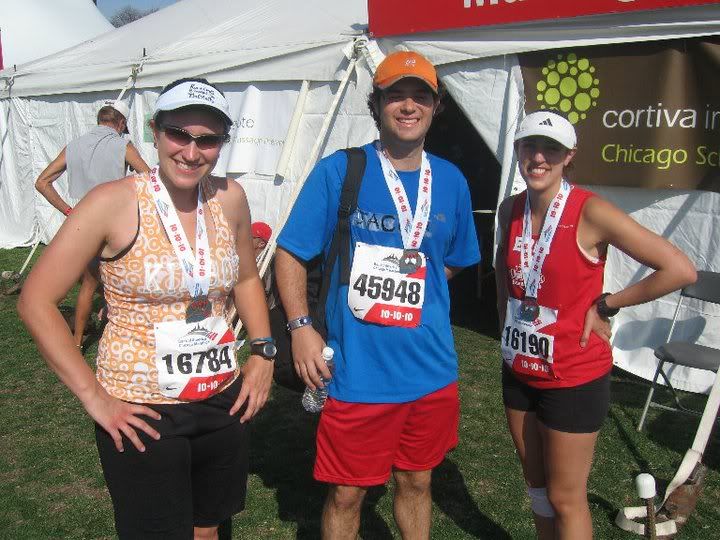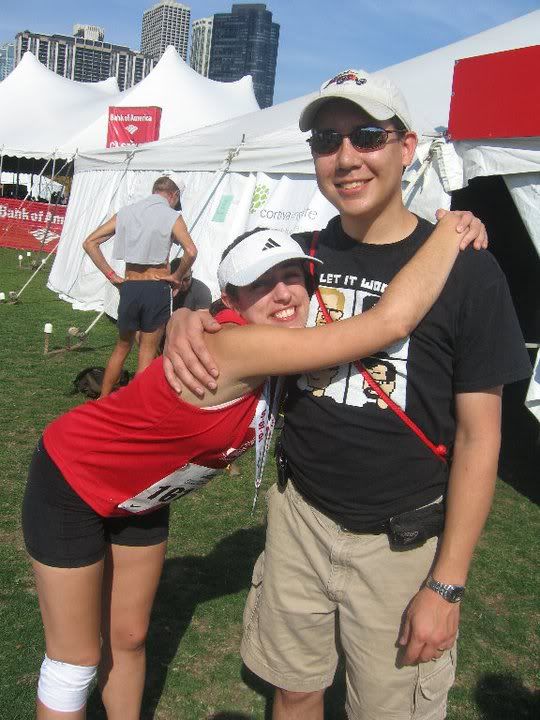 We also discussed how when each of us came upon the Eiffle Tower guy we decided we were NOT going to let him beat us. I mean, could you let yourself be passed by this?
Didn't think so.
Today my quads are so sore it feels better to walk down the stairs backwards. My knee aches some when I bend or straighten my leg. My shoulders and upper back are sore. My calves still feel like they have rocks in them. But I'm up, I'm walking and I freaking finished a marathon.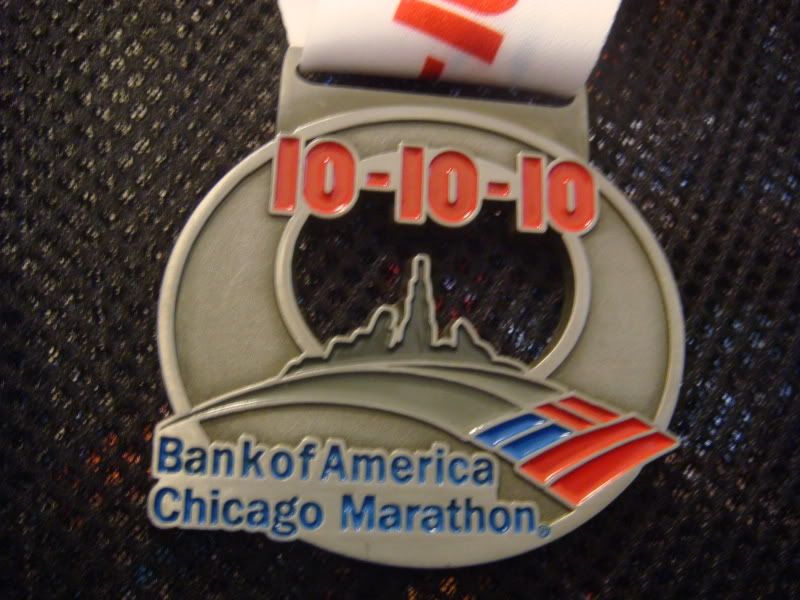 I am so thankful for every single person who shouted my name either in person or virtually. For my friends who trained with me for the past 18 weeks. For my husband who made dinner when I had to run and who ran around the city of Chicago to support me on the big day. For my parents and my brother who came out to cheer. I couldn't have done this without all of you.
Now, who's ready for the next one?*
*Preferably somewhere colder
P.S. Huge thanks to Kim for several of these photos.
P.S. And a big thanks to my friend Rae for sending me the 26.2 car magnet.
*************************
Activity
| | | | |
| --- | --- | --- | --- |
| Route: | -- | Elev. Avg: | 592 ft |
| Location: | -- | Elev. Gain: | +4 ft |
| Date: | 10/10/10 | Up/Downhill: | [+433/-429] |
| Time: | 07:47 AM | Difficulty: | 3.5 / 5.0 |
Performance
Distance:
26.68 miles


Time:
5:13:53
Speed:
5.1 mph
Pace:
11' 46 /mi
Calories:
3066
Map
Elevation (ft)
Pace (min/mile)
Splits
Mile
Pace (min/mile)
Speed (mph)
Elevation
Gain
actual
+/- avg
actual
+/- avg
1
10' 33

-1' 13

5.7

+0.6

-6 ft
2
8' 51

-2' 55

6.8

+1.7

+10 ft
3
9' 30

-2' 16

6.3

+1.2

0 ft
4
9' 57

-1' 49

6.0

+0.9

-10 ft
5
9' 53

-1' 53

6.1

+1.0

+10 ft
6
10' 21

-1' 25

5.8

+0.7

-3 ft
7
10' 44

-1' 02

5.6

+0.5

-3 ft
8
9' 53

-1' 53

6.1

+1.0

0 ft
9
13' 00

+1' 14

4.6

-0.5

+6 ft
10
11' 14

-0' 32

5.3

+0.2

+3 ft
11
11' 29

-0' 17

5.2

+0.1

-6 ft
12
10' 32

-1' 14

5.7

+0.6

-6 ft
13
11' 41
-0' 05
5.1
+0.0
+10 ft
14
9' 56

-1' 50

6.0

+0.9

-13 ft
15
11' 34

-0' 12

5.2

+0.1

+9 ft
16
12' 26

+0' 40

4.8

-0.3

-3 ft
17
11' 28

-0' 18

5.2

+0.1

-3 ft
18
12' 49

+1' 03

4.7

-0.4

+7 ft
19
13' 45

+1' 59

4.4

-0.7

0 ft
20
12' 44

+0' 58

4.7

-0.4

+3 ft
21
13' 21

+1' 35

4.5

-0.6

-6 ft
22
12' 37

+0' 51

4.8

-0.3

+3 ft
23
13' 21

+1' 35

4.5

-0.6

-10 ft
24
13' 23

+1' 37

4.5

-0.6

+10 ft
25
13' 51

+2' 05

4.3

-0.8

0 ft
26
13' 28

+1' 42

4.5

-0.6

+3 ft
end
11' 33

-0' 13

5.2

+0.1

+7 ft
Versus average of 11' 46 min/mile