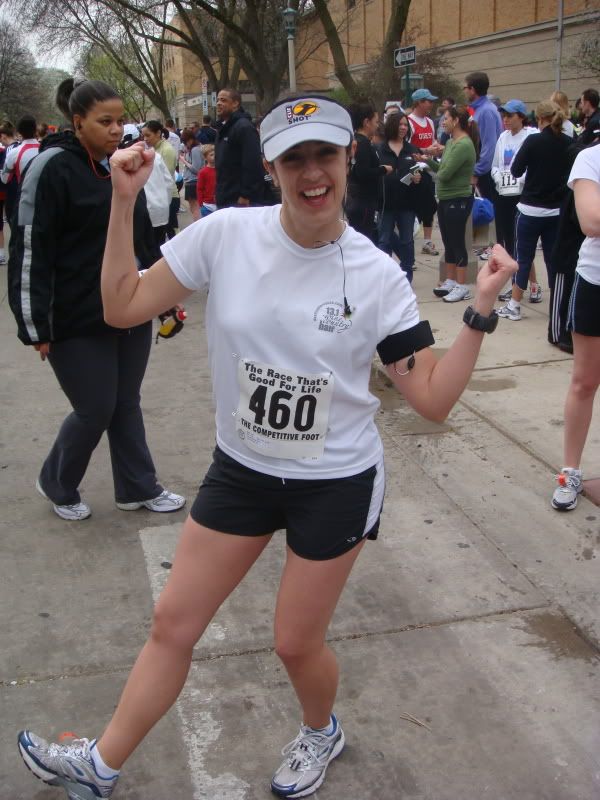 It's just another manic Monday
I wish it was Sunday
'Cause that's my funday
My I don't have to runday
-The Bangles
Well, The Bangles might not run on Sundays, but I sure did! And oh boy did I run.
But running is just part of what I did for The Run That's Good for Life. You see, this 5K is the one and only race put on by my running club. And as a club member I felt it was my duty to volunteer to help out as much as I could. Which means I:
-Hung posters and distributed fliers promoting the race
-Stuffed goody bags for packet pick up
-Hung "No Parking" signs along the race course
-Staffed packet pick-up the day before the race
-Assisted as a course marshal after I finished
I wasn't planning to go into this race with any major expectations. But, you hang around other runners enough talking about a race many of them are also doing and you start to get caught up in the talk of PRs and paces and times. I mean, I just amazed myself at a 5K in February. I wasn't really thinking I could do it again. But, I admit, once I was lined up at the start line I started thinking "What if I could do this in
under
25 minutes?"
But let me back up.
Bright and early yesterday morning,
Kim
arrived at my house so that we could drive to the race together. She'd offered to be a course marshal which meant she would make sure cars didn't enter or cross the course while the race was going on. We got to the race site early to check in. Everything looked to be under control so we hung out and chatted before she headed to her assigned intersection. That's when she gave me
these
: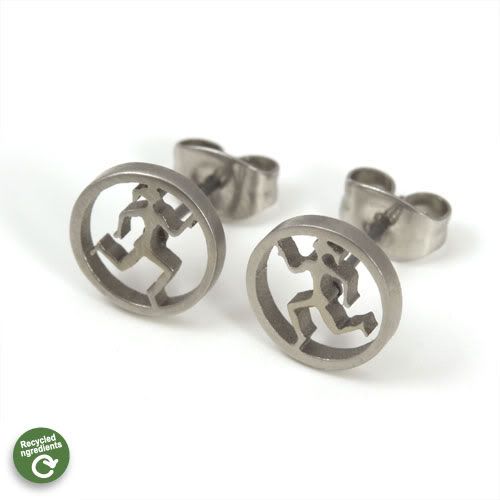 I put them in right away as my very own good luck charm!
About 30 minutes before the women's 5K start time (the women and men run separately at this event) Kim headed off to her post and I started doing some warm-up jogging and stretching. Jason arrived about 5 minutes before the start and we talked strategy. Sadly, this race doesn't have many good intercept points for spectators so he only got to cheer for me at the start and the finish.
As I lined up next to one of the women in the running club she told me to start off slow and then pick it up in the final mile. I'm really, really bad at starting slow but I thought I'd try. Really, though, I was just going to run as hard as I could and see where that got me.
I passed Jason a few hundred yards after the start line and, as always, waved and looked like a fool.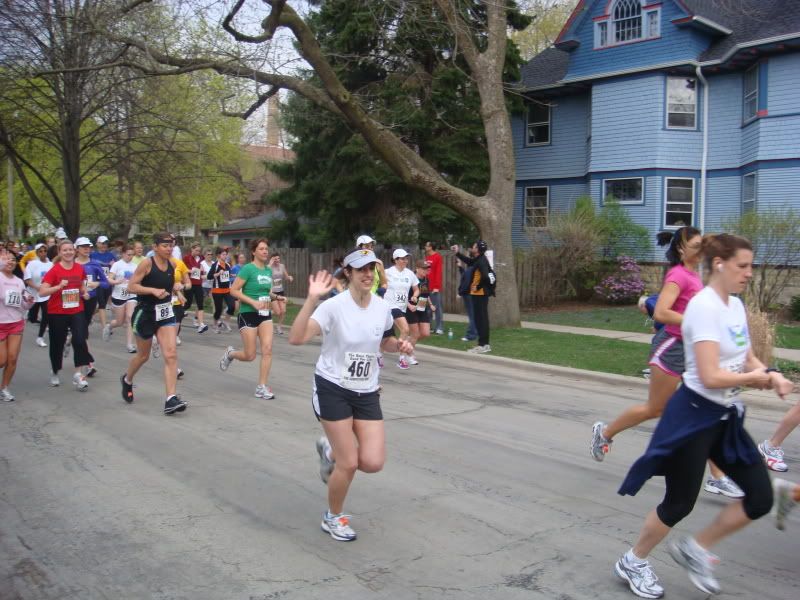 A fool who ran that first mile in 7:54. Um, okay, I think that's the fastest I've ever run anything.
I didn't want to crash and burn at the end so I decided to slow it down a little bit. I passed the water station and knew I was at the halfway point. Shortly after that we approached what passes for a substantial hill in our area. I groaned inwardly and felt my pace drop. I was glancing at my Garmin to check out my average pace. I was trying to remember what my overall pace was when I PRed last time and I *thought* it was 8:16. So as long as I could keep it under that I figured I'd be golden.
It was tough, though. I kept checking the Garmin to see how much longer I had left. When I realized I had half a mile I tried my hardest to speed up. When I passed the mile 3 clock and it read 24:something I really, really wanted to get to the finish. I could see the banner in the distance and I dug deep. But that pesky going-to-puke feeling showed up and I had to back down slightly.
I was grunting and my teeth were clenched. I had my iPod playing with my "power song" but the music didn't even register. I passed Jason and gave him a dismissive wave as I powered to the finish line.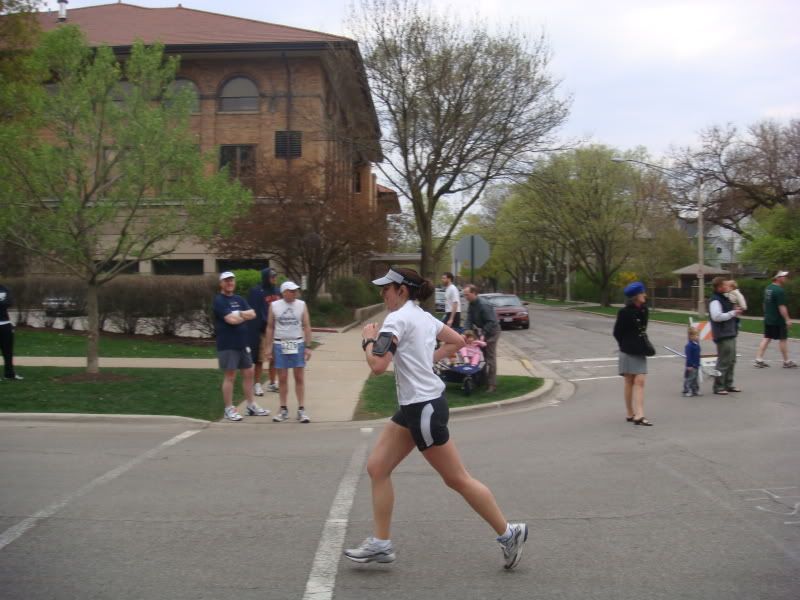 I didn't even look at the clock at the end. I just hit STOP on my Garmin, took my finisher's rose, and lurched toward the Gatorade table while looking around for my husband. When I finally looked at my Garmin I saw that it said
25:23
. A new PR! I think my new good luck charms definitely worked!
My dear, sweet husband immediately took a photo and posted my results to his Twitter feed.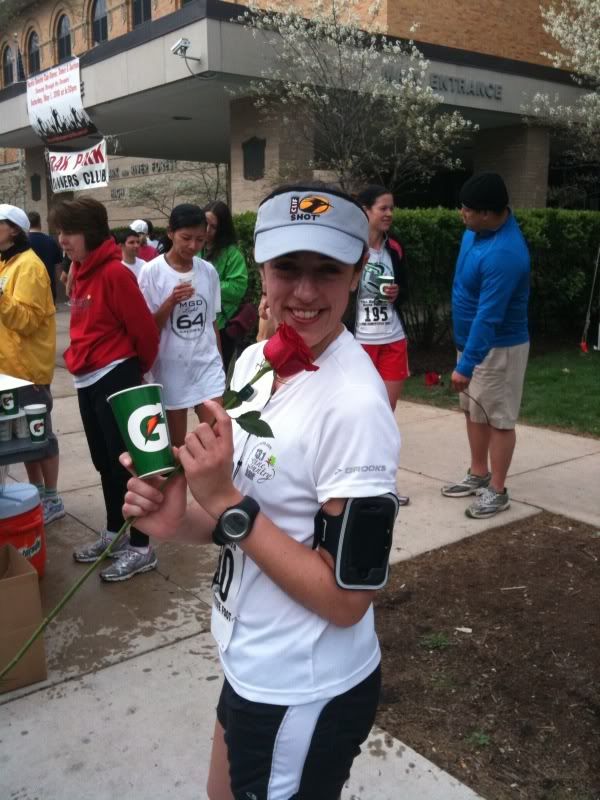 I sent Jason home with my rose, grabbed my warm-up pants and sweatshirt and joined Kim at her intersection to direct traffic for the men's race. Afterward we stuffed our faces with Chipotle (my race bib was good for buy-one-get-one-free burritos). I managed to stay upright long enough to go to the grocery store but afterward I conked out for a two hour nap. Who knew that 25 minutes of all-out activity could wear a person out so much?
Overall it was a great race for me. Not only was it another personal best, but I loved being involved in so many aspects of it and I love that other people were too.
Official stats:
Time: 25:23.7
Average Pace: 8:11
Overall Place: 121/483
Age Group Place: 16/71
*******************************************
Activity
Route:
--
Elev. Avg:
624 ft
Location:
Oak Park, IL
Elev. Gain:
+0 ft
Date:
04/11/10
Up/Downhill:
[+22/-22]
Time:
09:00 AM
Difficulty:
1.9 / 5.0
Weather:
Mostly Cloudy
53 F temp; 61% humidity
53 F heat index; winds E 10
Performance
Distance:
3.09 miles


Time:
0:25:23
Speed:
7.3 mph
Pace:
8' 13 /mi
Calories:
365
Map
Elevation (ft)
Pace (min/mile)
Splits
Mile
Pace (min/mile)
Speed (mph)
Elevation
Gain
actual
+/- avg
actual
+/- avg
1
7' 54

-0' 19

7.6

+0.3

0 ft
2
8' 20

+0' 07

7.2

-0.1

+13 ft
3
8' 22

+0' 09

7.2

-0.1

-9 ft
end
7' 55

-0' 18

7.6

+0.3

-3 ft
Versus average of 8' 13 min/mile