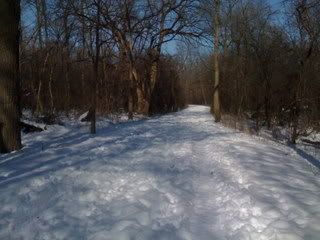 Things I saw on my run today? Several squirrels, a gaggle of geese, 12 walkers, 6 dogs (including one really fat lumbering yellow lab who let me pet him), 3 runners, 3 snowshoers, 1 cross-country skier, 1 biker, and 1 snowman.
As you can probably guess, I ran outside today.
But, I'm getting ahead of myself. Let me start from the beginning.
The weather today was supposed to get up into the 30s and it was incredibly sunny out. There was a little wind that concerned me, but it ended up not mattering. Tired of being cooped up inside for so long, I piled on the clothes and just before noon I drove over to my favorite bike/running path that runs along the Salt Creek and threads its way through various forest preserves. I parked the car and walked to the start of the path. Covered in snow. Not a plow or a shovel had touched it at all this winter. But, I could see that there was a strip of snow that had been packed down by previous runners, walkers, bikers and, apparently, cross-country skiers. All hope was not lost.
What did I do? Well, after my last attempt at running outside on snowy paths, I knew I didn't want to attempt it again. So I jumped back in my car and drove to the closest Sports Authority store and bought myself a pair of
YaxTrax Pro
. When I got back to the start of the path I slipped those babies on and off I went.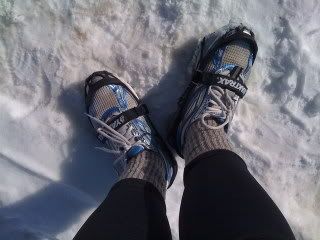 Although there was that part of the path that was packed down, it certainly wasn't smooth. There were ruts and divots and any time I had to pass another person I had to veer off into the powder-y snow. I'm sure my running form was less than ideal. But, I didn't care. The sun was shining, I wasn't cold, I was back in my favorite place to run, I was wearing my Garmin Forerunner, and I was having a great time!
Here's a shot of the pass-through under the train tracks from about the two-mile mark.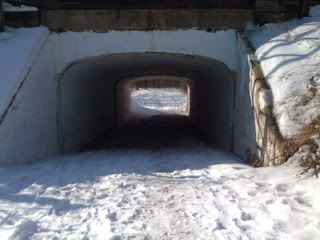 Other than FINALLY getting to run outside, the run itself was uneventful. Seven miles that was supposed to be at an 11:02 minute per mile pace. However, I was loving being outside so much that I ran a little faster than that.

So, 7 miles at an average 10:35 minute per mile pace. Mile four is the slowest because that's when I had to cross a major street (twice due to doing a there & back route) and the sidewalks I had to run on were horrible! They were mostly powdery snow covered with a thin layer of ice that I kept falling through. There was a little bit of walking and some strange tip-toe jogging. Overall, though, the YaxTrax were a success. Although, I couldn't tell if it was just the unevenness of the path or the YaxTrax themselves that were throwing off my form. Regardless, they kept me upright and made me feel a lot more comfortable.
And, because I was outside, I got all the fun data from my Garmin Forerunner. So, here it is:
Activity
| | | | |
| --- | --- | --- | --- |
| Route: | -- | Elev. Avg: | 0 ft |
| Location: | -- | Elev. Gain: | +0 ft |
| Date: | 01/31/09 | Up/Downhill: | [+0/-0] |
| Time: | 12:48 PM | Difficulty: | 0 / 5.0 |
Performance
Distance:
7.03 miles


Time:
1:14:26
Speed:
5.7 mph
Pace:
10' 35 /mi
Calories:
558
Map
Elevation (ft)
Pace (min/mile)
Splits
Mile
Pace (min/mile)
Speed (mph)
Elevation
Gain
actual
+/- avg
actual
+/- avg
1
10' 10

-0' 25

5.9

+0.2

-- ft
2
10' 44

+0' 09

5.6

-0.1

-- ft
3
10' 41

+0' 06

5.6

-0.1

-- ft
4
14' 55

+4' 20

4.0

-1.6

-- ft
5
10' 38
+0' 03
5.6
-0.0
-- ft
6
10' 20

-0' 15

5.8

+0.1

-- ft
7
10' 08

-0' 27

5.9

+0.3

-- ft
end
10' 50

+0' 15

5.5

-0.1

-- ft
Versus average of 10' 35 min/mile
Finally, I'll leave with one of my favorite sights along the path. I run past the forest preserve facilities operations headquarters' storage area. Anyone need a picnic table?