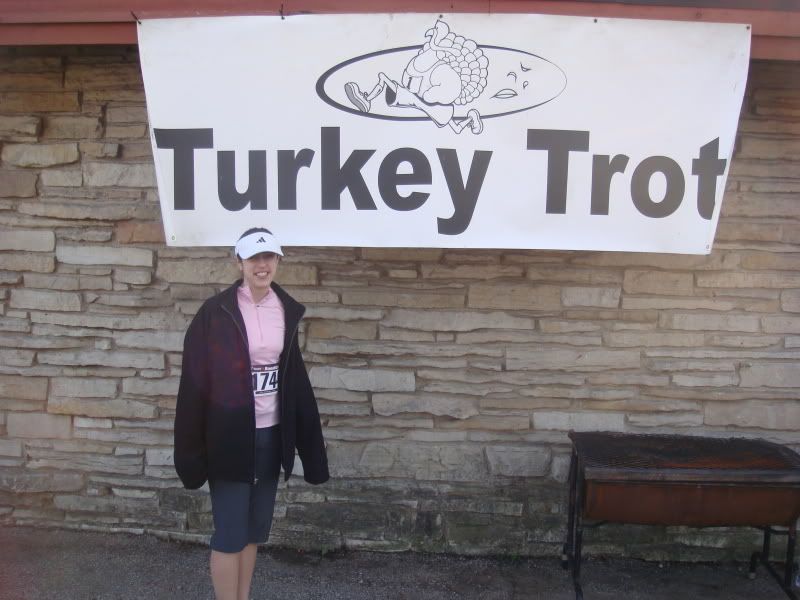 This race wasn't even on my radar until the group I run with at lunch mentioned they were all going to run it and then go out for breakfast afterward. Being someone who easily succumbs to peer pressure and who doesn't like to feel left out, I decided to run it at the last minute. Having just PR'ed two weeks before I figured I'd just run it for fun and not worry about my time.
The morning started out sunny but chilly. Thankfully, Jason let me borrow his coat while we stood around waiting to meet up with the rest of the group. In the end, 7 of us from the university where I work ended up running and one person's spouse ran with us as well. I only got a photo of a few of us, though.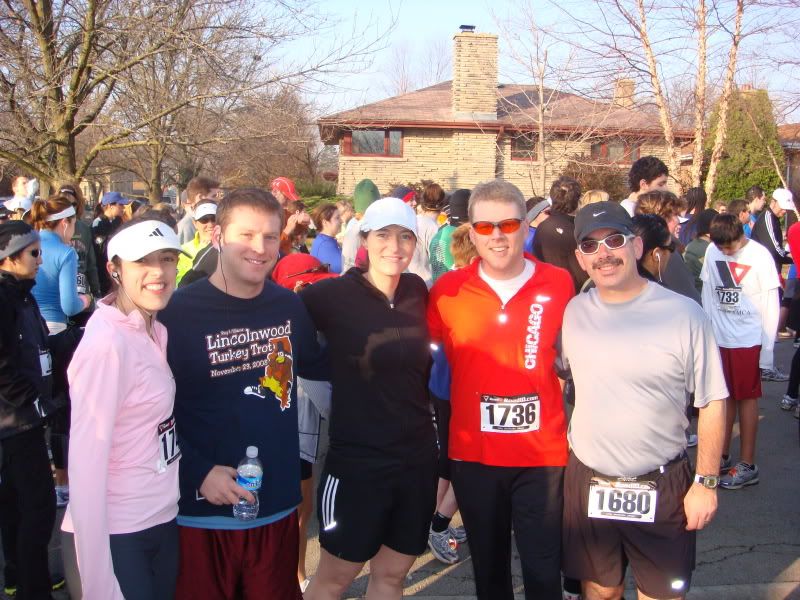 I registered race morning. It was the first time I'd ever done that and I have to say that this race was super-well organized and there were no crazy lines or chaos in the registration tent. The only downside? I had to get a medium sized shirt instead of a small. It's really ugly, though, so I don't know if I would wear it anyway.
Compared to my last 10K, this course was not only super-flat, but it was also much easier to understand on the map. Jason likes to check out the map so that he can plan his intercept points.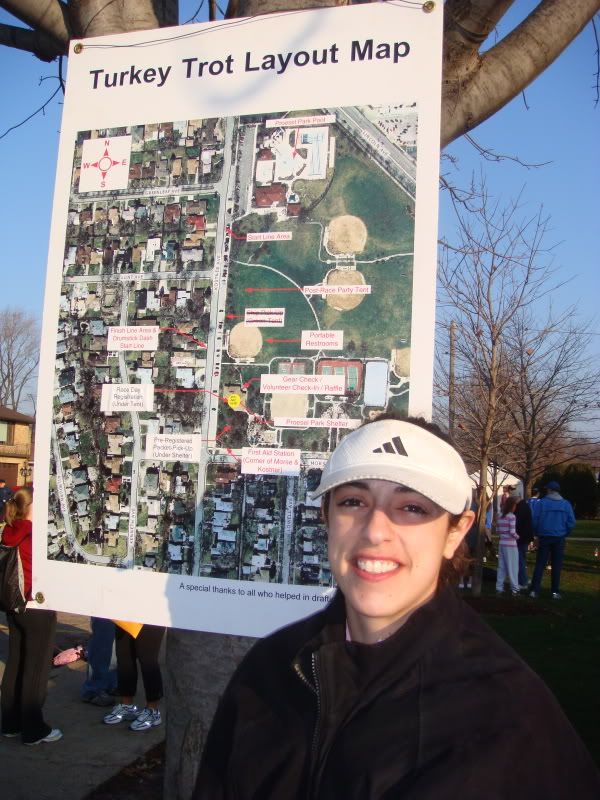 I have the most amazing husband. Not only does he get out of bed early on a weekend morning to cheer for me, he brings the camera, runs around trying to get photos of me, and stands around in the cold/heat/etc waiting for me to finish. He's my very own athletic supporter :-)
Speaking of which, this race was perfectly laid out for multiple intercept points. Jason took a TON of photos of me. And a lot of this guy: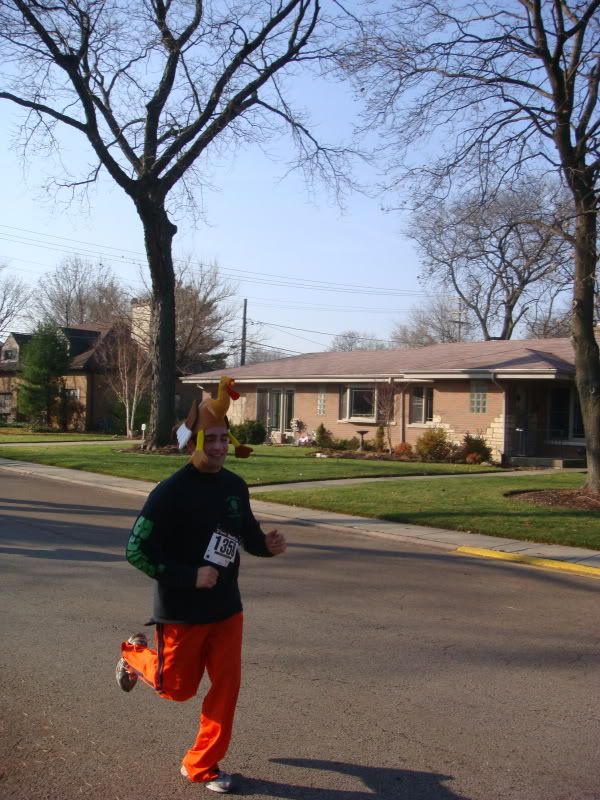 Click the picture to see larger
I guess it's not every day you see someone running with a turkey on his head.
Anyway, I can't quite recall what photos were taken at what point. I was actually trying really hard not to look at my Garmin and just run by feel. But here's what I do remember.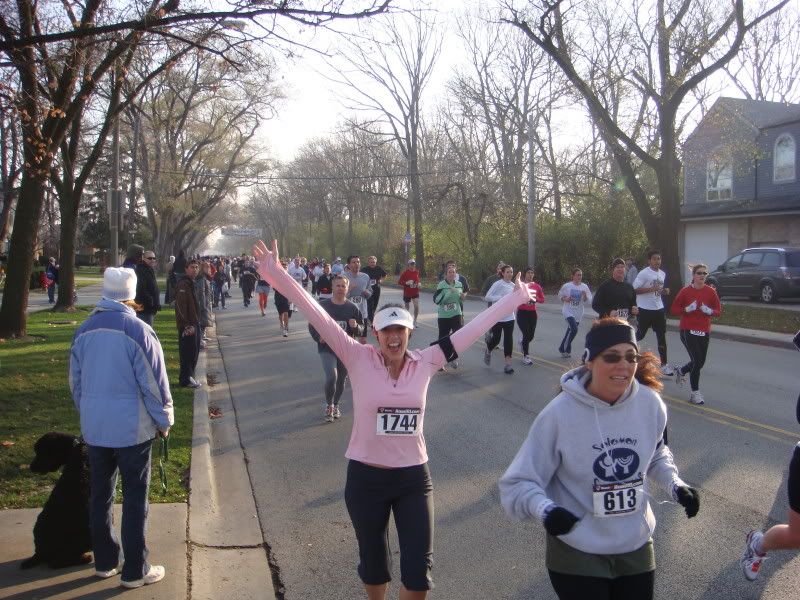 Just after the first mile marker. I was feeling quite good. The course was a little bit crowded but they had smartly started the 5K walk at 9:00 and the 5K and 10K runs at 8:45. Hence, fewer walkers to dodge. Excellent.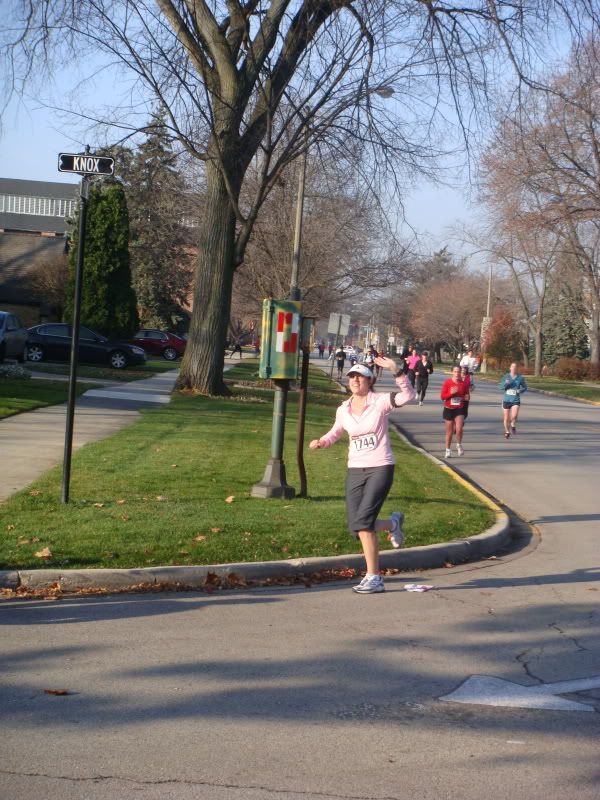 Perhaps around mile 3? Still feeling good but also starting to tire out a little bit. But, there was a woman running in front of me who was essentially wearing pajamas. Flannel pants and a long-sleeved t-shirt. I was NOT going to let myself be beaten by someone running in pajamas, so I made it my goal to pass her. I did :-)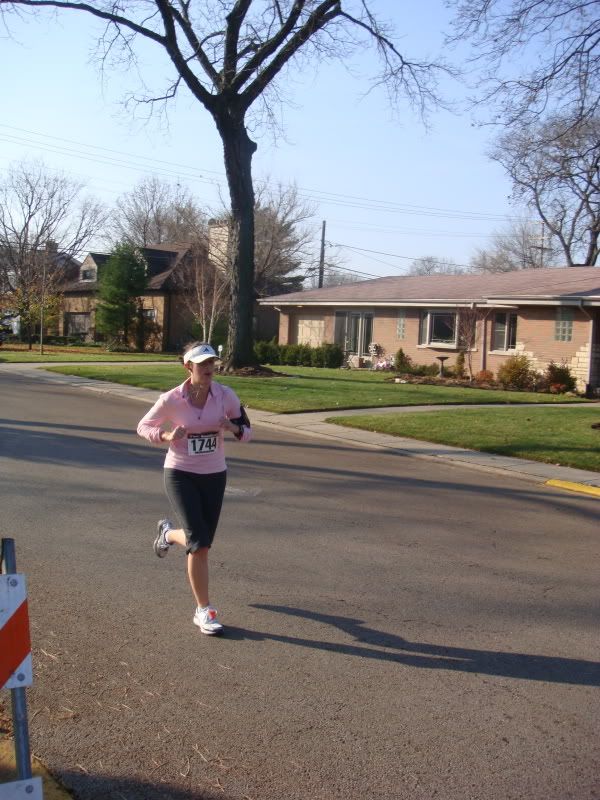 I think this was between mile 4 and 5. I was definitely starting to wear out. But, based on the clocks at each mile marker and the peaks I sneaked at my watch, I was averaging under a 9 minute mile. And when Jason started cheering for me while taking pictures, I got a little boost of energy. When he started jogging down the sidewalk along side me and shouting "Keep it up! You can do it! Make it another personal best!!" I knew this was no longer going to be a race just for the fun of it.
See, in my last race report I indicated that when I realized I'd banked a lot of time at the beginning I let myself slow down after the third mile. Someone over at the LJ Runner's Community said that meant I could have gone faster. So, this time I decided to see if I could hold my pace for two more miles. If I could, it would be another personal record. And just two weeks after my last one!
So, I gritted my teeth and kept going. Even though I felt like I was going to vomit for the last half mile. I managed to keep my Clif bar down, though, and when I saw the clock at the finish line, I ran as hard as I could.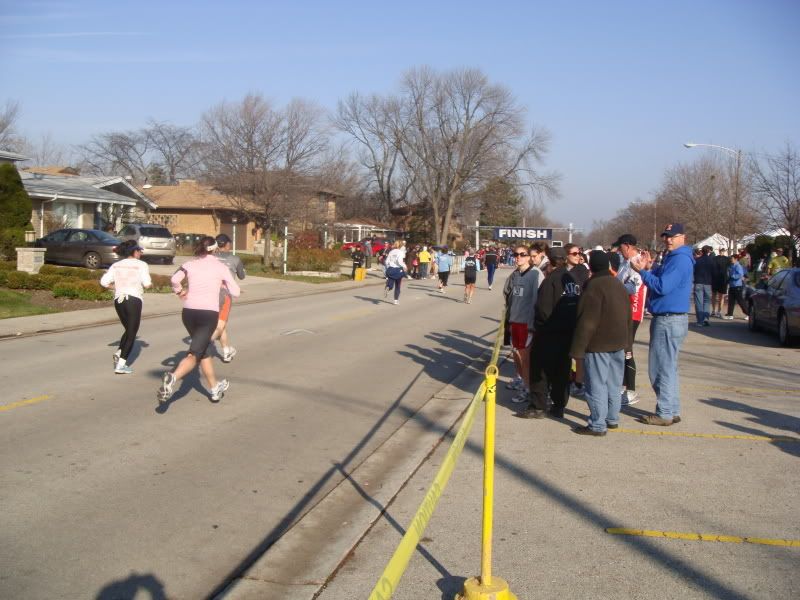 I hit the stop button on my Garmin as my foot touched the timing mat. I grabbed a bottle of water and briefly contemplated puking. But I didn't want to do it in someone's front yard and I couldn't find a trash can. As I sipped the water, though, my stomach calmed down. And when I looked at my watch I could barely believe my eyes. When Jason found me I couldn't even speak. I just held out my wrist. I was in a daze. A happy, happy daze.
Because, my time?
54:49
. Almost two minutes faster than two weeks before. AND I broke the 55 minute mark. A goal I didn't even know I had in me yet.
After finding the rest of the group (all but two of them finished faster than me. They are speed demons!) we headed off to stuff ourselves with pancakes and chocolate milk. A great race followed by fun company. And to think I almost didn't run this race.
Official Race Stats:
Time: 54:49
Average Pace: 8:50 minute/mile
Overall Place: 232/502
Female Age Group Place: 20/51 (although, technically, I was 19/50 since the person listed as coming in 2nd in the Female Age Group was actually one of the guys from our group from work. Somehow the race official entered his sex in wrong. Yes, we've been making fun of him. And, yes, he's going to contact them so they can give the awards to the correct people.)
Overall Female Place: 74/265
********************
Garmin Stats (take a look at how FLAT this course was. Perfect for a PR! Also, Bones in Motion rounded off my 54:49.99 time to 54:50. Otherwise my Garmin time matched my official race results exactly.)
Activity
Route:
--
Elev. Avg:
609 ft
Location:
Lincolnwood, IL
Elev. Gain:
+0 ft
Date:
11/22/09
Up/Downhill:
[+16/-16]
Time:
08:46 AM
Difficulty:
2.1 / 5.0
Weather:
Fog/Mist
44 F temp; 85% humidity
44 F heat index; winds S 8
Performance
Distance:
6.21 miles


Time:
0:54:50
Speed:
6.8 mph
Pace:
8' 50 /mi
Calories:
730
Map
Elevation (ft)
Pace (min/mile)
Splits
Mile
Pace (min/mile)
Speed (mph)
Elevation
Gain
actual
+/- avg
actual
+/- avg
1
8' 37

-0' 13

7.0

+0.2

+3 ft
2
8' 36

-0' 14

7.0

+0.2

0 ft
3
8' 53
+0' 03
6.8
-0.0
0 ft
4
8' 55

+0' 05

6.7

-0.1

0 ft
5
9' 06

+0' 16

6.6

-0.2

0 ft
6
9' 02

+0' 12

6.6

-0.2

-3 ft
end
7' 48

-1' 02

7.7

+0.9

0 ft
Versus average of 8' 50 min/mile