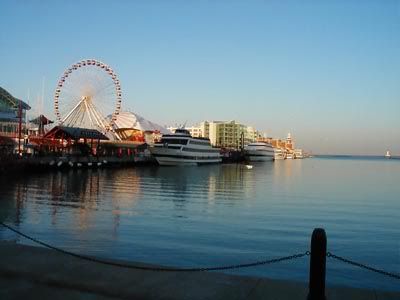 When I ran the
Chase Corporate Challenge
for work, I mentioned in my report that I was invited to join a group of other staff members who run at lunch time. I've been getting the email invites every Tuesday and Thursday since then but it just hasn't really fit my schedule to be able to join them.
Until yesterday, that is. Yes, technically I had an afternoon meeting, but it wasn't one where I needed to be dressed to impress if you know what I mean. Plus, the weather yesterday was just so perfect. Sunny and 64
o
and I really wanted to take advantage of it.
So, even though I'd just done 5.5 miles of running the night before, I packed a bag of shoes, running clothes, face wash, make-up, hair brush and deodorant and decided to run at lunch. For the first time ever.
I changed into my running clothes in my office and met the rest of the group (there were 7 of us total yesterday) a little after noon. We stretched for a few minutes and then, around 12:15 we started on our run. We went from our office building and north along
Lake Shore Drive
, just past
Navy Pier
(pictured above), and back.
I kept up with the leaders of the pack for the first mile or so. As suspected, they keep to around a 9 minute per mile pace. Running with them will DEFINITELY make me faster. Thankfully, there were two other people who don't usually run that pace, either, so as I slowed down I wasn't the last person in the group.
Just after the halfway point, we stopped for a moment to grab drinks from a water fountain and take a quick break. Then it was back the way we came. It didn't occur to me to stop my watch immediately at the start of our break, so mile two's time is a little off. But, as you can see from miles one and three, we were really booking it!

Overall, I did a decent job of keeping up with everyone. I even managed to chat some with some of the other people. We mostly chatted about racing and I got a suggestion for a good area in the suburbs to check out that has some hills (or at least what passes for hills around here).
We ran until we hit the 5K mark and then walked the rest of the way back to our office building. According to someone else in the group's watch, we did 3.12 miles in 27:48. My watch said 28:28 but, again, I didn't stop it every time we paused and he did. To put those times in perspective, my best 5K time EVER was 27:23 last November. I cannot wait until my 5K race on the 13th. If the course isn't too crowded, I bet I'll be able to easily beat my previous 5K record. Keep your fingers crossed!
After the run, I went back to my office to freshen up. I put on more deodorant, changed back into my work clothes, washed my face and put on fresh make-up. I brushed my hair and scarfed down lunch. Other than my hair feeling limp and greasy and not really having enough time to eat before my 2 PM meeting I was fine. I will admit, though, that running at lunch sort of sapped me of energy for the rest of the day. I think it might have been because I didn't eat enough afterward. The next time I run at lunch I'm going to have to remember to bring more to eat.
***************
Thursday's stats:
Activity
Route:
--
Elev. Avg:
586 ft
Location:
Chicago, IL
Elev. Gain:
+7 ft
Date:
06/04/09
Up/Downhill:
[+134/-127]
Time:
12:22 PM
Difficulty:
1.8 / 5.0
Weather:
Partly Cloudy
65 F temp; 39% humidity
65 F heat index; winds E 9
Performance
Distance:
3.12 miles


Time:
0:28:28
Speed:
6.6 mph
Pace:
9' 07 /mi
Calories:
330
Map
Elevation (ft)
Pace (min/mile)