I went to college in Oxford, Ohio, a small town approximately 6 miles from the Ohio-Indiana border. For almost four years my best friend (and roommate) and I had a dream of walking from Oxford to West College Corner, Indiana, the town right over the border. How cool, we thought, would it be to walk from one state to another and back?
So, on the last week of school our senior year, after all our finals were finished, we took a break from packing up our apartment, and set out on foot.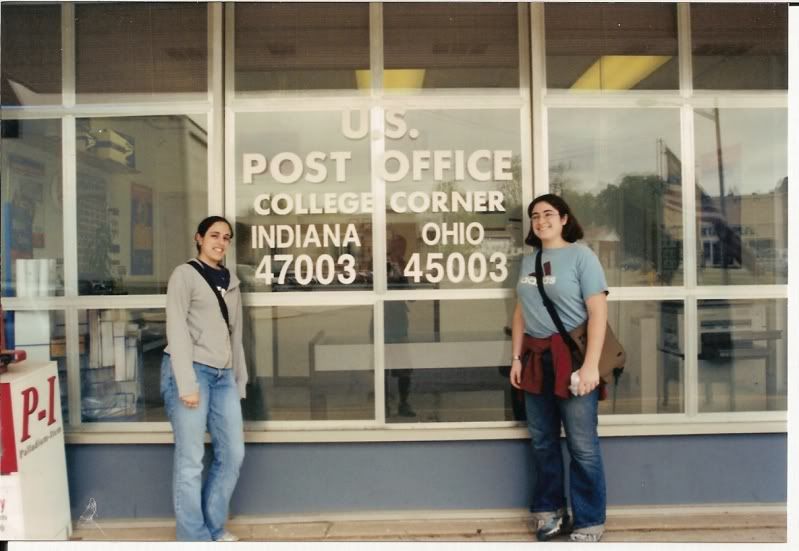 I'm on the left
It's a pretty cool feeling to know your own two feet took you from one state to another and back. And apparently now they do a
half marathon in my college town
that does just that!
On Tuesday I got to recreate that feeling while in the DC area for a work-related conference. Our hotel was on the Maryland side of the Potomac River, right on the water. And not that far away? The Woodrow Wilson Bridge that connects Maryland to Virgina.
I'm not normally a morning runner but Tuesday morning was the only time I had available. A benefit to morning running that probably everyone already knows but me? Getting to watch the sunrise.
I'd set off from my hotel along the boardwalk that turned into a crushed rock and shell path before returning to a paved area in a small undeveloped park. From the research I'd done I'd discovered that this was a newly built bike and pedestrian path. I saw several other people walking and running and quite a few that looked like bicycle commuters.
The path continued along the river until I got to the freeway overpass that would take me to the path along the bridge. They'd done a great job landscaping the pedestrian bridge to give it some character other than concrete. They'd also done a great job throwing a huge hill into the route!
The bridge wasn't anything too spectacular. Traffic whizzing by on one side, the river on the other. However, if the fog in the distance had lifted I would have had a spectacular view of Washington D.C. A few spots along the bridge had bump-outs with telescopes on them and signs with tidbits about the area. I didn't linger long enough to get a history lesson, though.
A little more than halfway over the bridge, Virgina welcomed me.
And when I reached the end of the bridge Alexandria nicely gave me directions on which way was what.
So, I turned around. From my hotel to this point was about 3 miles. I'd messed up my Garmin (again!) so I don't have an exact number.
Maryland gave me some lovely information as I entered their state.
I wanted to get in 8 miles plus I was feeling really good. So when I got back to the hotel and calculated I still had 2 more miles to go, I ventured in the opposite direction where I found a dirt path.
I thought it made a nice counterpoint to the steel and concrete and brick I'd just come from.
I had to throw in a few other loops throughout the convention center area in order to get in my full 8 miles but I did it. And it was fun. And, guess what, according to the map I not only ran from one state to another, I also ran through Washington DC!
So, I added one new state (Maryland) to my map of states I've run in along with the District of Columbia. Plus, it was just generally a good run. I felt awesome the entire time, I got to watch the sun rise, and I didn't let the pull of conference exhaustion suck me in. And that's the state of the state :-)
Innovation 5K + VA-MD Run by snmnstrz21 at Garmin Connect - Details
MD-VA Run - National Harbor by snmnstrz21 at Garmin Connect - Details