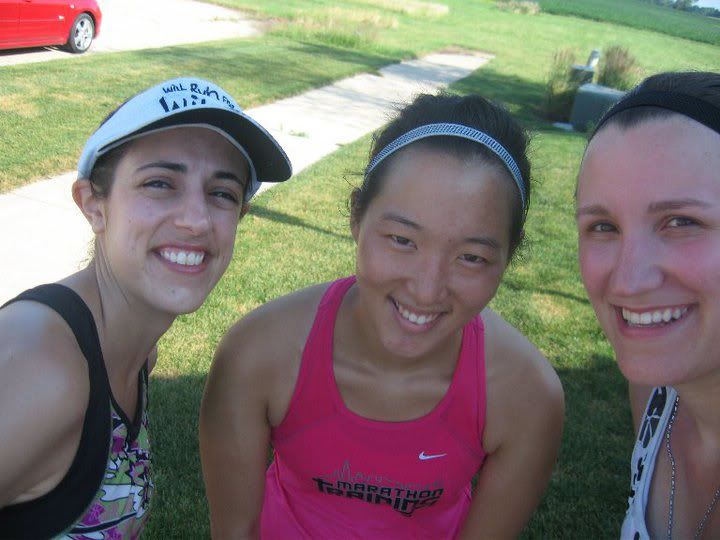 Kim
and I traveled with our husbands to my hometown this past weekend and decided to drag ourselves out of bed for a run on Saturday morning.
Mica
happens to live in my hometown so we convinced her to meet us for our run as well.
For the first time in awhile I was able to run my long run with friends, not worry about my pace, and just enjoy myself. I'm starting to wonder how the hell I managed to do my long runs solo last year. Running with other people makes them so much better!
I couldn't even tell you what we talked about. The three of us just ran along heading from my parents' house to a nearby park. I've run through this park before, but not in July.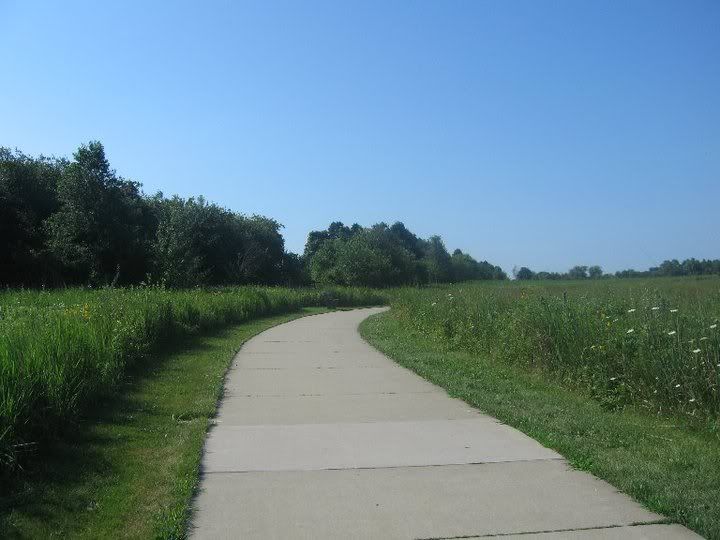 There's not much shade in the park. It's called a prairie for a reason. But, we sucked it up and did a nice almost 6 mile loop that ended back at my parents' house.
The plan was to take a short break while Kim switched from running to biking and then I would finish my last 4 miles and Mica would come along for as long as she felt able.
When we got back to the house, though, I checked my cellphone and realized that I'd missed a ton of calls from both my husband and our dog sitter.
Turned out that Phil, our "special" greyhound, had got his tail caught in our storm door and needed emergency surgery. So, instead of taking a short break we took a slightly longer break so I could figure out what was going on. It also gave us an opportunity to refill our water bottles. Good thing, too. As you might be able to tell from these photos, we were quite sweaty.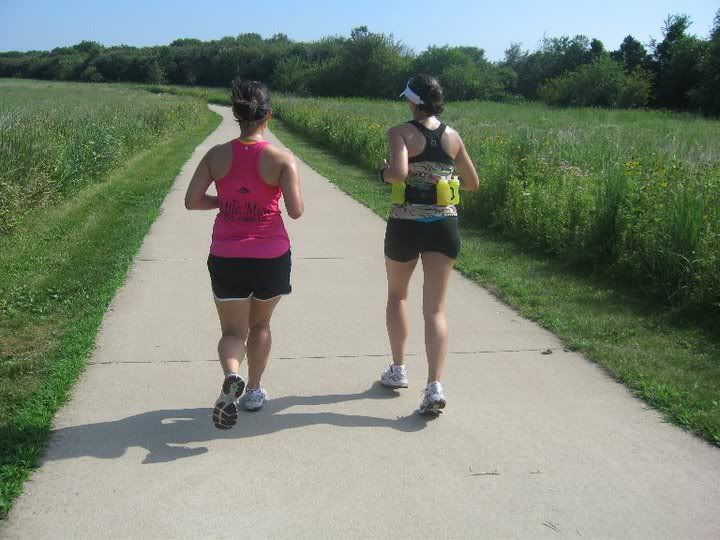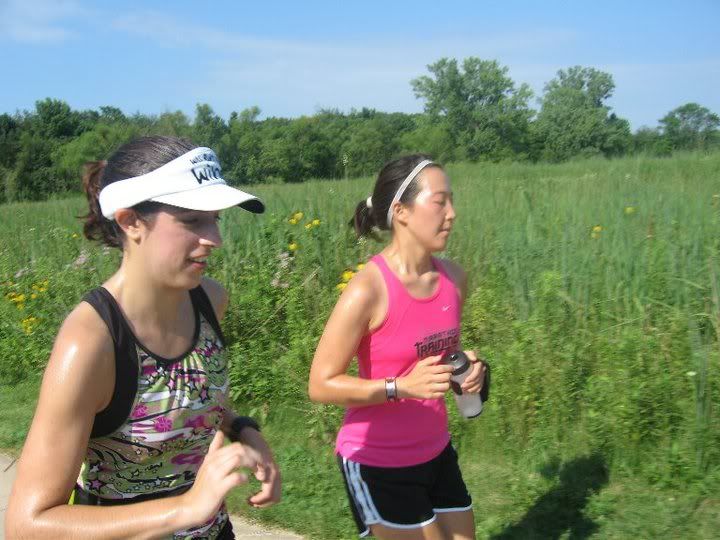 It was tough to start back up after the break and my glutes protested some but I soldiered on. At about the 8 mile mark we took a walk break to ingest some fuel and pose with some local statuary. Obviously the heat affected our ability to be proper ladies.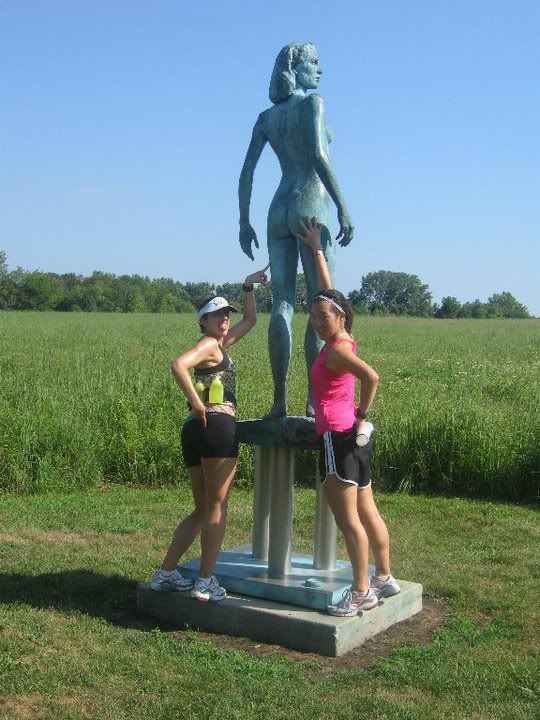 Just kidding. We wouldn't have been proper anyway.
The last mile of our run felt REALLY LONG. But at least we found some shade.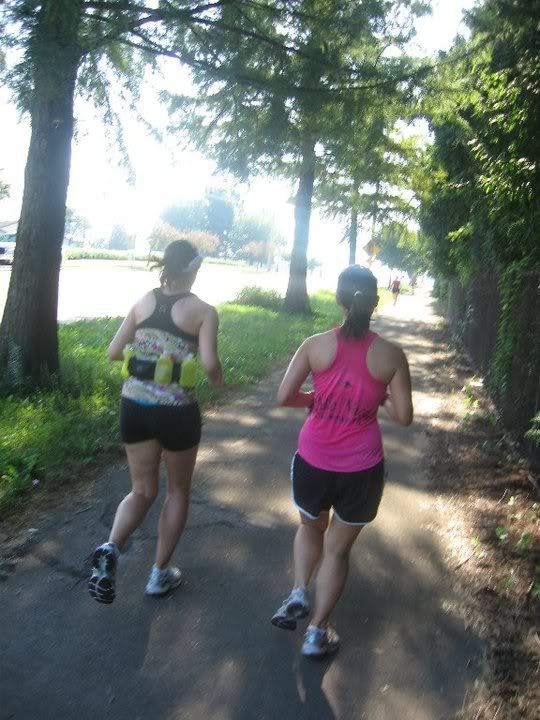 In the end Mica and I did 10 miles and Kim did just under 6. I had a great time and barely looked at my Garmin. I just ran and chatted and was happy to be out there. Thanks, ladies, for pushing me and keeping me motivated.
Also, in case you were wondering, Phil is home recovering from having 6 inches of his tail amputated.
I guess now he's "extra special".
****************************
Activity
| | | | |
| --- | --- | --- | --- |
| Route: | -- | Elev. Avg: | 734 ft |
| Location: | -- | Elev. Gain: | -7 ft |
| Date: | 07/17/10 | Up/Downhill: | [+344/-351] |
| Time: | 07:19 AM | Difficulty: | 3.0 / 5.0 |
Performance
Distance:
10.07 miles


Time:
1:48:49
Speed:
5.6 mph
Pace:
10' 48 /mi
Calories:
1185
Map
Elevation (ft)
Pace (min/mile)
Splits
Mile
Pace (min/mile)
Speed (mph)
Elevation
Gain
actual
+/- avg
actual
+/- avg
1
10' 30

-0' 18

5.7

+0.2

+37 ft
2
10' 32

-0' 16

5.7

+0.1

-6 ft
3
10' 50
+0' 02
5.5
-0.0
-17 ft
4
10' 45
-0' 03
5.6
+0.0
-3 ft
5
11' 48

+1' 00

5.1

-0.5

+30 ft
6
11' 34

+0' 46

5.2

-0.4

-29 ft
7
10' 53
+0' 05
5.5
-0.0
+16 ft
8
12' 55

+2' 07

4.6

-0.9

-10 ft
9
10' 15

-0' 33

5.8

+0.3

+23 ft
10
9' 57

-0' 51

6.0

+0.5

-40 ft
Versus average of 10' 48 min/mile