That's the "after" photo up there of my running buddy Jacob and me. So obviously I survived my first 20 miler and I survived well enough to have a smile on my face. I suppose the fact that I'm making this post also means I survived. But there was a point when I wasn't so sure and, amazingly, it had nothing to do with the actual running.
Several other OPRC members were doing this same training run so I arranged a carpool to the run site. Once we were there I met up with
Kim
to get my bib. Even though it wasn't a race they still wanted us to have bibs so they could identify who was participating.
Kim and I met another blogger who Kim had been corresponding with and I saw a coworker who just the day before I had discovered was also training for Chicago.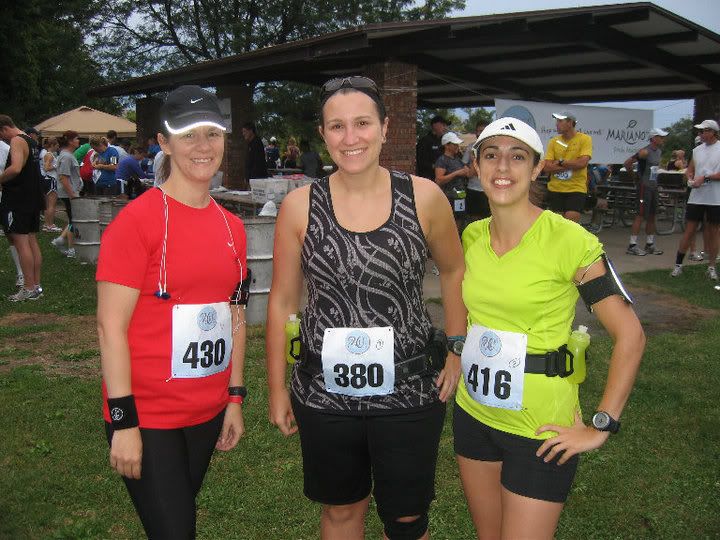 Blogger Bobbi, Kim, and me
Kim, Jacob, and I joined our pace group shortly after 7AM and soon we were off. Although Kim and I originally planned to run this together Jacob was closer to my pace so we ended up way ahead. I felt horrible but thankfully Kim struck up a conversation with another woman in our pace group and ran with her for much of the run. Also, because the run had several out-and-back sections we were able to see each other a few times. Also, Kim was able to get some great photos which I am shamelessly using.
Such as this one:
For the first few miles Jacob and I were sticking with our pace group passing people as they slowed down. We were using the pacer to keep us from going out too fast and I say it worked. We were chatting about all sorts of stuff since it had been awhile since we'd run together and although we both has our iPods at the ready neither of us ever used them. Instead our conversation make the miles fly by. Seriously, I've never had a run go by so quickly. Before I knew it we were near mile 8 and we were passing our pace group.
And then we were at the half way point where we discovered that they don't call that particular suburb Elk Grove for no good reason.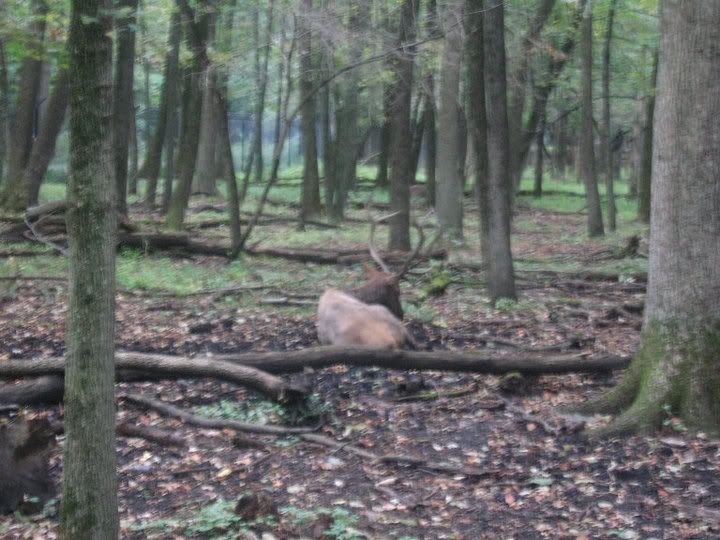 There really are elk! Quite a few of them, actually. I have to thank the run organizers for designing the course so that we passed the elk at the halfway point and then again just before the finish. They were a nice distraction. And I kind of needed one.
My breathing felt fine but my left quadricep had developed a strange pain. It was nothing I'd ever experienced before and I was really confused about why it was showing up now, in the middle of the run. I tried to push it out of my mind and didn't even mention it out loud until around mile 14.
We took a few walk breaks, mostly through water stops. I didn't stick to my "1 minute walk every 3 miles" plan and instead walked when Jacob wanted water or Gatorade. I did walk for a bit when I took my Shot Bloks at mile 6 and mile 12 but otherwise it was up to Jacob. We were clipping along at a great pace and other than my quad I felt pretty good so I didn't mind.
Until mile 17. Although the run organizer had assured us that the storms brewing in the area should miss us it started spitting rain around mile 15. It started raining heavier at mile 16 and we started to see some flashes of in-cloud lightening. The sky got dark and the woods we were running through got creepier and creepier. Then, just after we passed the aid station at mile 17 we emerged onto an open field and just to our left, probably a mile or two away, a huge bolt of cloud-to-ground lightening lit up the sky and shook the area.
Jacob and I immediately came to a halt. We were standing on a path in an open field. It was pouring rain. "This is what I get for running on Yom Kippur," Jacob commented. We debated: continue on and get done sooner or turn around and run back to the shelter we'd just passed.
We decided to take shelter. So we ran back the tenth of a mile and crowded together with some other people under a tent. Probably only marginally safer than being out in the open field but at least the EMT guys were right there. We saw quite a few other people (including Kim) run by braving the storm but we waited until the worst of the storm passed. All in all it was probably no more than 10 minutes.
Those 10 minutes though, they were killer. When we started back up our shoes were soaked, the bottom of my right foot ached, and Jacob said he knees were getting sore. Still, we pushed on. At mile 19 Jacob had to take a longer walk break. We walked for a minute or two and then starting running as we came upon the elk grove.
Have you ever heard the sound an elk makes? It's called a bugle. And it's rather otherworldly.
"What is that noise?" I said to Jacob as we ran past.
"It's the elk!"
I was probably a little loopy at that point but hearing an elk's bugle for the first time made me so giddy that when I saw the bridge that indicated the finish was near I practically grabbed Jacob and screamed, "There's the bridge. THERE'S THE BRIDGE!"
And on the other side of the bridge was a woman standing there congratulating us on finishing. The finish was rather anticlimactic but since I was riding my post-run high I didn't care. In fact, instead of immediately pouncing on the food I walked back out on the path to look for Kim. When I saw her on the bridge I ran toward her and held her hand as we ran to the finish together.
Bedraggled, wet, cold, and tired (but still giddy) I met up with the rest of the OPRC group, scarfed down my post-run hot dogs and made my way back to the cars. I could have stayed longer to chat with people but since everyone else in the carpool group finished before me they wanted to get going. I think this photo sums up how each of us was feeling.
When Kim and I got back to my house we both took nice, hot showers. And that's when I discovered, painfully, I had a new running souvenir: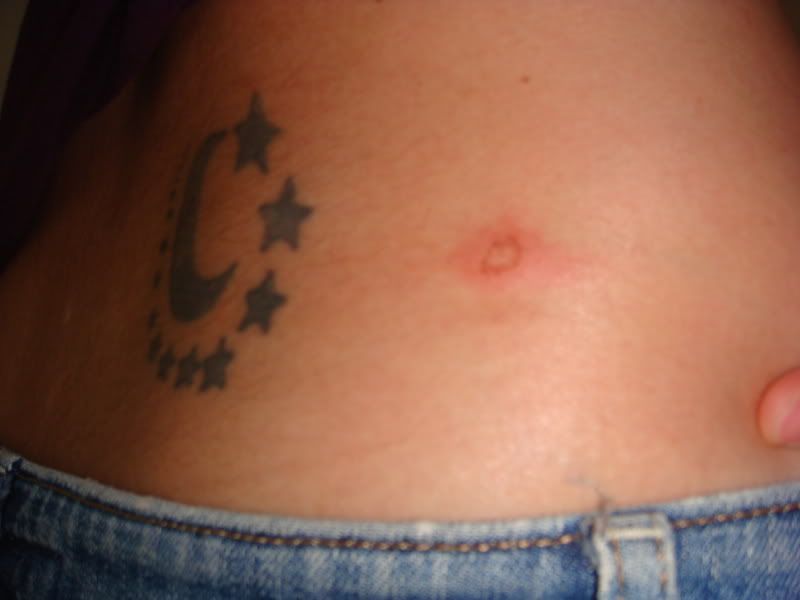 Fuel belt chafing! Ouch! Guess I know where else I need to lube up for the marathon!
Sadly, the chafe mark was not my only souvenir. My left quad is still painful two days later. Dr. Google indicates I may have strained it. I've been icing it and resting with fingers crossed it gets better ASAP. Tonight, instead of running, I'll be purchasing some kind of compression mechanism to help speed recovery. So, please, think good thoughts that this is just one of my random, short-term twinges that goes away in a few days.
Now I know I can definitely finish this marathon. There's no doubt in my mind. I'd just rather I do it as pain-free as possible.
***********************
Activity
| | | | |
| --- | --- | --- | --- |
| Route: | -- | Elev. Avg: | 703 ft |
| Location: | -- | Elev. Gain: | +3 ft |
| Date: | 09/18/10 | Up/Downhill: | [+452/-449] |
| Time: | 07:13 AM | Difficulty: | 3.6 / 5.0 |
Performance
Distance:
20.28 miles


Time:
3:30:16
Speed:
5.8 mph
Pace:
10' 22 /mi
Calories:
2413
Map
Elevation (ft)
Pace (min/mile)
Splits
Mile
Pace (min/mile)
Speed (mph)
Elevation
Gain
actual
+/- avg
actual
+/- avg
1
10' 45

+0' 23

5.6

-0.2

-9 ft
2
10' 08

-0' 14

5.9

+0.1

-23 ft
3
10' 28

+0' 06

5.7

-0.1

+3 ft
4
10' 21
-0' 01
5.8
+0.0
+6 ft
5
10' 29

+0' 07

5.7

-0.1

-9 ft
6
10' 15

-0' 07

5.8

+0.1

+13 ft
7
10' 39

+0' 17

5.6

-0.2

-3 ft
8
10' 18
-0' 04
5.8
+0.0
-7 ft
9
10' 26
+0' 04
5.8
-0.0
+16 ft
10
10' 17
-0' 05
5.8
+0.0
+16 ft
11
10' 25
+0' 03
5.8
-0.0
-6 ft
12
10' 26
+0' 04
5.8
-0.0
-10 ft
13
9' 48

-0' 34

6.1

+0.3

-16 ft
14
10' 10

-0' 12

5.9

+0.1

+30 ft
15
10' 23
+0' 01
5.8
-0.0
-27 ft
16
10' 36

+0' 14

5.7

-0.1

+26 ft
17
10' 15

-0' 07

5.8

+0.1

-30 ft
18
10' 22
+0' 00
5.8
-0.0
+3 ft
19
10' 07

-0' 15

5.9

+0.1

+26 ft
20
10' 41

+0' 19

5.6

-0.2

-6 ft
end
9' 10

-1' 12

6.5

+0.8

+10 ft
Versus average of 10' 22 min/mile