I think these next three months of training need some kind of name. How does May Days sound? Too desperate? I mean, I am technically training for the half marathon on May 1st, but I am planning to run three races that month.
Any suggestions?
In the mean time, I've decided to follow
Kim's
example and do a brief round-up of all the week's workouts on Sundays (especially because I just realized I can access my strength training workouts from home so I don't have to remember them!). I typically only write blog posts about my running or the occasional cross-training experiment. But this way I'll have a more complete log. Heck, it's a new year; it's time to try something different.
So, without further adieu....
Training Week 1 - February 1st to February 7th
Feb 1
5.5 mile tempo run
with the Oak Park Runner's Club followed by beer and gumbo at a nearby bar with members of the running club.
Feb 2
40 minutes of strength training with
Legs
focus
Seated Leg Press: 20 @ 55 lb; 20 @ 55 lb
Elastic Squat: 12 w/red band; 20 w/red band
Close Grip Pulldown: 15 @ 20 lb; 8 @ 27.5 lb
Seated Chest Press: 20 @ 20 lb; 20 @ 20 lb
Seated Back Extension: 20 @ 70 lb
Elastic Front Raise with Palms Up: 14 w/green band
Seated Arm Curl: 20 @ 25 lb
V-Bar Pushdown: 20 @ 15 lb
Glute Machine: 20 @ 45 lb; 20 @ 45 lb
Horizontal Calf Raise: 20 @ 30 lb; 15 @ 30 lb
Crunch with Heel Push: 20
Straight Leg Thrust: 12
Reverse Crunch: 20
Decline Side Oblique Crunch: 10
30 minutes elliptical on "Around the World" (Level 5) for a total of 4.15 miles
Feb 3
3.2 mile lunch run
with one of the guys from work. Should have gone slower. Oh well.
Approximately 25-30 minutes of strength training with
Core
focus
Cable machine woodchop: 10 @ 12.5 lb both sides x2
Cable machine reverse woodchop: 10 @12.5 lb both sides x2
Cable machine side woodchop: 10 @ 12.5 lb both sides x2
Cable machine chest press with squat and leg lift: 10 @ 5 lb both sides
Stability ball: 10 crunches
Stability ball: Alternate Pikes with Knees to Chest for a total of 10 x2
Stability ball: Bench press 10 @ 12.5 lb x2
One hour of Hi/Lo Aerobics - I wish I had video of our class. I wonder if my instructor would let me record a few minutes. He IS an actor, after all. Until then, here's a (cheesy)
video
that sort of illustrates what we do. We have better music, though. My instructor likes to play "Rebel Yell" by Billy Idol. And make us sing along with the chorus.
Feb 4
4.85 miles at lunch
with the running group at work. I meant to go slow but ended up doing these at goal half marathon race pace. Found out after the fact that Chicago had a air quality advisory for the day. Oops. Also, I am now tossing around the idea of a duathlon in 2011 thanks to these guys.
I just need to get a bike!
50 minutes of strength training with
Shoulders
focus
Seated Chest Press: 20 @ 20 lbs; 20 @ 20 lbs
Seated Shoulder Press: 12 @ 15 lbs; 12 @ 10 lbs
Elastic Front Raise: 15 w/green band; 15 w/green band
Seated Rear Deltoid: 20 @ 10 lbs; 20 @ 10 lbs
Close Grip Pulldown: 16 @ 20 lbs; 20 @ 20 lbs
Seated Arm Curl: 20 @ 20 lbs
V-Bar Pushdown: 20 @ 15 lbs
Seated Leg Extension: 20 @ 25 lbs; 20 @ 25 lbs
Lying Outer Hip Raise: 20 each leg
Glute Machine: 20 @ 40 lbs; 20 @ 40 lbs
Crunch with Legs Elevated: 15
90 Degree Reverse Crunch: 15 x2
Decline Crunch: 12
The Lying Outer Hip Raise was a new addition to the list. Whoo boy. I sure could feel the burn on that one!
If you strength train, do you like to add different exercises to the mix or do you prefer to stick to the same ones?
Also, I've been doing pretty well avoiding the dreaded palm callouses that tend to plague many people who strength train. I think this is because I do very few dumbbell exercises and stick mostly to machines with rubberized handles. But, if you do find that you get rough, scaly hands from strength training, Erica over at I Run...Because I Can is giving away a pair of
weight lifting gloves
. I think I'd wear them anyway if I won because it would make me look totally
hard core
:-)
Feb 5
Well earned rest day!!!
Feb 6
7 mile run
through my town and neighborhood. Nice and slow on very tired legs. I followed this up by spending the day shoe shopping with my mom. Not for running shoes, though.
I've just now decided I really want to look for a pair of leather riding-esque boots. Any suggestions for good places to look?
Feb 7
As much as I wanted to go to the gym today, my body had other plans. I hit a wall around 11 AM. I got up at 8, dealt with the dogs, walked to the grocery store for a few things for breakfast (just under a mile round trip), made breakfast, and then needed a nap. I laid in bed finishing my book for book club tomorrow (
The Man Who Loved Books Too Much
in case you care) and then promptly fell asleep. It felt goooood. And then instead of going to the gym upon waking I went to the grocery store and bought the ingredients for
homemade granola bars
! I made two batches: peanut chocolate chip and oatmeal raisin: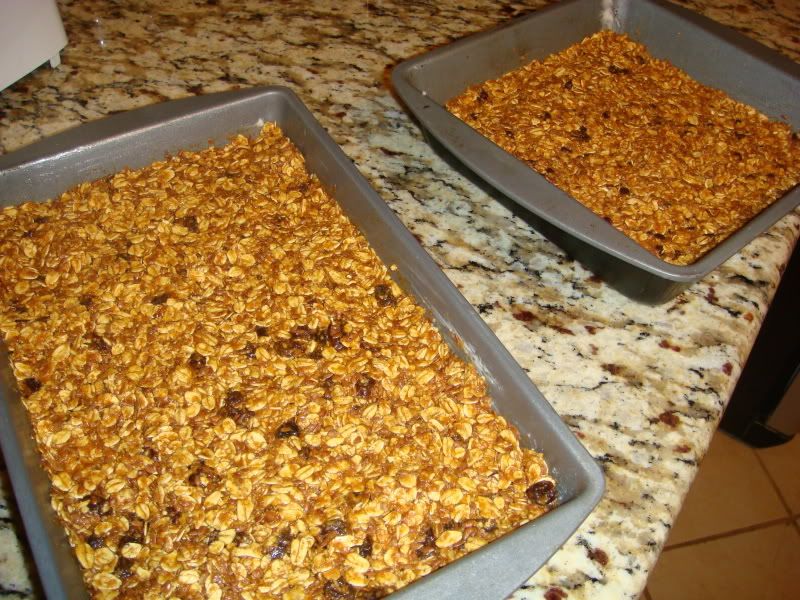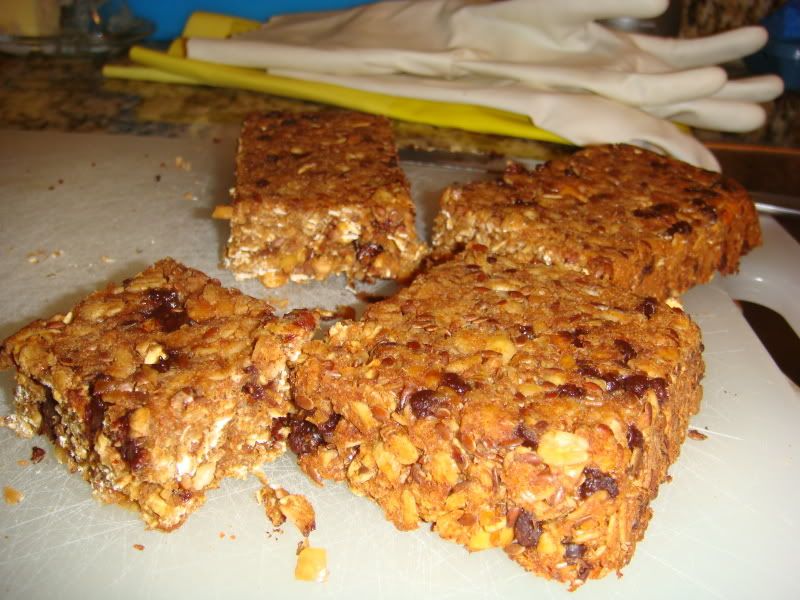 They're not Clif bars, but they're certainly moist and I love that I can play around with the ingredients.
Is there anything that you prefer to make at home even though it's readily available in the store?
Total weekly running mileage: 20.6
Goal weekly running mileage: 19.5
Hmmm, I seem to have gone over my mileage for the week. But! I hit 20 miles in a week which I've been trying to do for months now. I'm pleased.