Photo from Mural Blog
I was a serious multitasker today! I went to 9:30AM eye doctor appointment wearing my running clothes and with a gym bag packed with something to change into for post-run strength training.
My eye doctor's office is literally right next door to my gym so I hate going there and NOT taking advantage of being two feet from the gym. But I knew I needed to get a 7 mile run in today and not just strength train.
So after finally getting a pair of contacts that allow me to see semi-decently, I dropped off my bag in a gym locker and took off for a nice, easy 7 miles.
The goal according to the training plan? 7 miles at a 10:43 pace. The problem? I downloaded some new music last night. New music always puts a spring in my step. Especially because I finally got around to downloading some Muse songs. Who knew that Muse was so good to run to? My new favorites are "Uprising", "Super Massive Black Hole", and "Knights of Cydonia".
Also, this weekend is the
LiveJournal Runners Club
Virtual Race. 5K or 10K, your choice, report your distance and time.
I think subconsciously I didn't want my time to be a personal worst. However, I also didn't look at my watch until the very end so I had no idea how fast I was going. All I knew is that it felt good, the sun was shining, my new tunes were motivating, and I was enjoying the cool air.
Which means that instead of running at a 10:43 pace I ran at a 9:42 pace. And based on that my 10K time was 1:00:16. Hard to believe that a year ago I struggled to get my 10K time under an hour and now I'm coming thisclose during training runs.
After my run I returned to the gym locker room and changed into dry workout clothes. I put in 30 minutes of fairly lackadaisical strength training. I really wasn't feeling it. Oh well. It's still some pretty impressive multitasking!
And just so you know that we're not experiencing some kind of winter heat wave or anything, here's some proof that, yes, things here are still covered in snow: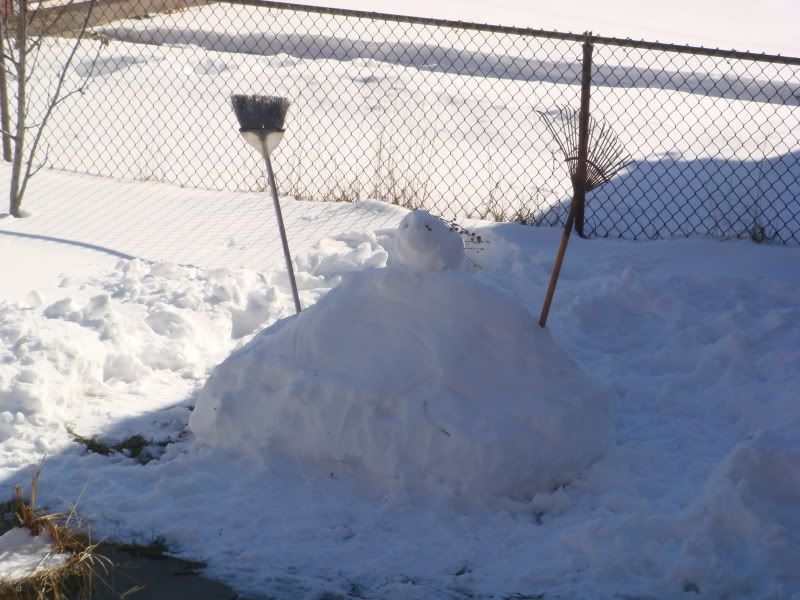 Click to see larger
Nothing like Snowman Rakehands to greet you when you come home from working out (that's in our neighbors backyard, FYI).
****************
Activity
Route:
--
Elev. Avg:
627 ft
Location:
Forest Park, IL
Elev. Gain:
+0 ft
Date:
02/13/10
Up/Downhill:
[+39/-39]
Time:
10:22 AM
Difficulty:
2.9 / 5.0
Weather:
A Few Clouds
27 F temp; 50% humidity
27 F heat index; winds NW 9
Performance
Distance:
7.04 miles


Time:
1:08:20
Speed:
6.2 mph
Pace:
9' 42 /mi
Calories:
839
Map
Elevation (ft)
Pace (min/mile)
Splits
Mile
Pace (min/mile)
Speed (mph)
Elevation
Gain
actual
+/- avg
actual
+/- avg
1
9' 36

-0' 06

6.2

+0.1

-3 ft
2
9' 43
+0' 01
6.2
-0.0
-9 ft
3
9' 19

-0' 23

6.4

+0.2

+6 ft
4
9' 48

+0' 06

6.1

-0.1

+7 ft
5
10' 14

+0' 32

5.9

-0.3

-13 ft
6
10' 16

+0' 34

5.8

-0.3

+9 ft
end
10' 00

+0' 18

6.0

-0.2

+3 ft
Versus average of 9' 42 min/mile