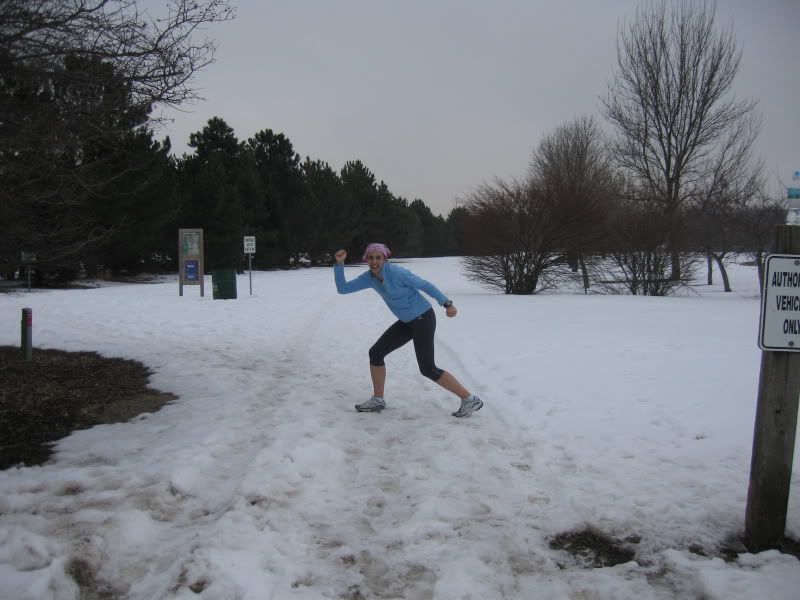 Yesterday, after spending the morning indoor rock climbing with
Kim
and
Kate
(and some of our husbands) (and about which I will post more in my Weekly Workout Wround Up post), Kim and I went for a run in a nearby park. The plan? To run 8 miles on the paths and trails that wind through the park and surrounding wooded areas. Sure there was still snow on the ground but certainly enough of it would have melted in the past few days for us to find the paths!
Oh, how optimistic we were!
We killed a mile just running from parking lot to parking lot looking for the start of a path. We flagged down a park ranger. "Do they perhaps plow the paths"? we asked. No dice. They leave them as-is for cross-country skiers. While debating about what to do, we stumbled upon a glimpse of the path over a snowbank at the edge of a parking lot. We climbed over the snow bank and took off running.
Well, as much as one can "take off" when running on snow anyway.
For a good portion of our "trail run" I have to wonder if we were really on any kind of path or if we were just making our way however we wanted. In some places the snow was just an annoyance, in others it was a major hindrance. At least, as Kim said, if we fall in the snow it will hurt less than falling on ice on a sidewalk. And then she promptly fell over.
At one point we could see a grassy path ahead of us and we aimed for that. What we didn't realize is that between us and the path was knee deep snow! Yet, we forged ahead.
We dodged (or attempted to dodge) goose crap, slippery ruts, and giant puddles. Our shoes took a lot of abuse, though.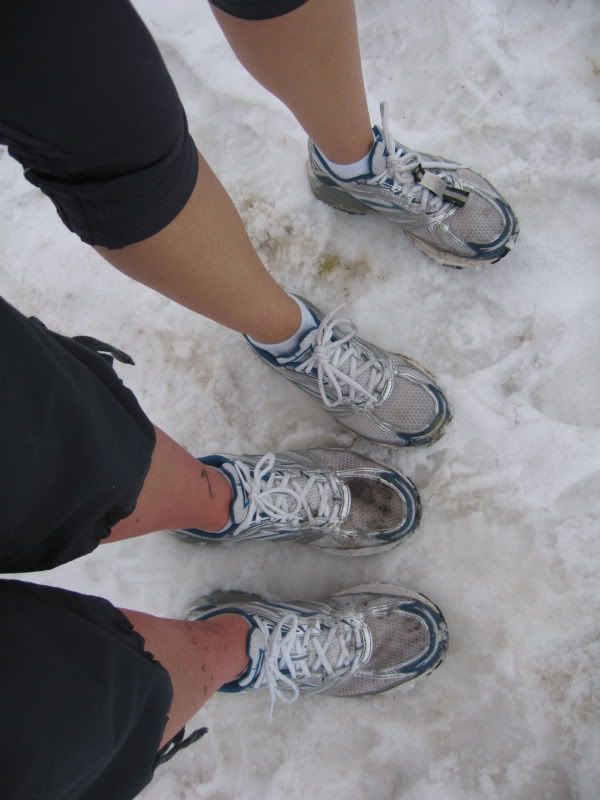 I admit, I didn't know if I could make it all 8 miles in those kinds of conditions. If it wasn't for Kim I would have given up around mile 3. But Kim kept us talking and running. After a few more laps around the snowy paths we jumped back onto the streets and parking lots and before I knew it we were done! At one point I looked at my Garmin and it read 7.45 miles. "Oh good," I said, "we're almost done!" I admit, I was done navigating the snow but I *was* having a great time talking to Kim. I don't think I've ever had an 8 mile run go by so fast!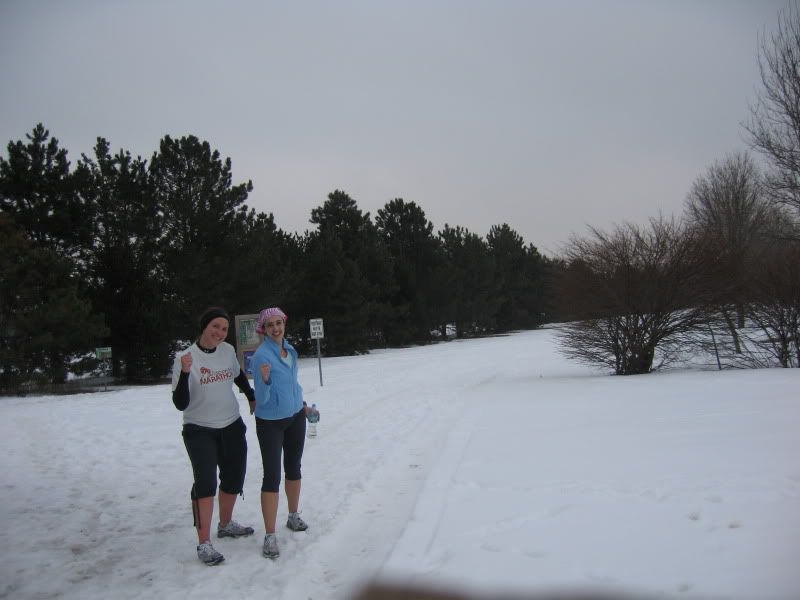 We are hardcore!
*******************************
Stats (check out the map of our "route"!)
Activity
Route:
--
Elev. Avg:
903 ft
Location:
Crystal Lake, IL
Elev. Gain:
+0 ft
Date:
02/20/10
Up/Downhill:
[+121/-121]
Time:
03:07 PM
Difficulty:
2.7 / 5.0
Weather:
Overcast with Haze
39 F temp; 82% humidity
39 F heat index; winds Calm
Performance
Distance:
8.02 miles


Time:
1:22:33
Speed:
5.8 mph
Pace:
10' 18 /mi
Calories:
947
Map
Elevation (ft)
Pace (min/mile)
Splits
Mile
Pace (min/mile)
Speed (mph)
Elevation
Gain
actual
+/- avg
actual
+/- avg
1
10' 18
+0' 00
5.8
-0.0
0 ft
2
10' 22
+0' 04
5.8
-0.0
-3 ft
3
11' 01

+0' 43

5.4

-0.4

+3 ft
4
11' 28

+1' 10

5.2

-0.6

+3 ft
5
10' 05

-0' 13

6.0

+0.1

-3 ft
6
10' 13
-0' 05
5.9
+0.0
0 ft
7
9' 44

-0' 34

6.2

+0.3

+4 ft
end
9' 31

-0' 47

6.3

+0.5

-3 ft
Versus average of 10' 18 min/mile