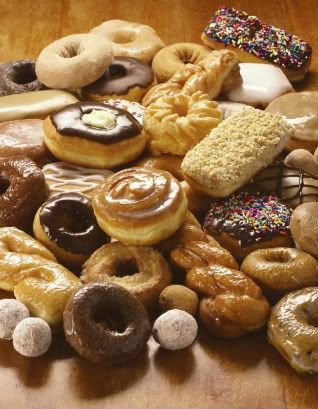 I bet you thought I was going to talk about stinky running clothes, huh? Well, I'm not.
I'm going to talk about food!
While on my run this afternoon I got to thinking about all the foods I've smelled while running. It seems to me that many of my running routes have taken me by restaurants or bakeries or other places that emit yummy odors.
As I've
mentioned previously
, I live across the street from a candy factory and any time I run in my neighborhood I run past their building. Frequently the air smells of orange or lemon or grape.
Another place I run by frequently is the bakery in my town's little downtown area. And, yes, it often smells like donuts. Or pastries. Or something sugary. Something about the smell of donuts gets me every time. It's a good thing I don't carry money with me when I run otherwise I fear I'd end up in the bakery instead of running. And I don't even LIKE donuts!
Speaking of donuts, the year I started running regularly I ran with a women's running group once a week. We were training to run our first 5K race. Our usual running path took us past the local county fair grounds. Since our goal race was in September, we ran that path through the height of fair season. Any idea how difficult it is to focus on running when the smell of funnel cake and corn dogs is wafting past?
Several years ago I belonged to a gym that shared a building with various other retail establishments. One of those establishments was a Chinese restaurant. I would dutifully walk from my office to the gym, do my work out, and then walk to my car. Past the Chinese restaurant. Which always smelled like heaven at 6PM. Yet, believe it or not, I never once stopped in for take-out.
Other than the lovely smell of donuts, there was nothing good about today's run. I felt like a slow, plodding mass. My legs felt heavy, my intestines rumbled and threatened to do something horrible with every step, the wind blew in my face both out AND back. Looking at my splits it seems I ran a reverse tempo run. Started out fast, slowed down in the middle, and ended with a fast mile. Very strange.

Activity
Route:
--
Elev. Avg:
628 ft
Location:
Forest Park, IL
Elev. Gain:
+0 ft
Date:
04/22/09
Up/Downhill:
[+88/-88]
Time:
02:08 PM
Difficulty:
2.1 / 5.0
Weather:
Partly Cloudy and Breezy
61 F temp; 26% humidity
61 F heat index; winds W 24 G 31
Performance
Distance:
5.01 miles


Time:
0:50:09
Speed:
6.0 mph
Pace:
10' 01 /mi
Calories:
513
Map
Elevation (ft)
Pace (min/mile)
Splits
Mile
Pace (min/mile)
Speed (mph)
Elevation
Gain
actual
+/- avg
actual
+/- avg
1
9' 41

-0' 20

6.2

+0.2

+3 ft
2
9' 54

-0' 07

6.1

+0.1

+10 ft
3
10' 13

+0' 12

5.9

-0.1

0 ft
4
9' 57
-0' 04
6.0
+0.0
-10 ft
5
9' 47

-0' 14

6.1

+0.1

-3 ft
end
9' 20

-0' 41

6.4

+0.4

0 ft
Versus average of 10' 01 min/mile