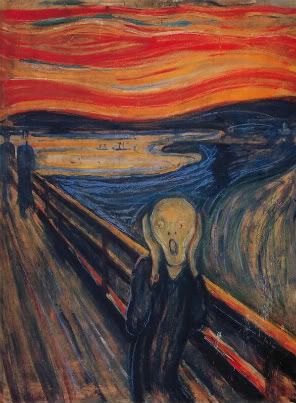 Last night I received a HUGE email with things to know about my upcoming half-marathon. HUGE. Expo information, dinner information, course information, start time information, finish chute information, post-race information, medal information, bag check information. AAAAAH!
It's like the first day of class when they hand out the syllabus and I get overwhelmed with anxiety about all the things I'll have to do and know. I seriously almost started crying while reading through the email. I've run races before, but none had nearly this much hoopla surrounding them. Even the Nike+ Human Race was pretty much a just show up and run event in the end. No expo. No pace groups. No pre-race dinner. No multiple finish chutes. Hell, not even much post-race food.
I just need to remember to breathe. I don't need bag check, my family can hold my stuff. I don't NEED to join a pace group, I have my Garmin. I don't HAVE to sign up for the pre-race dinner. I will eventually find my way to the post-race food. There will be plenty of volunteers on the course; I won't get lost. There will be people and signs telling me which finish chute to go down; I won't go down the wrong one.
Of course, I also immediately started thinking about where I would meet my family after the race, if I wanted to try and meet up with friends who are also running the race who I haven't seen since I moved, where I should suggest people spectate from, etc. I tend to feel anxious if I don't have a plan but I'm going to do my best to try and play it by ear. If I see people, I see people. If I don't, the world will not end.
Regardless, next week I'm going to be a bundle of nerves, I just know it. And race-day morning? I apologize in advance to anyone who will be there with me: I might be a tad touchy.
So, in an effort to dissipate my anxiety, I decided to do Level 2 of the 30 Day Shred and then run 2 miles on the treadmill. I started out doing both the strength and the cardio portions of the Shred, but then decided that I would just let my treadmill run be my cardio. Overall, the strength portions of Level 2 aren't too bad. Just those darn shoulder exercises get me every time! I also avoided squatting as low as I did on Tuesday in an effort to save my quads. I have to say, I prefer the ab exercises of Level 1 to those in Level 2. That might have something to do with the fact that I have zero lower ab strength. It's almost as if those muscles don't exist.
The treadmill run was fine. Quads are still sore (lowering myself to the toilet is the worst part of my day, FYI) but the run helped some. I just did an easy 5.6 MPH and watched an episode of Jeopardy! I love it when I can predict how much someone will wager on a Daily Double. I'm such a nerd.
Tomorrow is my last long run before the race.
Lindsay
is driving to my house in the morning and then we're going to run on the bike path together. Then we're going to watch
Spirit of the Marathon
and eat my famous (okay, maybe not 'famous') ravioli casserole. I'm excited! It's been so long since I ran with someone else. Plus, her camera takes much better pictures than mine! Anything to keep me distracted and/or motivated for next weekend.