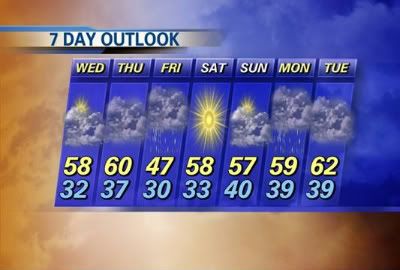 See that up there? See that SUN on Saturday? That's race day! I'm so excited. My mom sent me this shot of the 7 Day Forecast for Champaign-Urbana. You have no idea (okay, maybe you do) how happy it made me to see that the rain they were originally forecasting had been preempted by SUN.
Now, of course, comes the clothing dilemma. I'm sure it won't be 58
o
F at the start line. It might not even be 58 by the time I'm done somewhere between 2 and 3 hours later. So, do I wear shorts or capris? Do I wear short sleeves or long sleeves?
I think my current plan is to wear capris with a short sleeved shirt and my fleece over the top. I'll put my race bib on my short sleeved shirt and then I can take off my fleece once I'm warm. Deciding what to wear for a run is always a challenge for me. At least I did my 10-miler last week with the fleece tied around my waist so I know I can run like that.
Whatever I chose to wear, I have to do laundry tonight. And pack. And tonight is my last run before the race. And there is a new episode of Mythbusters. Gonna be a packed evening! Good thing we already decided to have leftovers for dinner.