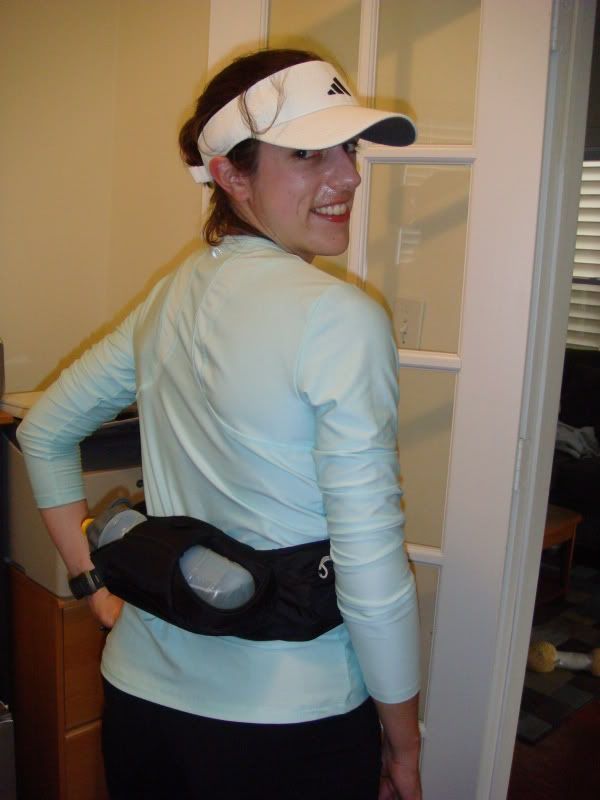 What's that you see up there? Why, that's my new hydration belt! Or pack. Or whatever you want to call it.
As warm weather approaches and my running clothes use less and less fabric I discovered that the pockets are fewer and smaller. As I posted
here
, most of the stuff I take on my runs is carried in my hands. I admit, I was getting pretty tired of having to strap my phone to my hand and carry my water bottle in the other one.
When I ran with
Lindsay
, I admired the hydration pack she was wearing. I also knew she had a different one, one with four bottles instead of just one. So we talked about pocket size and bottle accessibility and other such running geek things.
Last weekend I went to Dick's Sporting Goods (aside, don't try to look up their website by typing dicks.com into your web browser. As a friend's mom said once, "It's not good.") to try out some hydration belts. Once I finally figured out where they were inside the massive store, I think I spent an hour trying on all the various types and doing short jogs around the weight lifting displays.
First I tried on
The Speed 4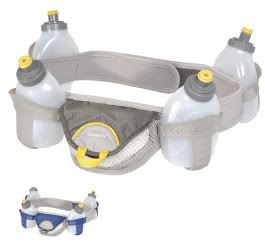 While I liked the thought of being able to carry both water and a sports drink, I didn't like how my arms would catch on the bottles as I ran. The hazards of having a very short torso, you see.
Next was
The Trailmix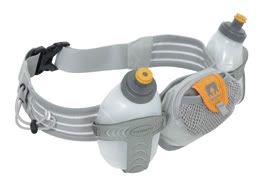 It fit my waist perfectly and I loved that the pocket held a ton of stuff, but I felt like the bottles were too hard to get in and out of the holsters. Plus, I didn't love that the pocket was on the back and might be difficult to get to.
Then it was on to
The Triangle

This was my least favorite. The bottle was awkwardly placed for me to be able to reach it and the pocket was too small for both my phone and, say, a bag of Sport Beans.
Finally, I put on
The Muse

I didn't love this one immediately. In fact, although the documentation states that it fits 26" to 42" waists, I couldn't get it quite small enough (another aside: Is my waist really smaller than 26"? I guess I need to find a measuring tape, huh?). However, the bottle was fairly easy to access once I figured out you didn't need to shove it back into the holster all the way. And it has two side pockets that A. fit my phone and B. are easy to access. Also, allegedly this is part of their "Women's Series" and it's supposed to be designed to fit women (third aside: why is it that none of my non-Microsoft spell checkers seem to recognize "women's"?).
Although I couldn't get the waist band to fit quite right, I went ahead and bought The Muse anyway. I tried it out on my run last night (4.4 miles) and, well, I think it's something I'll have to get used to. It doesn't bounce in the way I thought it would and it didn't leave any raw chafe marks, but I certainly felt it on my lower back. Also, when I pull the bottle out it tends to move the strap around my waist. I think that's just a product of the waist band not being quite tight enough. Additionally (and I'm not sure if this is an issue of me just not being used to it or what), I felt like it was making me hold my arms higher than normal. For the first time in a LONG time I started to get cramps in my collarbone area. And, finally, I felt like it was causing my shirt to ride up in the back.
Were there any pluses? Well, yes. I enjoyed having my hands free. By clipping my iPod to the waist band of the pack it bounced around less. The water bottle is easy to drink out of.
Will I keep using it? Yeah, I think I'll keep trying. I suppose there's only one way to know how it feels on a long run and that's to take it on a long run.
I do have one question though. Do you put your race number on over or under the waist band? I don't have enough torso to put it above or below.
*************************
Oh, and here are the stats from the actual run. Felt pretty good last night. FYI: These are with the Auto-Pause function on the Garmin turned OFF. So the splits include the time I spent standing at intersections waiting to cross the street.

Activity
Route:
--
Elev. Avg:
628 ft
Location:
Forest Park, IL
Elev. Gain:
+0 ft
Date:
04/20/09
Up/Downhill:
[+95/-95]
Time:
04:50 PM
Difficulty:
2.0 / 5.0
Weather:
Mostly Cloudy
52 F temp; 58% humidity
52 F heat index; winds W 13 G 22
Performance
Distance:
4.40 miles


Time:
0:42:16
Speed:
6.2 mph
Pace:
9' 36 /mi
Calories:
480
Map
Elevation (ft)
Pace (min/mile)
Splits
Mile
Pace (min/mile)
Speed (mph)
Elevation
Gain
actual
+/- avg
actual
+/- avg
1
9' 29

-0' 07

6.3

+0.1

+3 ft
2
9' 26

-0' 10

6.4

+0.1

+10 ft
3
9' 38
+0' 02
6.2
-0.0
+6 ft
4
9' 41

+0' 05

6.2

-0.1

-19 ft
end
9' 07

-0' 29

6.6

+0.3

0 ft
Versus average of 9' 36 min/mile