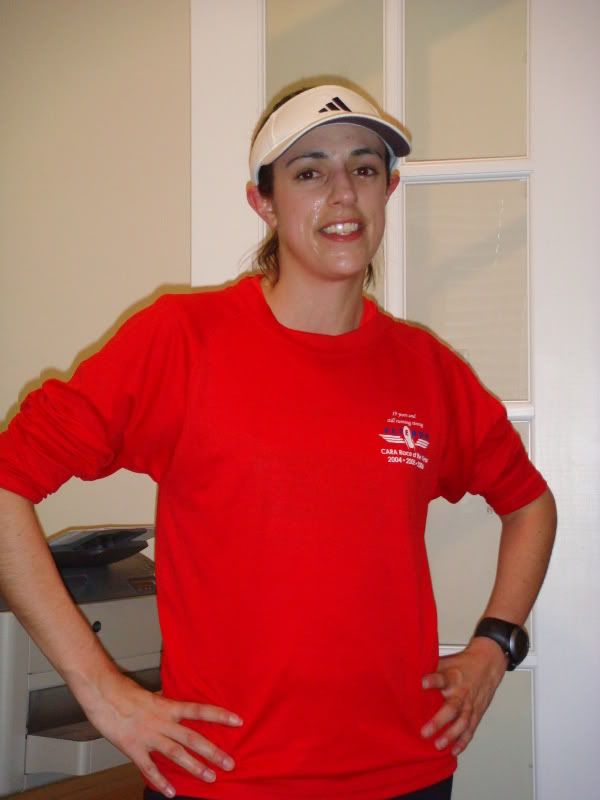 The above photo serves two purposes. One, to show off my new visor and two, to show off just how sweaty I get when I run.
Last night's run was an easy two-miler outside in 39
o
F, overcast weather. I took the dog with me so there was a lot of starts and stops. And yet, look at how shiny my face is in that photo. Sweat was literally rolling down my face when Jason took the picture shortly after my return. And that's after two-miles at average 10:00+ minute/mile pace on a cold day. I wasn't even dressed all that warm! In fact, I could have done with a third layer on top and some gloves.
If I wanted to run at lunch, I would have to shower afterward. I would have to pack all my shower stuff, my face wash, my blow dryer, my hairbrush, my make-up...ugh, it's exhausting to even think about. People who run at lunch amaze me. How do they find the time to change, run, shower, primp AND eat? I guess they probably skip the primping part, huh? I suppose that's why a previous coworker of mine shaved her hair super-short when she was training for a triathlon.
When I worked a mere 7 miles of country back roads from my house I tossed around the idea of getting a bike and riding to and from my office. The same aforementioned coworker rode her bike to work a lot in the warmer months. She claimed that she didn't get as sweaty while riding as she did while running. I don't know if that would hold true for me. I'm a fairly sweat-tastic gal.
Oh yeah, the visor? Worked great! I also like that it looks good in photos. You gotta think about these things :-)
The run itself? I love my dog, but she is not the best running companion. We barely made it a mile before she started lagging behind acting as if she couldn't move another step. Of course, once turned around to head home, she was back out in front nearly pulling me along. I think it was because we were out past her dinner time. She is definitely ruled by her stomach. Also, OF COURSE she had to wait until I'd already run past some garbage cans to do her doggie "duty". Guess who ran the same stretch of sidewalk four times?
You can totally see how I kept it slow the first mile, urging the dog along, but that I was practically pulled home on the second mile. And that my pace was ALL over the place with dog-induced starts and stops.
Activity
Route:
--
Elev. Avg:
621 ft
Location:
Forest Park, IL
Elev. Gain:
+0 ft
Date:
04/06/09
Up/Downhill:
[+22/-22]
Time:
06:24 PM
Difficulty:
1.8 / 5.0
Weather:
Mostly Cloudy
39 F temp; 56% humidity
39 F heat index; winds NE 8
Performance
Distance:
2.01 miles


Time:
0:20:46
Speed:
5.8 mph
Pace:
10' 20 /mi
Calories:
212
Map
Elevation (ft)
Pace (min/mile)
Splits
Mile
Pace (min/mile)
Speed (mph)
Elevation
Gain
actual
+/- avg
actual
+/- avg
1
11' 51

+1' 31

5.1

-0.7

+4 ft
2
9' 50

-0' 30

6.1

+0.3

-4 ft
end
10' 00

-0' 20

6.0

+0.2

0 ft
Versus average of 10' 20 min/mile