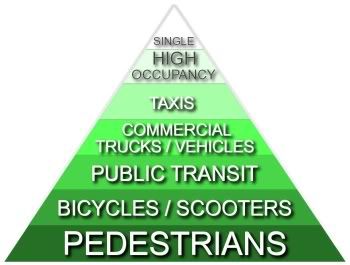 The Green Transportation Hierarchy
I suppose runners count as pedestrians, huh?
My usual "short" running route takes me past the cross-street on which my gym sits. A few weeks ago, while driving to the gym to take my Pilates class and do my 30 minutes of cardio, I realized that it would take me approximately the same amount of time to run to the gym as it would to drive there. Chicago 'burb traffic is a lovely thing, isn't it?
From my house to the gym is a little over one mile. I'd debated running there, doing Pilates, and running home several times while I was doing my half-marathon training. I didn't know, though, whether breaking the run up like that would have the same effect as doing it all in one stretch. Granted, it's not like I wouldn't be doing anything in the interim, but my understanding is that doing all the miles in a row is what really helps with endurance. So, therefore, I never did it.
Until last night. I got home a little late from work and was almost tempted to skip Pilates all together. Except that next week I'll be at a conference out of town and I don't know if I'll get in any exercise. So, at 5:45 (class starts at 6 PM, FYI) I threw on some running clothes and dashed out the door. I didn't even give the Garmin a chance to connect with the satellite until a few minutes into my run.
I have a horrible fear of being late, so I ran pretty hard and, thankfully, only had to pause for traffic at one intersection. I figured that I could run the distance in 15 minutes or less but, since I'd never done it before, I didn't know exactly how long it would take me.
Turns out, with pauses at intersections, it takes me less than 15 minutes. In fact, it takes me less than 10 minutes.
The splits are a little funky from the Garmin and, as much as I would LOVE to trust the Bones in Motion data, I don't know if I really ran a mile in 8:07. Also, I had to pause for a lot more traffic on the way home and I didn't have the Autopause function turned on so I'm sure that it didn't take me over 10 minutes to get home, even though I was trying to take it a little easier.
Regardless, it felt good to run to the gym instead of driving. Did it give me as good of a workout as if I'd done my usual 30 minute elliptical routine? Don't know. Will I run to the gym every day? Probably not. If I have errands to do or don't want to run four days in a row I'll still drive. But I like that now I know this is an option.
And, as always,
Stats

Activity
Route:
--
Elev. Avg:
621 ft
Location:
Forest Park, IL
Elev. Gain:
+0 ft
Date:
04/23/09
Up/Downhill:
[+19/-19]
Time:
05:48 PM
Difficulty:
1.8 / 5.0
Weather:
Mostly Cloudy
66 F temp; 35% humidity
66 F heat index; winds SE 14
Performance
Distance:
2.36 miles


Time:
0:22:22
Speed:
6.3 mph
Pace:
9' 29 /mi
Calories:
234
Map
Elevation (ft)
Pace (min/mile)
Splits
Mile
Pace (min/mile)
Speed (mph)
Elevation
Gain
actual
+/- avg
actual
+/- avg
1
8' 03

-1' 26

7.4

+1.1

+3 ft
2
11' 02

+1' 33

5.4

-0.9

-3 ft
end
8' 45

-0' 44

6.8

+0.5

0 ft
Versus average of 9' 29 min/mile