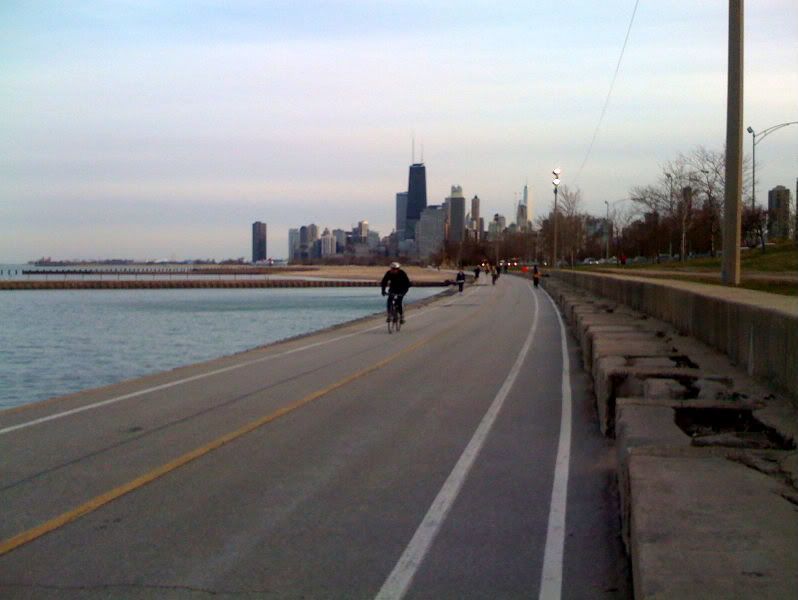 Click to see it larger
Where to start? How about:
Dear Running,
All those nice things I said about you yesterday? I take them back.
Sincerely,
The girl with the sore quads
Last night I was scheduled to do 10 miles of speedwork. A warm-up, one mile at 8:37 minutes/mile followed by a half-mile jog repeated 5 times, and then a cool-down.
HAHAHAHAHAHAHAHAH
I decided to run immediately after work on the lakefront path that's only about a half mile from my office. It's the only way I could get in 10 miles before the sun went down. As you can see from the above picture, the path really is right on the lake and it's quiet scenic. It also gives you great views of the skyline. I went north on the path, so this is the view on the way back south:
Again, click to see larger
Pretty, huh? Well, the scenery was the best thing about this run.
Not only did I not hit any of my time goals, but I barely made it 10 miles. And the stupid Garmin didn't record the first quarter mile. I tried the Garmin on the "Interval" training setting but due to user error it says I only went 9.79 miles. I had to walk more times than I wanted to and overall, even though this was supposed to be a speedy run, I ended up with a slower average time than my past two "slow" 10 mile runs. The splits data from the Garmin looks wonky because of the Interval setting I had it on: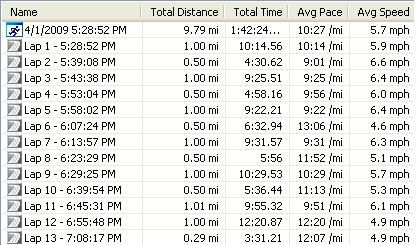 So, what happened?
I could blame it on the unfamiliar path.
I could blame it on not eating enough for lunch.
I could blame it on the lack of Jelly Belly Sports Beans (seriously, Target, why do you never have them in stock anymore??)
I could blame it on the wind (although the wind wasn't nearly as bad as it could have been).
I could blame it on not having an afternoon snack.
But I'm going to blame it on
Jillian
.
As I mentioned yesterday, I tried the 30 Day Shred workout DVD for the first time on Tuesday night. All YMCA classes are canceled for the week due to "Spring Break" so there was no Pilates for me. I figured this DVD could replace my usual gym trip. While I was doing it, I thought Level 1 was easy. In fact, the only thing I found difficult were the shoulder exercises. I used three pound weights and probably could have gone up to my 5-pounders for everything but the shoulder stuff. However, the workout made me break a sweat and I liked how Jillian explained everything. Except I noticed she never really explained the
bicycle twists
. Good thing I already know how to do them, right?
But Jillian is sneaky. Oh, is she sneaky. A few miles into my run I could feel my quads starting to protest. By the time I was done I could barely walk. The stairs down to the train on my way home? TORTURE. For those of you that watch
How I Met Your Mother
you may recall the scene where Barney, after running the NYC Marathon, has to ride the subway all the way around twice because he can't stand up. I could completely sympathize after this run. I haven't been sore like this for a long, long time.
Will I do the 30 Day Shred again? Sure! Just not the day before a 10-mile run. And preferably when someone else is home to distract the Deu dog. She thinks she's helping. She's not.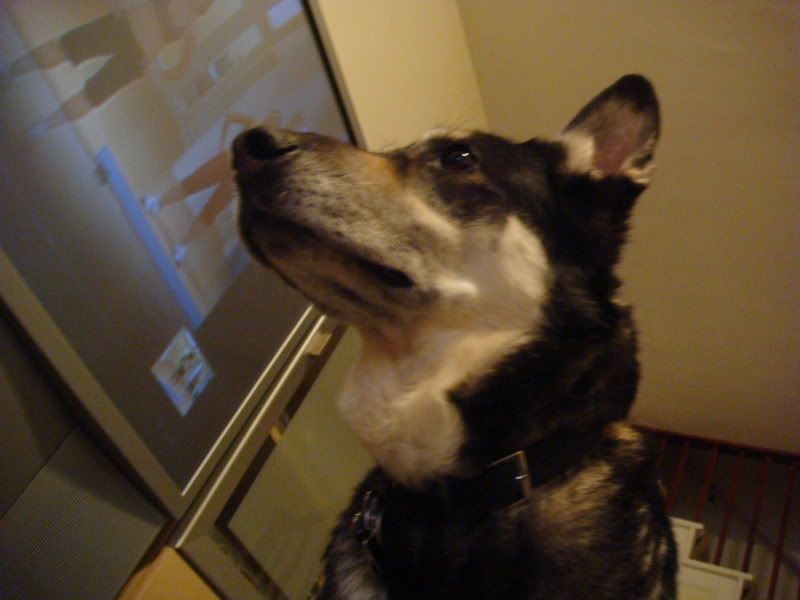 I couldn't get a picture of her licking my face while I did crunches.
And, just for consistency, here's my Bones in Motion Data. I'll leave out the part about how due to my exhaustion it took me half an hour and assistance from my husband to figure out why my Garmin data wasn't transferring correctly to the computer. Definitely a case of
PEBKAC
.
Activity
Route:
--
Elev. Avg:
583 ft
Location:
Chicago, IL
Elev. Gain:
+23 ft
Date:
04/01/09
Up/Downhill:
[+334/-311]
Time:
05:28 PM
Difficulty:
3.1 / 5.0
Weather:
Mostly Cloudy
52 F temp; 39% humidity
52 F heat index; winds SW 14 G 18
Performance
Distance:
9.79 miles


Time:
1:42:25
Speed:
5.7 mph
Pace:
10' 28 /mi
Calories:
898
Map
Elevation (ft)
Pace (min/mile)
Splits
Mile
Pace (min/mile)
Speed (mph)
Elevation
Gain
actual
+/- avg
actual
+/- avg
1
10' 02

-0' 26

6.0

+0.2

0 ft
2
9' 11

-1' 17

6.5

+0.8

+3 ft
3
9' 37

-0' 51

6.2

+0.5

+3 ft
4
9' 20

-1' 08

6.4

+0.7

+3 ft
5
11' 14

+0' 46

5.3

-0.4

+4 ft
6
10' 41

+0' 13

5.6

-0.1

-10 ft
7
10' 32
+0' 04
5.7
-0.0
+4 ft
8
10' 26
-0' 02
5.8
+0.0
-7 ft
9
10' 16

-0' 12

5.8

+0.1

0 ft
end
12' 52

+2' 24

4.7

-1.1

+23 ft
Versus average of 10' 28 min/mile