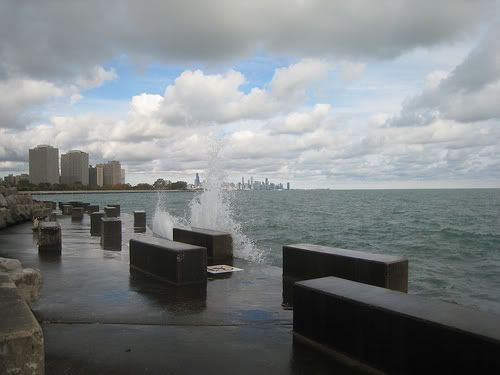 Source
I am officially done with running until my half marathon on Saturday. I ran my last almost 4 miles on Tuesday at lunch and lead the pack until the last half mile. I definitely did it faster than the prescribed tempo pace. I admit that when I looked at my Garmin at the mile 1 beep I was shocked to see a time of 8:45. Why was I shocked? Because it was so easy!
We stopped at the half way point so that the people in the group not running a race on Saturday could do some hill work on the sled hill. In our lunch time running group we have three of us running a race on Saturday. One doing the full Illinois Marathon, one doing the full Wisconsin Marathon and me doing the half Wisconsin Marathon. We stood around patiently while the other three guys did 4 hill repeats.
When we turned around to run the 2 miles back it was like hitting a wall. A wall made of wind. Apparently we'd had the wind at our backs on the way out. I guess we should have known by the way Lake Michigan was spraying up in the air on the other side of the concrete barrier! I pretty much had to keep my head down in order to keep my visor from blowing off my head! Speaking of visors, anyone got a good idea on how to wash a really gross one?
Overall it was a great note on which to end this training cycle. Just one more notch in my confidence belt. However, I plan to do another post before Saturday laying out my actual goals and thoughts and possibly what I'm wearing in case anyone wants to
stalk
come cheer for me. Stay tuned for that.
Finally, in other news, I received a free copy of
The Ultimate Runner
from the Tom and Amy over at
Runners' Lounge
. I plan to read it over the next few days and write up a review. The sooner I can get the review done the sooner I can get in the running for a free copy to give away to one of you! Or, if you just can't wait that long, feel free to order your very own copy!
***********************
Activity
Route:
--
Elev. Avg:
592 ft
Location:
Chicago, IL
Elev. Gain:
+3 ft
Date:
04/27/10
Up/Downhill:
[+203/-200]
Time:
12:19 PM
Difficulty:
2.4 / 5.0
Weather:
A Few Clouds
48 F temp; 43% humidity
48 F heat index; winds NE 18 G 23
Performance
Distance:
3.99 miles


Time:
0:35:12
Speed:
6.8 mph
Pace:
8' 49 /mi
Calories:
470
Map
Elevation (ft)
Pace (min/mile)
Splits
Mile
Pace (min/mile)
Speed (mph)
Elevation
Gain
actual
+/- avg
actual
+/- avg
1
8' 45
-0' 04
6.8
+0.0
+4 ft
2
8' 34

-0' 15

7.0

+0.2

-19 ft
3
9' 10

+0' 21

6.5

-0.3

+6 ft
end
8' 53

+0' 04

6.8

-0.1

+13 ft
Versus average of 8' 49 min/mile