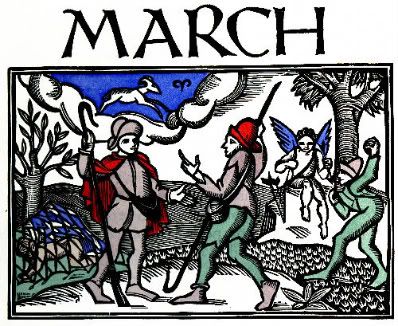 Photo from http://www.fromoldbooks.org/
I was going to do an April Fool's Day prank and tell you all that I broke my ankle in Hi/Lo class last night. I had it all written out and everything. But I decided that was just inviting the universe to spite me, so I deleted it. No prank for you.
Instead, I just did the math like three times because I didn't believe the Bones in Motion site where I upload all my Garmin data. I thought it was playing an April Fool's day prank on me! I mean, look at what it says:

89.31 miles
for the month. Whoa!! And I didn't even hit my max scheduled weekly mileage most weeks.
This is two miles more than my previous highest monthly mileage, June 2009. And I'm sure it was all definitely faster than that previous record, too.
Maybe that's why March seemed to fly by. Apparently I was running through most of it!
Other than that fascinating stat, the most notable thing about March was the fact that I ran in all kinds of weather. Rain? Check. Snow? Check. Sun? Check. All I needed was heat and the post office and I would be on the same page. Although, t-shirt and shorts weather was definitely upon us at the end of the month.
Most of my runs in March went well and I managed to stay off the dreaded treadmill the entire month. Yes!!
How about you? How was your March? Are you looking forward to April?