Well, I've been saying all week that my runs were supposed to be done at an "easy" pace. Today's run was firmly in that speed range but I wouldn't necessarily call it easy.
Summer came a bit early to Chicago and brought what were probably record breaking temperatures for the first of April. While sunny skies and temperatures in the low 80s makes me want to jump for joy normally, I rather dread it when it comes to running. And, since my body hasn't had time to acclimate to it, you can see how today's run would be killer.
The boys took off and the one other gal and I struggled to keep them in our sight's as we set off on our 4+ mile run. She and I were huffing and puffing and not conversing very much except to occasionally comment about how freaking hard the run was feeling for us. We finally caught up to the guys at the turn around point and THANKFULLY the water fountain was on.
However, I have to say the highlight of the run was this: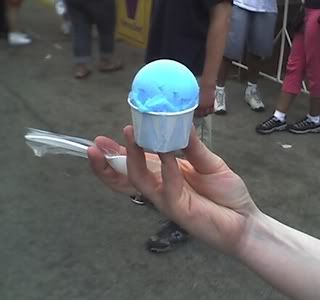 Image from Wikimedia Commons
Free Italian Ice samples!! Of course, ours weren't that large. But, man, stopping by the Italian Ice cart for a taste of lemon flavored Italian Ice was so refreshing before continuing on the rest of our
death march
run. I almost wanted to shout "I LOVE CHICAGO".
Speaking of summer in Chicago, today really brought out all the tourists and bicyclists. I think I almost got run over or ran someone else over about 100 times while we were out there. Ahhh, gotta love the lake front path.
*************************
Activity
Route:
--
Elev. Avg:
592 ft
Location:
Chicago, IL
Elev. Gain:
-4 ft
Date:
04/01/10
Up/Downhill:
[+150/-154]
Time:
12:16 PM
Difficulty:
2.5 / 5.0
Weather:
Partly Cloudy
78 F temp; 37% humidity
78 F heat index; winds S 18 G 24
Performance
Distance:
4.70 miles


Time:
0:45:39
Speed:
6.2 mph
Pace:
9' 43 /mi
Calories:
554
Map
Elevation (ft)
Pace (min/mile)
Splits
Mile
Pace (min/mile)
Speed (mph)
Elevation
Gain
actual
+/- avg
actual
+/- avg
1
9' 26

-0' 17

6.4

+0.2

+3 ft
2
9' 21

-0' 22

6.4

+0.2

-20 ft
3
9' 54

+0' 11

6.1

-0.1

+3 ft
4
10' 11

+0' 28

5.9

-0.3

+14 ft
end
11' 27

+1' 44

5.2

-0.9

0 ft
Versus average of 9' 43 min/mile