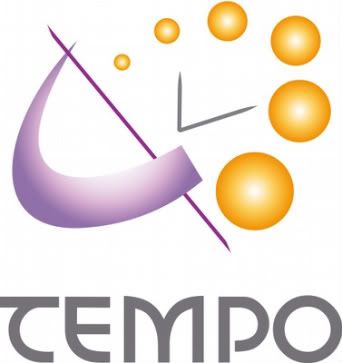 Last night I had another long tempo run on the books. The plan once again was to run to running group, do 5.5 miles at a 9:06 pace with the group, and then run home.
Let me tell you, when I left the house my legs felt like they'd been dipped in concrete. Ugh. I was not looking forward to being speedy.
Here's the funny thing about running a 5K after you've run so many of them. You act like they're no big deal. It's just 3.1 miles, you think. I've done almost 5 times that. What you don't take into account is that it's a HARD 3.1 miles. At least, when you're trying to PR it is.
I admit that I thought about turning around and going home. I admit that I thought about skipping the run entirely. I mean, I did just run hard the day before. But, I sallied forth. And I'm glad I did. I wasn't the only person at the group run who had run the day before. It was fun to talk to those of us that did and learn how each of us fared. I wasn't the only sore runner, either.
In fact, even though I didn't think I was feeling the speed, I managed to insert myself into the group of women who are usually way ahead of me. I'm sure that's because they were running easy while I was still doing my tempo run, but I don't care. They pulled me along like a rope and before I knew it we were done. If I could just find a group like that for my half marathon I'd be golden! We were running at below my half marathon pace but, to be honest, it almost felt easy. Last night gave me hope that maybe I can meet my A goal for the race.
I stretched out a little bit before heading for home and didn't stick around too long for the post-run chat. Admittedly, I was looking forward to being done running. 8.5 miles total is still a lot for me on a weeknight. Plus, I was hungry and my stomach was growling. Thank goodness there was Italian beef in the crockpot all ready for me!
Today, though, my lower body is a little angry with me. My muscles are definitely sore. I'm not usually one for massages, but I think I might just have to schedule one here soon. My legs (and abs!) will thank me.
***********************
Bones in Motion Data: Splits include pauses for traffic lights and the pre and post-run chatting.
Activity
Route:
--
Elev. Avg:
626 ft
Location:
Forest Park, IL
Elev. Gain:
+0 ft
Date:
04/12/10
Up/Downhill:
[+49/-49]
Time:
06:10 PM
Difficulty:
2.4 / 5.0
Weather:
Overcast
69 F temp; 30% humidity
69 F heat index; winds SE 12
Performance
Distance:
8.52 miles


Time:
1:17:51
Speed:
6.6 mph
Pace:
9' 08 /mi
Calories:
1000
Map
Elevation (ft)
Pace (min/mile)
Splits
Mile
Pace (min/mile)
Speed (mph)
Elevation
Gain
actual
+/- avg
actual
+/- avg
1
9' 41

+0' 33

6.2

-0.4

+3 ft
2
10' 41

+1' 33

5.6

-1.0

+6 ft
3
8' 54

-0' 14

6.7

+0.2

0 ft
4
8' 58

-0' 10

6.7

+0.1

-9 ft
5
8' 56

-0' 12

6.7

+0.1

+3 ft
6
8' 53

-0' 15

6.8

+0.2

0 ft
7
9' 03

-0' 05

6.6

+0.1

0 ft
8
11' 10

+2' 02

5.4

-1.2

-9 ft
end
9' 54

+0' 46

6.1

-0.5

0 ft
Versus average of 9' 08 min/mile