May Days Training Week 12: April 19th - April 25th
Last full week of training! Aaaaaah! It didn't go quite as planned because, well, you'll see.
Apr 19
The original plan? 8.5 miles total with 6 at tempo speed. Admittedly, my knees were feeling kind of achy after the 11 miles the day before and I considered dropping down to just 5.5 miles instead. However, the universe had other plans for me.
I got home from work to find a large spot of blood on Trinka Deu's bed and a matted, bloody spot on her neck. A quick phone call to the vet and we were on our way to have it checked out.
Turns out she had a polyp of some kind on her neck that the vet thinks she scratched until it bled. And bled. And bled some more. Now she's sporting a shaved spot on her neck and one of these to keep her from scratching it even more: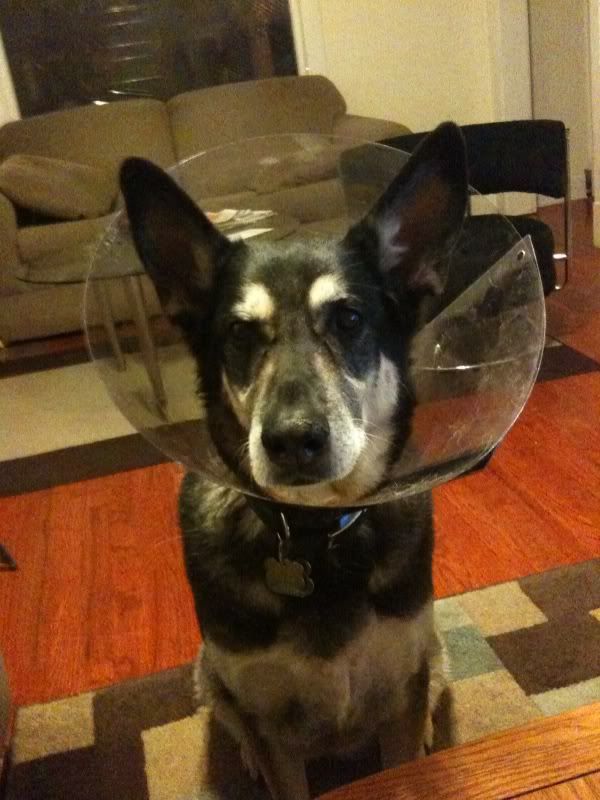 All that means I spent my window for running taking care of my dog. It's a good thing she's so cute :-)
Apr 20
This week was totally crazy and, as such, I knew I wouldn't be able to run on Thursday. Meaning I knew in advance I would only get in a minimum of 3 runs this week. And, to be honest, I didn't even know if I'd manage to squeeze in a run on Tuesday! But, I did and even though the Garmin flaked out (or possibly we experienced some user error) I did
at least 3 miles
.
In addition, I was able to get to the gym after work and do some strength training. Thankfully it wasn't super busy so I was able to do all the moves on the list without having to do much waiting.
40 minutes of strength training with
Biceps
focus:
1-Arm Row (Stability Ball): 15 @ 10 lbs x2
Wide Grip Pulldown: 20 @ 10 lbs x2
Low-Pulley Straight Bar Curl: 12 @ 15 lbs; 8 @ 10 lbs
Seated Arm Curl: 10 @ 20 lbs; 10 @ 15 lbs
Herculean Cable Curl: 15 @ 5 lbs
Push Up (Wide Hand): 15, 12
Seated Back Extension: 15 @ 70 lbs; 20 @ 70 lbs
Seated Rear Deltoid: 20 @ 15 lbs
Free Motion Squat: 20 @ 20 lbs
Seated Leg Press: 20 @ 55 lbs x2
Horizontal Calf Raise: 20 @ 30 lbs
Crunch: 2 sets of 25
Straight Leg Thrust: 20
Straight Leg Lift w/Thrust: 15
Decline Side Oblique Crunch: 15
My knees felt kind of creaky and the squats and leg presses didn't feel particularly great. I'm beginning to think I need to replace my running shoes.
Apr 21
That 8.5 mile run that was supposed to happen on Monday with the running group was moved to this day to do by my lonesome. It turned out okay, though, because
I did my 8.5 miles
just fine. And, you know, without the running group to chat with before and after the tempo miles I did it with minimal stops.
Apr 22
I was at a conference for one of the professional organizations I'm in from 8:00 AM to 8:30 PM. Yeah, no working out happened on Thursday. Just as well since I'm sure my knees needed a break.
Apr 23
Spent most of the day at that conference again but when I got home Jason and I took
Kim
and her husband to the archery range by our house. We shot arrows for about an hour. If you do it right it certainly can count as a workout!
Apr 24
Last long run
of this training cycle is done. After debating what distance to do I ended up doing 9 miles. Afterward I had all these plans to run errands but I ended up laying on the couch for the rest of the day watching
Firefly
episodes with my husband. It felt great!
Apr 25
I didn't have anything planned for Sunday and it ended up being a rest day. I got a bunch of errands and chores taken care of and watched my husband race his car around a giant parking lot for a little bit.
Total mileage: 20.6 (approximately)
My training plan originally had this past week listed with a max of 27.5 miles. Yeah, that didn't happen and it was probably for the better. I know that you don't have to taper super long for a half-marathon but I always run better when I'm well rested. Which means this upcoming week I'm planning to take all of Thursday and Friday off. Because the race is Saturday! Ahhhhhhhhh! Right now the weather looks like possible thunderstorms for Saturday. Keep your fingers crossed it clears up by then.