Click to see larger
Welcome to Flagstaff! For those of you that thought Arizona was all desert and the Grand Canyon, guess again! Arizona also has snow-covered mountains which you can see in the background-center of the photo above. In fact, Flagstaff, AZ is where I learned to ski. However, this past weekend, instead of skiing, I attempted my first run at elevation.
Let me tell you, running at nearly 7000 feet above sea level is no joke. The air really
is
thinner. And when you haven't had sufficient time to adjust to it, you're definitely going to feel it.
I asked my in-laws for some route suggestions and they pointed me in the direction of one of the Flagstaff Urban Trail System ("FUTS" aka "foots") paths that I could pick up near my hotel. Less than half a mile from here:
I was here: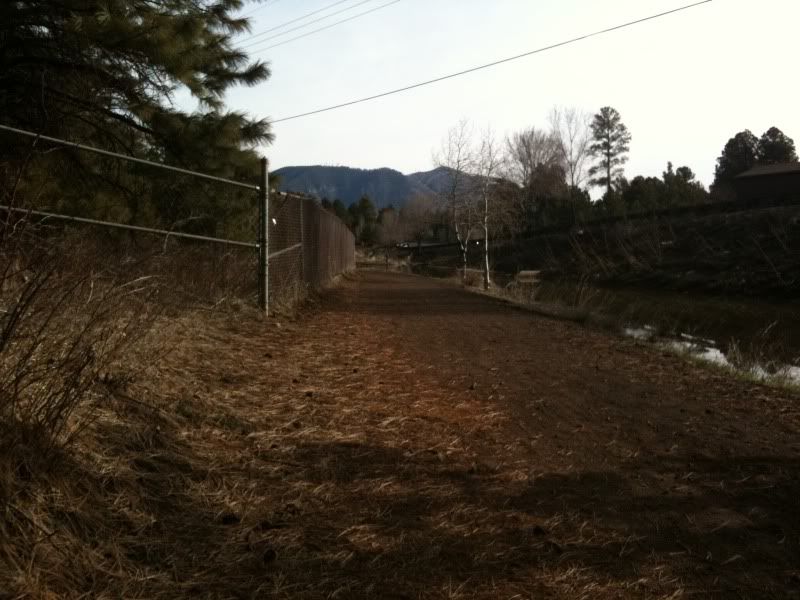 The sidewalks gave way to a crushed cinder and aggregate trail surrounded by pine trees and with a view of the mountains. I ran parallel to Northern Arizona University for awhile and then found myself in a small ravine of sorts. The trail was mostly dry and clear up until that point. Then I found the snow:
It's no surprise there's still snow hanging around. When the snow piles and drifts are still as tall as the local Walmart (I'm not kidding) there's bound to be some in the shady spots.
I'd decided long ago that I had no time goals for this run. I purposely made this an easy week because I knew the altitude would be killer. Also killer? The hills. This photo does not do some of those babies justice.
I didn't take my headphones with me because I wanted to experience being in nature. Other than the occasional bird, though, mostly what I heard was me huffing and puffing. My legs and brain really wanted to go further and faster, but my lungs weren't having any of that. So, instead, I took the opportunity to pause and take pictures (and sometimes look for the trail!) and just enjoy the views. Because, really, when you are running somewhere that looks like this, how could you not?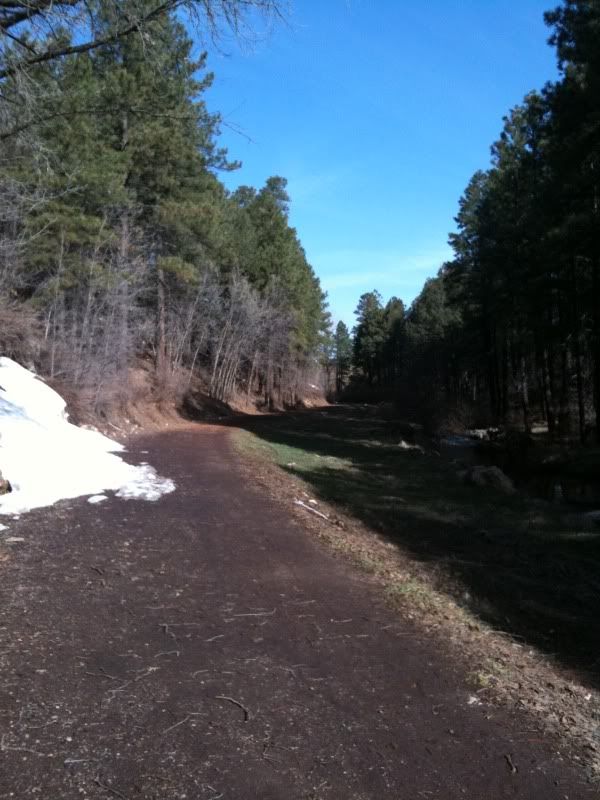 ***************************
Activity
Route:
--
Elev. Avg:
6864 ft
Location:
Flagstaff, AZ
Elev. Gain:
-13 ft
Date:
04/03/10
Up/Downhill:
[+216/-229]
Time:
09:14 AM
Difficulty:
3.0 / 5.0
Weather:
Fair
42 F temp; 46% humidity
42 F heat index; winds SW 12 G 18
Performance
Distance:
4.01 miles


Time:
0:42:13
Speed:
5.7 mph
Pace:
10' 32 /mi
Calories:
476
Map
Elevation (ft)
Pace (min/mile)
Splits
Mile
Pace (min/mile)
Speed (mph)
Elevation
Gain
actual
+/- avg
actual
+/- avg
1
10' 33
+0' 01
5.7
-0.0
-20 ft
2
11' 29

+0' 57

5.2

-0.5

-40 ft
3
12' 16

+1' 44

4.9

-0.8

+39 ft
end
12' 14

+1' 42

4.9

-0.8

+10 ft
Versus average of 10' 32 min/mile