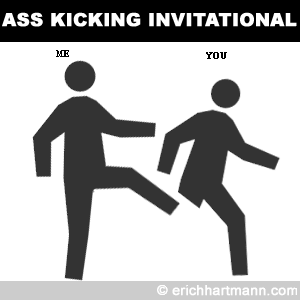 So, where were we? Oh yes, I was going to kick ass doing my 6 mile (plus warm up and cool down) tempo run by myself on Wednesday.
I'll be honest, when I got home from work on Wednesday I was tired. I was tempted to skip the run. I've read that nothing you do less than 10 days out from a race can really change anything. I thought about just doing a 6 mile run and not worrying about speed.
But then I thought of all of you and how I didn't want to write that blog post. That I wanted to write the "I kicked ass" post instead.
So, I kicked ass.
Granted, this 8.5 mile run wasn't as fast as when I did it last time with my running group gals, but I was still faster than my goal pace during my tempo miles. I just took it a lot slower on the warm up and cool down :-)
I should have written this post right after the run because now I honestly can't remember much about it. My warm-up mile felt tough. The rest of them, though, felt pretty okay. I ran the same route I would have run on Monday and I didn't even stop for a drink at the park. Just kept pushing through.
I noticed, though, that I was having difficulty settling into one pace. Every time I looked at my Garmin I was either running an 8 minute pace or close to a 10:30 pace. It wasn't until at least mile 3 that I started to find a groove. And even then when the Garmin would beep at each mile I would look down at it, realize I was going faster than the prescribed tempo pace (9:11, FYI) and try to slow down. Didn't work. And mile 2 got all screwed up by having to stop at the world's longest stop light. I hate that light. The Garmin claims I did mile 2 in 9:04 but I was stopped at the light for at least a minute.
I was fairly wiped out when I got home but I still managed to find the energy to make dinner before collapsing into bed. Overall it was a good run and was just one more step to helping me overcome some of my mental hurdles.
*************************
Activity
Route:
--
Elev. Avg:
626 ft
Location:
Forest Park, IL
Elev. Gain:
+0 ft
Date:
04/21/10
Up/Downhill:
[+45/-45]
Time:
06:05 PM
Difficulty:
2.4 / 5.0
Weather:
Partly Cloudy
42 F temp; 76% humidity
42 F heat index; winds NE 15
Performance
Distance:
8.50 miles


Time:
1:19:04
Speed:
6.5 mph
Pace:
9' 18 /mi
Calories:
1017
Map
Elevation (ft)
Pace (min/mile)
Splits
Mile
Pace (min/mile)
Speed (mph)
Elevation
Gain
actual
+/- avg
actual
+/- avg
1
9' 55

+0' 37

6.0

-0.4

+3 ft
2
10' 06

+0' 48

5.9

-0.5

+6 ft
3
8' 44

-0' 34

6.9

+0.4

0 ft
4
8' 54

-0' 24

6.7

+0.3

-9 ft
5
8' 58

-0' 20

6.7

+0.2

+10 ft
6
9' 02

-0' 16

6.6

+0.2

0 ft
7
8' 59

-0' 19

6.7

+0.2

+3 ft
8
9' 59

+0' 41

6.0

-0.4

-13 ft
end
10' 28

+1' 10

5.7

-0.7

0 ft
Versus average of 9' 18 min/mile